Sanford family searching for answers after loved one killed in hit-and-run crash
OSTEEN, Fla. - A Sanford family is looking for help after their loved one was struck and killed a week ago today. The driver is still on the run. 
Michael Berry, 42, was in the median of State Road 415 near Parkinson Blvd. in Osteen visiting his best friend Mike Roscoe's memorial when he was hit by a car. Roscoe was also hit and killed by a hit-and-run driver in the exact same spot a year and a half before.
"I can't believe it," said Berry's brother Carl Smith. "To lose two brothers, in the same spot to the same thing is senseless."
Smith says Berry would visit the memorial often to be with Roscoe. They'd talk about the times they'd had, the things he'd missed, and the dreams they shared.
"He was such a loving and caring person," said Berry's brother-in-law Shad Cassidy. "If you ran with him, he'd do anything for you. Bright smile, and just laugh. We did all kinds of things together."
Florida Highway Patrol (FHP) said on that night someone veered into the median striking Berry and hitting Roscoe's memorial. The car sped off leaving Berry behind.
"A part of us has been taken. He will always be missed and loved so very much by so many. He'd shown so bright. The world is a darker place without them," said Cassidy.
FHP says there were no witnesses to the crime, and they don't have a description of a suspect or a car. Michael's family is pleading for someone to come forward if they know anything about what happened.
"This person has to be brought to justice and be taken off the street before they can do this to somebody else's family," said Smith.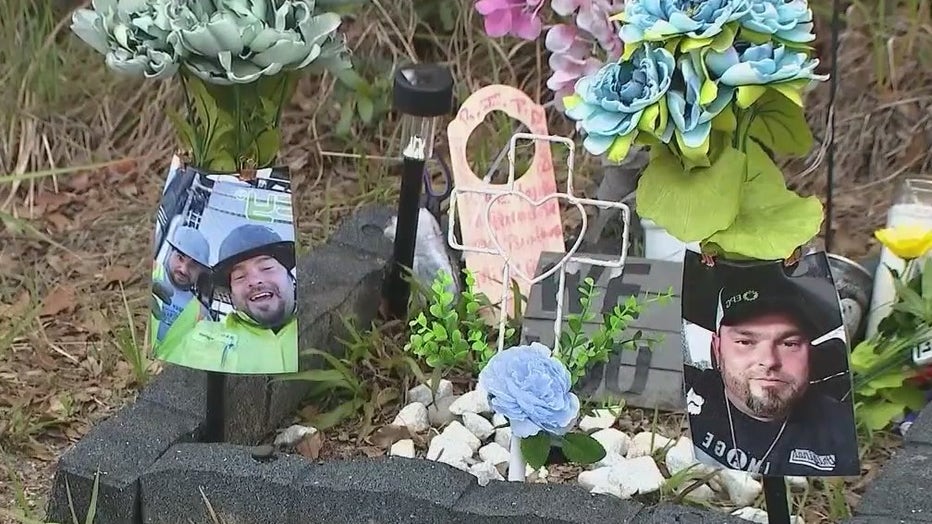 Berry's family is also calling on the state to make changes to this stretch of 415 that is lined with memorials for others who have passed.
"There should be more cameras, more lights, more police presence," said Cassidy.
One of those memorials less than three miles down the road from where Berry was hit is one for Jimmy Ledford. He, too, was hit by a hit-and-run driver that was never found back in 2011.
"It makes me angry every time that I hear of another story down here whether [the driver] was found or not. Whether it's a hit-and-run or not. It seems like it's happening far too often and one seems like enough to me," said Aleecea Ledford.
Ledford has wanted more lights or cameras in the area for years. She is tired of reliving the pain of the loss of her brother every time another life is lost.
"I'm just sorry," said Ledford. "I know we had nothing to do with it or anything like that. I'm sorry because it's so painful and confusing, and it makes you angry."
FOX 35 News has reached out to the Florida Department of Transportation and asked about studies they have done in the area. We've asked if they have plans to improve the safety as well. They tell us they are researching this and will get back to me with answers.
People with information about Berry's death are urged to contact Crimeline at 800-423-TIPS (8477), or call FHP.