Roundup Rodeo BBQ opens at Disney's Hollywood Studios: What's on the menu?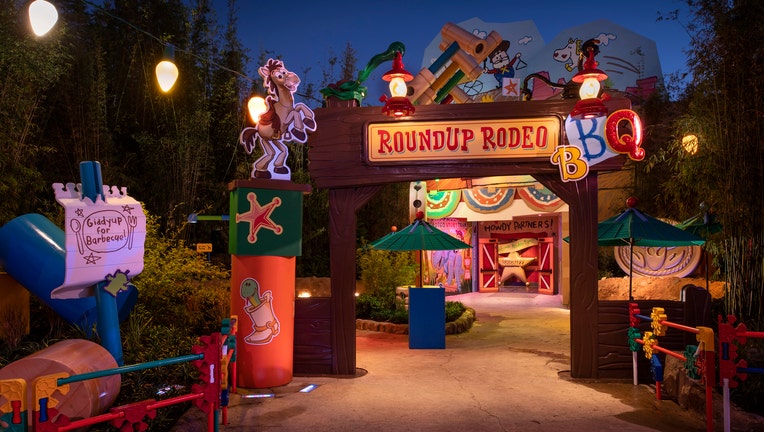 article
Roundup Rodeo BBQ, a new table service restaurant themed after the Disney Pixar Animation Studios Toy Story franchise, is officially open inside Toy Story Land in Disney's Hollywood Studios.
Disney's "Imagineers" collaborated with Pixar to immerse guests in an environment that features toys, games, art, and "other playthings" that belong to Andrew "Andy" Davis, a main character from the film series.
MORE HEADLINES:
Imagineers worked to bring characters and art from the films to life in a western rode arena setting that includes a steam train supported by colored pencils, a house of cards, and game boards featuring beloved characters from the Toy Story films.
Guests become part of the story as Andy's honorary toys and get to see some of the rodeo's star performers: Jessie, Trixie, and Bo Peep with her leapin' sheep Billy, Goat, and Gruff!
The restaurant offers family-style platters of house-smoked meats, sides, and sweet treats, according to Disney, with a menu that includes:
Tender, scratch-made cheddar biscuits accompanied by sweet pepper jelly
Crisp salads, "such as a refreshing tomato, cucumber and pickled red onion salad dressed perfectly in white balsamic vinaigrette"
House-smoked meats, including fall-off-the-bone tender pork ribs and brisket smoked low-and-slow in-house and so much more
Sides such as potato salad, baked beans, classic slaw, fried pickles, or grilled corn-on-the-cob seasoned with a chili-lime spice blend and topped with cotija cheese.
Desserts "inspired by everyone's favorite picnic treat: pie!"
An assortment of craft cocktails and non-alcoholic beverages
A "robust plant-based menu" is also available
Dining reservations are required to experience Roundup Rodeo BBQ and can be made through the MyDisneyExperience app. Guests need both valid park admission and park reservations for Disney's Hollywood Studios on the same date to dine.