Taste of TNF recipe: Salmon tacos with pineapple
A feast of football is planned for Thursday nights this season on FOX, and when you have a feast, you need great food. 
Where you have great food, you usually can find Dr. BBQ. For the matchup between the Rams and Seahawks, he's grilling up a twist on two traditional dishes familiar those cities: salmon and tacos.
Dr. BBQ says to remember to grill the pineapple; it really kicks up the sweetness and the flavor. If you're not a fan of salmon, you can always grill up your favorite fish to add to the taco.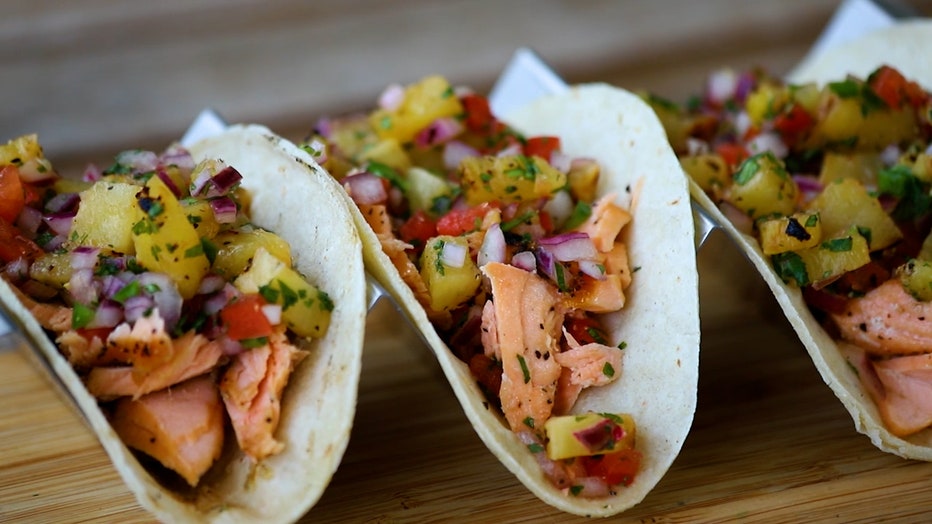 Ingredients
Makes 8 tacos
Salsa
Two ¾" slabs fresh pineapple
½ medium yellow onion, cut into small dice
2 roma tomatoes, seeded and cut into small dice
1 jalapeno, seeded and cut into small dice
1 tablespoon chopped fresh cilantro
Juice of ½ lime
Salt and pepper
12 ounces salmon filets cut into 2-3 pieces
Olive oil
8 corn tortillas
Directions
Prepare the grill to cook direct over medium high heat.
Grill the pineapple slices, flipping often until they are charred on both sides.
In a medium bowl combine the onion, tomato, jalapeno, cilantro, and lime juice. Season with salt and pepper and mix well.
When the pineapple has cooled, remove the rind, and cut the flesh into medium dice. Add to the salsa and mix well. Set aside.
Brush the salmon lightly with olive oil, then season with salt and pepper.
Grill, flipping often until golden brown and cooked just until the white fat is coming to the surface, about 8 to 10 minutes.
Remove the salmon to a plate and set aside.
Stir the salsa and taste it. Add salt and pepper if desired.
Quickly warm the tortillas on the grill flipping them often just until warm.
Break up the salmon into flakes and divide among the tortillas.
Top each with a spoonful of the salsa and serve immediately.