Rail service gets more time to sell bonds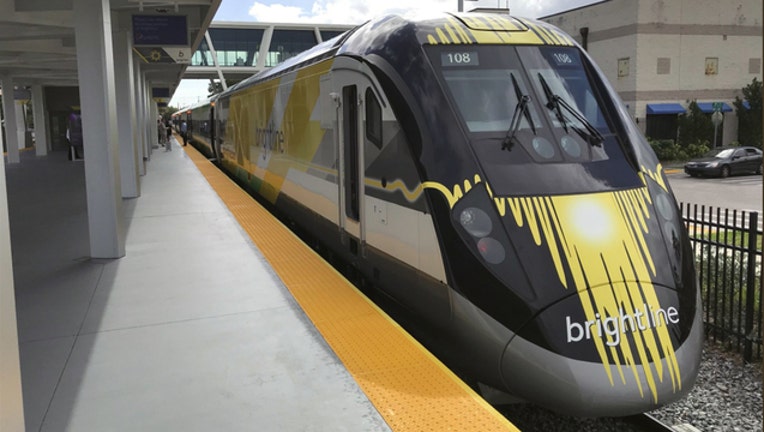 TALLAHASSEE, Fla. (NSF) - Brightline received a seven-month extension Thursday to sell $1.15 billion in tax-exempt bonds for the expansion of the controversial passenger train line to Orlando.
The U.S. Department of Transportation granted the extension, noting that the extra time gives All Aboard Florida --- the parent company of the fledgling private rail service now running between West Palm Beach and Miami --- until the end of the year to sell what are known as "private activity" bonds.
Part of the reason for the "provisional" extension is that All Aboard Florida continues to work on alternative financing for the project, Derek Kan, undersecretary of transportation for policy, wrote in a letter to All Aboard Florida Holdings Vice President Bruce Snyder.
Otherwise, Kan noted that All Aboard Florida is expected to comply with the conditions in an original bond allocation, which was set last December and had been due to expire on Thursday.
Brightline had earlier received $600 million in private activity bonds for the first phase of the project.
Brightline President Patrick Goddard issued a statement that said the extension "propels our project as we extend Brightline to Orlando."
The service, which expanded its route from Fort Lauderdale to Miami in the first half of May, isn't expected to travel north of the West Palm Beach Station until early 2021.
The use of the tax-exempt bonds, in which investors receive a tax-credit and assume full risk, has split members of Florida's congressional delegation.
Republican Congressmen Brian Mast, Bill Posey, Ron DeSantis and Matt Gaetz recently backed a letter from U.S. Rep. Mark Meadows, R-N.C., asking for the bonds to be suspended before they are put on the market.
Meadows, chairman of the House Oversight and Government Reform Subcommittee, held an April 19 hearing on the bonds at the request of Mast.
Mast and Posey represent districts that cover the Treasure Coast, where opposition to the rail service has been the most pronounced.
Treasure Coast officials contend the service, which bills itself as the nation's first privately funded "intercity" rail system, will create unsafe conditions at rail crossings and shouldn't be eligible for federal assistance.
In February, Martin County, Indian River County and Citizens Against Rail Expansion (CARE) filed a federal lawsuit in Washington, D.C., calling the U.S. Department of Transportation "cheerleaders" in approving the Brightline project and requesting that the bond allocation for the West Palm Beach-to-Orlando rails be thrown out for being approved "in excess of statutory authority and otherwise contrary to law."
Pro-Brightline congressional members, mostly representing areas where the rail service now stops or is planned to stop, described the service as "transformative" and a "project of national and regional significance."
Pro-Brightline members of Congress include Florida Republicans John Rutherford, Dennis Ross, Ileana Ros-Lehtinen and Carlos Curbelo and Democrats Darren Soto, Lois Frankel and Frederica Wilson.
They have been joined in support by U.S. Rep. Bill Shuster, R-Pa., and U.S. Rep. Paul Gosar, R-Ariz. Shuster is the outgoing chairman of the House Transportation and Infrastructure Committee.
Information provided by The News Service of Florida.