Pizza Hut to roll out beer delivery to more stores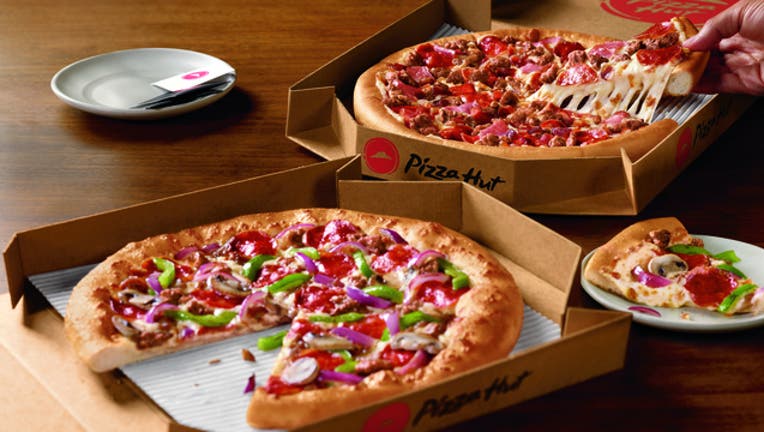 article
TAMPA, Fla. (FOX 13) - Pizza Hut plans to roll out its beer delivery to hundreds more restaurants across the country, including Florida, just in time for the Super Bowl. 
The pizza chain first rolled out beer deliver to some restaurants in Arizona and California as part of a pilot program in 2017.
The company now plans to roll out beer delivery to 300 more restaurants in Florida, Iowa, Nebraska, North Carolina, and Ohio by mid-January and grow to more than 1,000 restaurants by this summer.
"We are proud to be pioneers of beer delivery and are well-poised to take on more markets in the coming year," said Marianne Radley, Chief Brand Officer of Pizza Hut. 
The full list of Florida restaurants is below: 
15947 NW Us Highway 441    Alachua
767 S. State Road 434    Altamonte Springs
600 E Altamonte Dr    Altamonte Springs
883 Semoran Blvd    Apopka
1148 N. Rock Springs Rd.Apopka
10738 SE US Hwy. 441    Belleview
421 N. West Street    Bushnell
130 N Winter Park Dr    Casselberry
1105 N. Young            Chiefland
750 E HIGHWAY 50    Clermont
13900 County Road 455    Clermont
710 West Ave            Cocoa
179 E Cocoa Beach Cswy  Cocoa Beach
500 S Atlantic Ave    Daytona Beach
832 N. Nova Rd    Daytona Beach
1500 Beville Rd Ste 102    Daytona Beach
1636 W Hillsboro Blvd    Deerfield Beach
115 E New York Ave    Deland
1894 Providence Blvd    Deltona
11192 N Williams St    Dunnellon
5628 Hansel Ave            Edgewood
1239 S Federal Hwy    Fort Lauderdale
3924-26 Davie Blvd    Fort Lauderdale
1509 E Commercial Blvd    Fort Lauderdale
3515 SW Archer Rd    Gainesville
718 N Federal Hwy    Hallandale
3901 E 4th Ave            Hialeah
4506 Hollywood Blvd    Hollywood
25 N Homestead Blvd    Homestead
3026 N Roosevelt Blvd    Key West
4975 W Irlo Bronson Memorial Hwy.    Kissimmee
5740 W Irlo Bronson Memorial Hwy.    Kissimmee
8557 W Irlo Bronson Hwy    Kissimmee
7557 Osceola Polk Line Rd.    Kissimmee
3311 S. Orange Blossom Trail    Kissimmee
898 Cypress Pkwy    Kissimmee
1313 E Vine St    Kissimmee
1022 Buena Ventura Blvd    Kissimmee
3005 W Lake Mary Blvd.    Lake Mary
1007 N 14th St            Leesburg
8425 US Hwy 441            Leesburg
241 N Hunt Club Blvd, Ste 141    Longwood
201 West S.R. 434    Longwood
3214 Lake Washington Rd    Melbourne
231 W. Hibiscus Blvd.    Melbourne
7840 N. Wickham Rd.    Melbourne
185 N Courtenay Pkwy    Merritt Island
10691 SW 40th St    Miami
5731 NW 36th St            Miami
18857 SW 117th Ave    Miami
19960 NW 2nd Ave    Miami
13715 17 NW 7 Ave    Miami
1529 SW 8th St            Miami
6625 S Dixie Hwy    Miami
13870 SW 8th St            Miami
28640 S Dixie Hwy    Miami
11327 W Flagler St    Miami
4837 NW 183rd St    Miami
254 SE 1st St            Miami
18510 NW 67th Ave.    Miami
6602 Collins Ave    Miami Beach
6845 Miramar Parkway    Miramar
18930 US Highway 441    Mount Dora
1616 S Dixie Fwy    New Smyrna Beach
1401 S State Rd 7, #106    North Lauderdale
2377 SW College Rd.    Ocala
1316 E Silver Springs   Ocala
8449 SW State Road 200    Ocala
9264 SE Maricamp Rd    Ocala
2785 NW 49th Avenue,    Ocala
166 Marion Oaks Blvd.    Ocala
10880 W. Colonial Drive    Ocoee
323 West Road            Ocoee
917 Saxon Blvd            Orange City
6607 W Colonial Dr    Orlando
8128 S Orange Blossom Trl Orlando
700 Maguire Blvd    Orlando
7060 International Dr    Orlando
9100 International Dr    Orlando
12195 S Apopka Vineland Rd    Orlando
2435 South Orange Avenue    Orlando
563 Chickasaw Trail    Orlando
8255 Lee Vista Blvd., ste B    Orlando
3662 Avalon Park East Blvd    Orlando
10395 Narcoossee Rd.    Orlando
2426 S Kirkman Rd    Orlando
10002 University Blvd    Orlando
4343 Edgewater Drive    Orlando
2153 Americana Blvd    Orlando
879 N Alafaya Trl    Orlando
7536 Dr Phillips Blvd.    Orlando
3908 Town Center Blvd    Orlando
1001 N Semoran Blvd    Orlando
4432 Curry Ford Rd    Orlando
16873 E. Colonial Dr.    Orlando
2702 N Pine Hills Rd    Orlando
432 S Atlantic Ave.    Ormond Beach
376 W Granada Blvd.    Ormond Beach
1875 West County Rd 419    Oviedo
4850 Babcock St NE    Palm Bay
1840 Eldron Blvd. S.E., Palm Bay
868 Jupiter Blvd NW.    Palm Bay
18469 Pines Blvd    Pembroke Pines
1622 E Sample Rd    Pompano Beach
3790 S Nova Rd            Port Orange
23244 SW 112th Avenue    Princeton
2818 13th St            Saint Cloud
1939  S. Narcoossee Rd.    Saint Cloud
3852 S Orlando Drive    Sanford
2002 S French Ave    Sanford
5252 W. State Rd. 46    Sanford
1024 Hwy A1A            Satellite Beach
17860 SE 109th Ave.    Summerfield
8280 NW Sunset Strip    Sunrise
2690 S Hopkins Ave    Titusville
939 N Central Ave    Umatilla
842 S Main Street    Wildwood
7970 Winter Garden Vineland Rd.    Windermere
15504 Stoneybrook West Pkwy. Suite 100    Winter Garden
2335 Temple Trl Ste 4    Winter Park
1295 Tuskawilla Road    Winter Springs