Orlando weather: Hot weather continues with small chance for scattered showers on Friday
ORLANDO, Fla. - Tonight's low: 78 degrees | Tomorrow's high: 93 degrees 
Main weather concerns: Dry conditions prevail across central Florida. Winds out of the northeast dominate keeping breezes at 10-15 mph with the chance for a few scattered showers to move onshore. There is a slight chance for afternoon showers, but coverage remains at 20% or less, so not everyone will see rain. Forecast highs inland soar to the low/mid-90s and upper-80s along our east coast.
BEACHES: At the beaches, you can expect a nice breeze out of the northeast. Gusts could reach 15-20 mph with a few passing showers by mid-morning and this afternoon. Not everyone will see rain, coverage is at 20%. Temperatures will reach the upper-80s today with feels-like temperatures near 100 degrees. Stay hydrated and don't forget your sunscreen. There is a moderate risk for rip currents.
THEME PARKS: We have a hot and humid day at the theme parks on Friday. Highs will be nearing 94 with a mix of sun and clouds. A scattered shower or storm is possible this afternoon, but coverage remains low at 20%. Stay hydrated and take breaks inside the a/c.
OUTLOOK: Rain chances stay low through the end of the week and into the start of the weekend. Heat will be increasing, running up into the mid-upper 90s by the coming weekend. Rain chances will increase slowly by early next week. We could see an increase in tropical moisture in the Gulf of Mexico by next week bringing the chance for heavy rain and an increase in breezes. We will continue to update you on the latest.
TRACKING THE TROPICS: The tropics remain active! Tropical storm Franklin is moving into the Atlantic today. Conditions remain ripe for further intensification over the next several days.
Franklin will likely become a hurricane during that time. Well to the east of Franklin, the remains of Tropical Storm Emily have a 70% chance of developing over the next 7 days. 
A secondary tropical wave over the distant Eastern Tropical Atlantic has a 40% of developing over the next 7 days.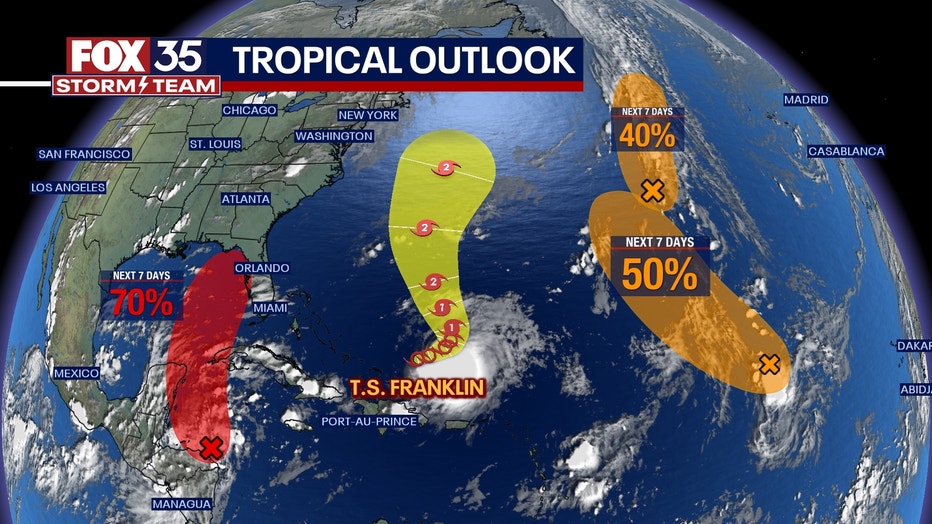 There is also an area of low pressure off the coast of El Salvador that could become better organized once in the northwestern Caribbean Sea. Some gradual development of this system is possible over the weekend and early next week, and a tropical depression could form while it moves slowly northward across the eastern Gulf of Mexico. 
The FOX 35 Storm Team will be tracking the tropics, so be sure to depend on us always! Click here to download the FOX 35 Storm Team Weather App.