Orlando weather timeline: Here is when Thursday storms are expected to reach Central Florida
ORLANDO, Fla. - Severe weather is expected to move over the Florida Peninsula on Thursday, which is why the FOX 35 Storm Team has declared Thursday a FOX 35 Storm Alert Day.  
North Florida will see storms develop between 6 a.m. and 9 a.m., while Orlando and Central Florida will see storms kick up around noon and linger into the afternoon.  The Space Coast will feel the brunt of the severe weather late afternoon.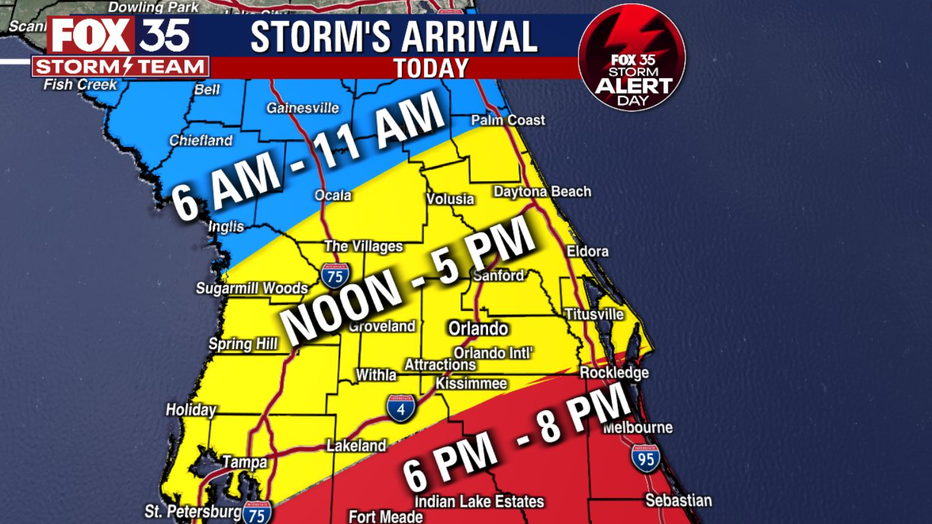 "I really do think that the severe angle of this is going to hold off until after about 11 o'clock. We're going to see some action right along the Gulf Coast. A lot of that stuff will fall apart as it moves in, but once we get the aiding of the sunshine, about 2 o'clock, some of these could start to develop a bit," said FOX 35 Meteorologist Brooks Garner.  "There's enough shear in the atmosphere and winds blowing different directions at different heights to allow some of these storms to organize."
Tracking the tropics: FOX 35 presents hurricane season preview Thursday night
Garner added that large hail, heavy rain, lightning, and damaging wind gusts are possible.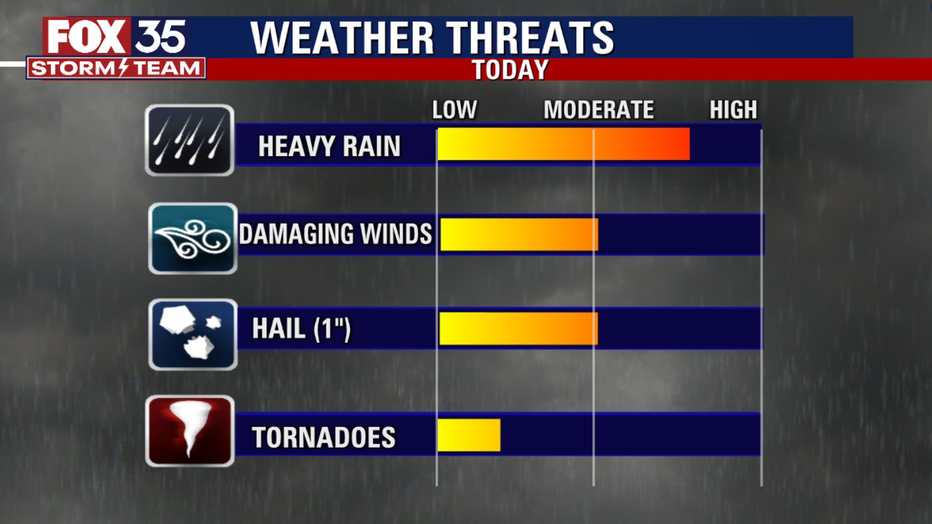 "And if they mingle with the sea breeze on the Atlantic side, there could be a couple of stray tornadoes," Garner said.
A cool down is expected behind the storm front, but you wouldn't have suspected that on Wednesday.  Orlando broke a daily heat record on Wednesday, April 6, which was set back in 1923.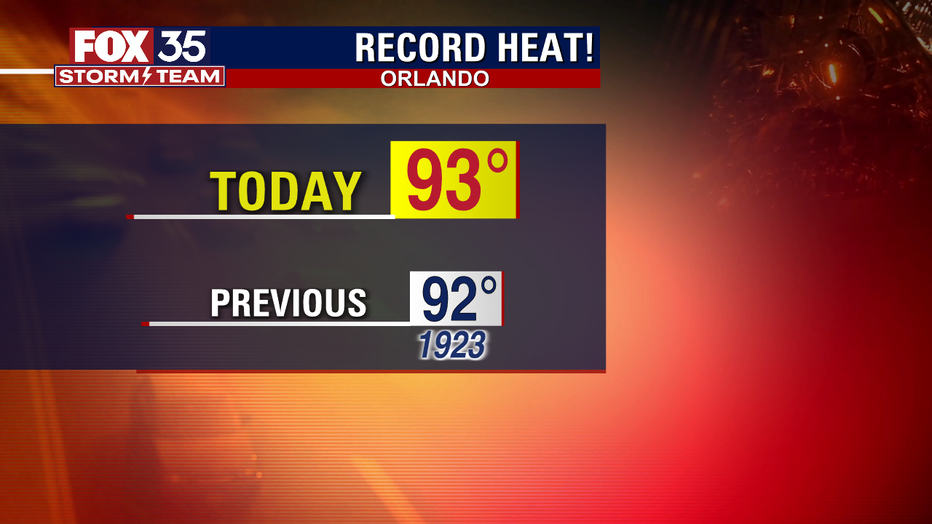 On April 6, 1923, the daily high was 92 degrees. On Wednesday, the official temperature gauge at Orlando International Airport tied the record at 92, then ticked up to 93, setting a new record for the date.
Other areas in Central Florida reached the high 80s.
A few isolated storms moved through earlier Wednesday. 
Once the storm moves through, Friday and into the weekend are anticipated to be sunny and cool.
DOWNLOAD: FOX 35 NEWS APP | FOX 35 STORM TEAM WEATHER APP
Orlando Weather: Storm alerts, live interactive radar, forecast, and more
Click here for the latest Central Florida news, Florida stories, and local headlines.