Mother of suspect in 7 killings says he is 'not a monster'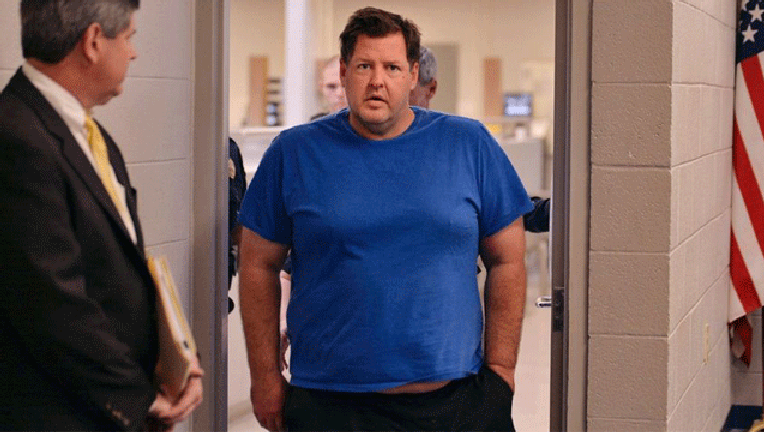 article
COLUMBIA, S.C. (AP) — The mother of a South Carolina man suspected of killing seven people says her son is "very misunderstood" but not a monster.
Regina Tague told CBS for a "48 Hours" special airing Saturday she hates that her son, Todd Kohlhepp, is called a serial killer.
"I know that's what they say. He was very misunderstood," she told CBS late Thursday. "Todd is not a monster. He's not even close to it. He wasn't doing it for enjoyment. He was doing it because he was mad and he was hurt."
READ Sex offender reportedly in custody after missing SC woman found 'chained like a dog' in metal..
Kohlhepp was charged with kidnapping last week after investigators found a 30-year-old woman who had been missing for two months chained inside a metal storage container on his property in rural Woodruff. Authorities later found the bodies of her boyfriend, 32-year-old Charles Carver, and another missing couple.
Sheriff Chuck Wright said Kohlhepp confessed Saturday to gunning down four people at a motorcycle shop elsewhere in Spartanburg County in 2003. Kohlhepp, 45, is charged with four counts of murder in that case. Investigations are still underway in the other three killings.
Before the confession, Wright says he granted Kohlhepp's request to talk with his mother.
Tague says Kohlhepp apologized to her. She has not returned messages from The Associated Press.
Asked why her son tied up the woman, she told CBS, "She saw him kill her boyfriend, and he didn't know what to do with her. Couldn't turn her loose. She'd go get the police."
Tague says Kohlhepp told her he killed Carver "because he got nasty and was smart mouthed."
As to why he killed the owner and employees at Superbike Motorsports in Chesnee, Tague said Kohlhepp wanted to return a motorcycle and "they laughed at him, made jokes at him."
Tom Lucas, the father of slain service manager Brian Lucas, said he's heard differently.
READ Authorities: Body found on rural SC property is boyfriend of woman found chained in a..
"I think he had a purchase of a bike that didn't go well. He messed it up and ended up getting it stolen and came in and bought another bike," Lucas told The AP. "They were kinda playing with him, laughing at him, saying, 'You gonna mess this one up?' or something like that. Something that small just set him off. Nobody deserves to die over a comment like that."
Lucas said Kohlhepp's name was among a list of customers he gave authorities more than a decade ago. But he never heard Kohlhepp's name as a suspect until last week.
"That's a huge, huge weight that's been lifted," Lucas said.
But he wonders, "how many more victims — how many more families are sitting worried to death about their loved one and have no answers?"
READ 'Keep in car for when you have to hide bodies': Amazon reviews may be linked to SC murder suspect
Taken to the Woodruff property last Saturday, Kohlhepp showed investigators two gravesites. Authorities identified the people buried there as 25-year-old Meagan Leigh McCraw-Coxie and her husband, 29-year-old Johnny Joe Coxie, of Spartanburg. They had been missing since December.
Tague says her son told her there are no more bodies on his property.
"There's nothing else you have to worry about," Tague says Kohlhepp told her.
She's defended her son before.
At age 15, he was sentenced to 15 years in an Arizona prison for binding and raping a 14-year-old neighbor at gunpoint.
His mother asked for leniency, according to court records obtained by WHNS-TV in South Carolina.
"Todd knows he did wrong and he's sorry, but they won't even give him a chance to make a good life out of this. ... They don't even stop to think that he even walked the girl home. Does that sound like a dangerous criminal?" she wrote to an Arizona probation officer in August 1987.
Kohlhepp's parents divorced when he was an infant. He moved in with his father in Arizona around age 12.
Kohlhepp had psychological problems from a young age, records show. An Arizona judge wrote in 1987 that he was "very bright" but also "emotionally dangerous" and preoccupied with sex.
A memo detailing a psychiatric evaluation notes that he grew up in South Carolina and Georgia and had counseling from around age 9.
The memo, with a Phoenix hospital's letterhead, states that as a juvenile he threatened suicide, destroyed his bedroom with a hammer, hit other children and killed goldfish with bleach.
A 1987 presentencing report says a neighbor described Kohlhepp as a "devil on a chain."
A probation officer wrote that the neighbor said "Todd locked her son in a dog kennel cage and rolled it over and over. Despite the fact that her son was crying and screaming, Todd was laughing." Another time, she said Kohlhepp banged her son's head against clay pipes.
Court documents show that Kohlhepp's father, mother and stepfather all had difficulty raising him.
The document says the father told authorities he was "never successful in getting the youngster to open up" and had to reprimand him for being a bully.