Maryland man wins lottery three times with same number: 'It hit again'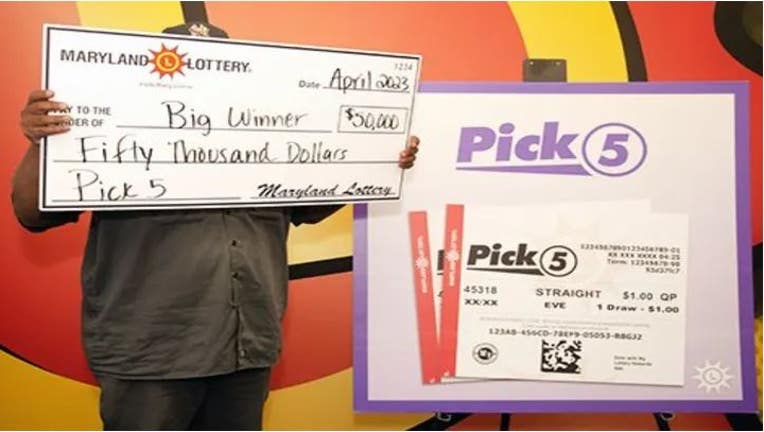 article
A Maryland man has used the same lottery numbers to win prizes three times. 
The Maryland State Lottery said the winner had returned to its headquarters to claim his third $50,000 win in 11 months. 
The Charles County resident won his latest Pick 5 prize in the April 13 midday drawing. 
The 52-year-old Waldorf man had placed a $1 straight bet on the number 48548.
MEGA MILLIONS JACKPOT SWELLS TO $476M AFTER NO WINNER TUESDAY NIGHT
That's the same bet and number that won $100,000 on two tickets he purchased for the May 18, 2022, midday drawing.
"It hit last year, and it hit again," he told officials. "My wife said, 'Let's play this number,' and we keep winning with it."
He said he believes that most winners stop playing after their lucky number is drawn, and incorrectly assume that it will never hit again. 
"Big Winner," the nickname he selected to anonymously share the story of his good fortune, said he kept playing since his win last year and will keep playing after this latest win.
GET FOX BUSINESS ON THE GO BY CLICKING HERE
"I play the Lottery all the time. You never know. You can't win if you are not in it," the truck driver noted.
Along with playing Pick 5, he said his hobbies include going to racetracks and playing the Lottery's Racetrax game.
"Big Winner," seen posing with a check on the Maryland State Lottery website, said that he and his wife will probably use the money to take a vacation. 
CLICK HERE TO READ MORE ON FOX BUSINESS
In addition, retailer Big Mouth Beer, Wine and Liquor, at 2175 Crain Highway in Waldorf, will receive a $500 bonus from the State Lottery for selling the winning ticket.
The odds of winning the $50,000 prize in the Maryland Lottery's "Pick 5" game are one in 100,000, according to the Maryland Lottery website.
What wins is a pattern of five digits in exact order. Five digits in any order have a one-in-20,000 chance of winning $10,000 with a $1 straight bet.