Man traveling without license plate to avoid paying Florida tolls rams deputy with his motorcycle: officials
OCALA, Fla. - A man traveling on a motorcycle has been arrested for reportedly fleeing a Marion County deputy who was trying to pull him over for not having a license plate.
After he was placed in handcuffs, the man, who was later identified as 32-year-old Matthew Price, told deputies he fled the traffic stop because he had removed his license plate to avoid paying tolls while driving in Lakeland, Florida, the Marion County Sheriff's Office said in a Facebook post. 
The sheriff's office released the deputy's dash camera and body camera video on Tuesday showing the April 7 incident. In the video, deputies said Price could be seen weaving in and out of traffic to avoid the traffic stop, and at one point, was seen traveling between vehicles that were stopped at a traffic light at the intersection of Southwest College Road and Southwest 17th Street in Ocala. 
MORE HEADLINES:
The deputy ended up positioning his patrol vehicle in front of the motorcycle's path and exited his vehicle. Officials said Price sped around the patrol car, ramming the deputy, head-on with his motorcycle, which was captured on body camera video.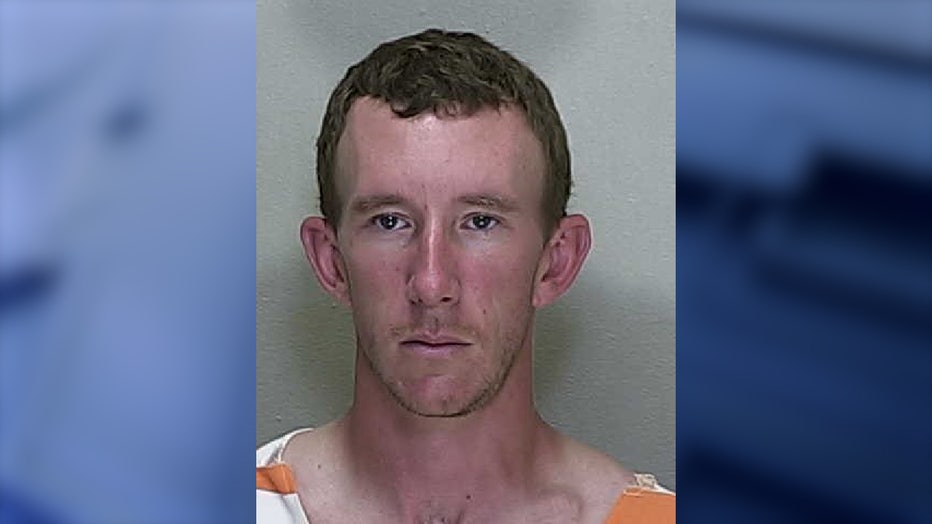 Pictured: Matthew Price (Photo via Marion County Jail)
The deputy then pulled him off the motorcycle and placed Price under arrest. 
"Sorry about that, man," Price could be heard telling the deputy. "I didn't have my plate on and I freaked out." 
Price was booked into the Marion County jail on a charge of fleeing to elude a law enforcement officer, which is a third-degree felony. 
If convicted, Price faces up to five years in prison, a $5,000 fine, a mandatory driver's license suspension of one to five years, and a mandatory adjudication of guilt, the sheriff's office said.