Man taken down by K9 after leading police on chase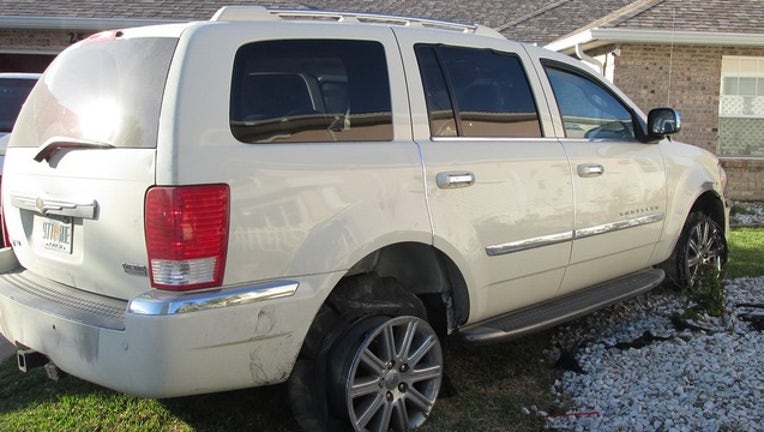 article
FLAGLER COUNTY, Fla. (FOX 35 WOFL) - The Flagler County Sheriff's Office says that on Monday, at 5:30 p.m., one of their deputies attempted to make a traffic stop for a driver he recognized as being wanted as a fugitive for multiple felony violation of probation warrants.
Deputies say that the driver, identified as Richard Knoblaugh, refused to pull over and led deputies on a chase that lasted over 30 minutes.
Knoblaugh reportedly refused to stop, so deputies maintained a safe distance while following him as he led them onto I-95. When he approached the Palm Coast Parkway exit ramp, deputies deployed stop sticks in an attempt to disable his vehicle. The stop sticks were successful in flattening two of his tires, but he continued to flee at much slower speeds.
Deputies say they again deployed stop sticks a second time and successfully struck the two remaining tires, but Knoblaugh continued his attempt to escape arrest. Deputies maintained a safe distance while a helicopter kept eye on him.
Knoblaugh is said to have made his way to a home on Coolidge Court, where he had been living and deputies were waiting for him. His vehicle came to a stop in the middle of the front lawn and he ran into the residence with K-9 Valor in pursuit. Knoblaugh was bitten and apprehended after resisting the K-9 apprehension. 
"This guy was a wanted fugitive with active felony warrants," said Sheriff Staly. "I'm proud of our deputies for bringing this chase to a successful arrest without any of our deputies or citizens getting hurt."
After his arrest, deputies say that Knoblaugh was transported to Florida Hospital Flager and later Halifax Hospital for treatment of the wounds he received because of resisting the K-9 take down.
Knoblaugh has an extensive criminal history dating back to November 2008 and involving 10 arrests.
Deputies say that Tanya Follmar, another resident of the Coolidge Court address, was also arrested and charged with possession of methamphetamine. Follmar is being held on a $2,500 bond.
Sheriff Staly said that the home on Coolidge Court "has been a problem house for some time with the owners enabling these offenders under the disguise of trying to help them." He went on to say that "we we have received numerous complaints from the neighborhood on the activities of this house."
Robert Knoblaugh is reportedly being charged with knowingly driving while license is suspended or revoked, aggravated fleeing and eluding, resisting arrest without violence, leaving the scene of an accident with property damage, and will also answer for his three violation of probation felony warrants.
Knoblaugh will be booked into the Flagler County Detention Facility once treated for his injuries.