Kansas trio accused of plotting bombing to attack immigrants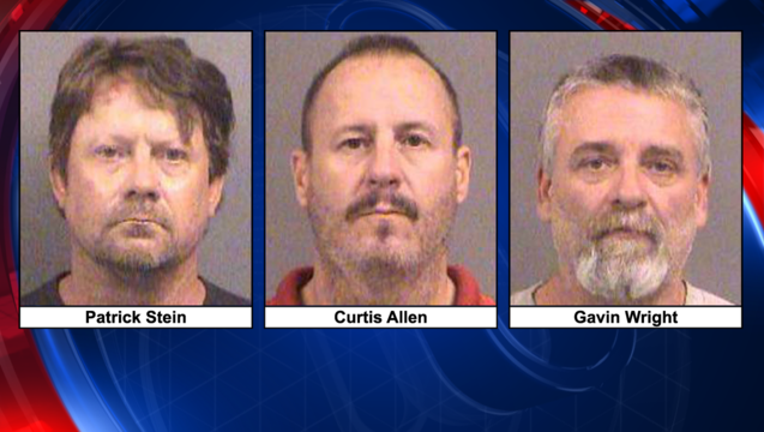 article
WICHITA, Kansas - Three men accused of plotting to attack Somali immigrants in western Kansas appeared in court Monday, where they were appointed lawyers and ordered to remain in custody for the time being.
Magistrate Judge Gwynne Birzer set detention hearings for Patrick Eugene Stein and Gavin Wayne Wright for Friday and for Curtis Wayne Allen next Monday.
The trio was charged in a criminal complaint unsealed Friday with conspiring to use a weapon of mass destruction. Their attorneys declined to comment after the brief hearing in Wichita.
Prosecutors say the men are members of a small militia group that calls itself "the Crusaders" and whose members espouse sovereign citizen, anti-government, anti-Muslim and anti-immigrant extremist beliefs.
They allege that the men planned to detonate truck bombs around a small Garden City apartment complex where about 120 Somali immigrants live and that they had discussed attacking area churches that helped settle the refugees and get them jobs.
Stein's family issued a statement through attorney Dan Monnat, saying they are "extremely grateful" to law enforcement involved in the intervention of the alleged plot. The family also asked for privacy.
"The Stein family is shocked and devastated by the news we received last Friday," their statement read. "We do not support discrimination of any sort and have never advocated or condoned violence as a solution to differences."
Garden City is home to a Tyson Foods cattle slaughterhouse that employs many immigrants, including many of the Somalis who settled there. On Saturday, law enforcement officials met with hundreds of these immigrants in Garden City to try to reassure them of their safety, including Somalis, Malaysians and Burmese, among others.
Police Chief Michael Utz told them that the defendants wanted to attack their religious beliefs, the Wichita Eagle reported.
"Some of you have said you can't go to your mosque to pray, or that you can't go to your homes because you are afraid," Utz said. "But we and the sheriff and the FBI are here to say that you are safe in Garden City, and safe in the United States of America."