Jury recommends death for Everett Miller, convicted of killing two Kissimmee police officers
KISSIMMEE, Fla. - A jury has recommended a death sentence for a man convicted of murdering two Kissimmee police officers. 
Everett Miller, 48, was found guilty for the murders of Kissimmee Police Officers Sgt. Sam Howard and Matthew Baxter.  On Wednesday morning, closing arguments took place and wrapped up just after 11 a.m.
The 12-member jury deliberated for around five hours before arriving at their unanimous decision at the Osceola County Courthouse just before 5 p.m.  Miller stayed stoic while the verdicts were read. Afterward, he cried at the defense table, then he seemingly couldn't get out of the courtroom fast enough.
In September this same jury found Miller guilty of murdering officers Howard and Baxter.  Evidence showed Miller shot each of them in the back of their heads, then flipped them over and posed them before shooting them in their faces.
"Those murders sent a message, a message as clear as the blood on their uniforms," Assistant State Attorney Ryan Williams told the jury. He said Miller made it clear on his Facebook page that he did not like the police. On the day Miller killed the two KPD officers, Wiliams said that Miller stopped and got involved in a situation he had nothing to do with. He then asked Officer Baxter to call Sgt. Howard out.
"He lured Sgt. Howard to the scene," Williams told the jury.  "His level of premeditation was above and beyond."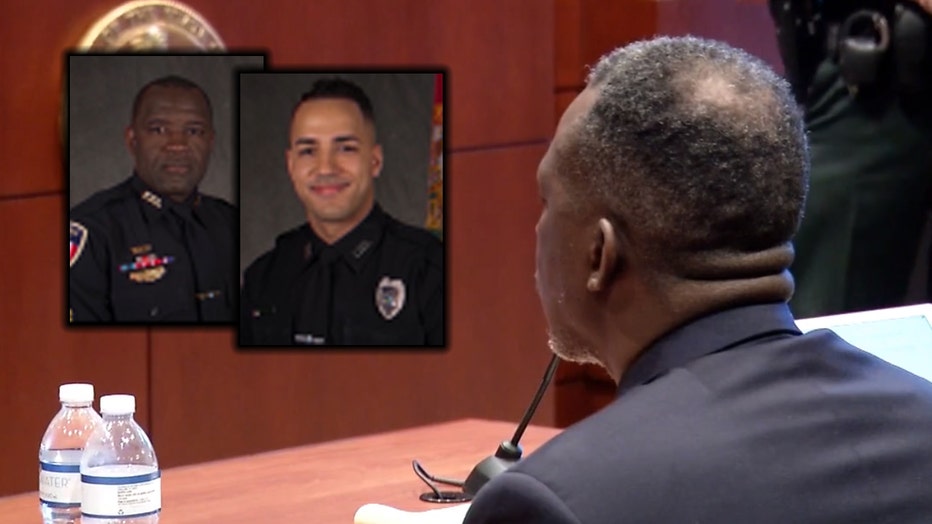 Miller's defense team started by telling the jury that "nothing can bring them back. With your verdict you decided he will spend the last of his life in prison," Roseanne Eckert said.  She showed two side by side pictures of Miller. In the picture on the left, he was wearing his formal dress Marine uniform. The picture on the left showed him barefooted, looking discombobulated on the day he was taken into custody for a mental health evaluation under the Baker Act. The defense pointed out that the dedicated Marine in the picture on the left turned into the broken man on the right. 
Eckert admitted they could not prove Miller's PTSD beyond a reasonable doubt, but insists his mental health did play a role in the murders.  "He wasn't a stark raving lunatic, he was under the influence of a mental illness," the Eckert said.
Eckert told the jury they needed to consider several mitigating factors including Miller being a loving father, that he was a well-respected Marine with top-secret clearance who won lots of medals, and that he had mental illness on both sides of his family.  She left a picture up of Miller with his children when they were younger up as she finished her closing arguments, telling the jury Miller was not an intact man when he murdered Sgt. Sam Howard and Officer Matthew Baxter.
After deliberating for several hours, one member of the jury asked the judge if they could have time alone to think about the case. They specifically requested time to pray, to which the judge said okay.
Officer Baxter's wife Sadia, who's also in law enforcement, spoke to FOX 35 about the jury's verdict. 
"As we close this chapter, I have healing in my heart," Sadia Baxter said.  
She also thanked Kissimmee Police and the community for their continued support of her family and the Howard family during this trying time.
Miller's family did not want to talk to reporters after the jury's recommendation for a death sentence was read.  Miller's defense attorney told The News Station, "these jurors as a whole were very intelligent, engaged, took notes and were attentive."  However, she said she fears they did not completely understand the verdict form, noting they did not find any mitigating factors.
The next hearing, in this case, will be on December 20 at 9 a.m.  At that time, the judge will decide whether to move forward with the jury's recommendation of sentencing Miller to death.