Hurricane Idalia: When will my power be restored?
Tracking Idalia: Stream FOX 35 News
ORLANDO, Fla. - Hurricane Idalia tore into Florida at the speed of a fast-moving train Wednesday, splitting trees in half, ripping roofs off hotels, and turning small cars into boats before sweeping into Georgia and South Carolina as a still-powerful storm that flooded roadways and sent residents running for higher ground.  
Crews were preparing to respond to power outages brought by Hurricane Idalia as early as Monday. Duke Energy Florida and Tampa Electric Co. each said they were staging thousands of workers, including Duke bringing in crews from parent company Duke Energy's operations in the Midwest. Also, Florida Municipal Electric Association Executive Director Amy Zubaly said utility workers from various states are prepared to help her organization's members.  
When am I going to lose power in Hurricane Idalia?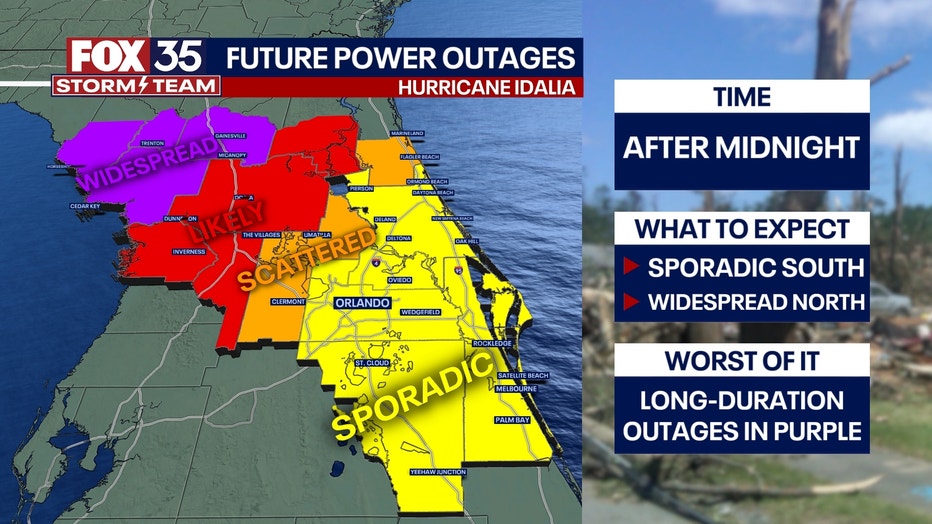 On Tuesday, roughly a thousand Duke Energy trucks were stationed in a field in Sumterville. Ben Williamson with the Storm Response team said there will be upwards of 5,000 personnel ready to help restore power. The contractors and employees are from all over the country. "As soon as it's safe to do so, these crews start rolling out," he said. The plan is to restore power as efficiently as possible. 
Anthony Brooks is an operations manager from Ohio. He and his team drove 15 hours to help. He said he's been with the company for 21 years and is still emotional at the sight of the plan coming together. "I actually get chills," he said. "They drop everything they have to come together and have one common goal. Restore power. So it's pretty amazing." 
There is a priority list for the repairs and service. Toward the top of the list are first responders and medical facilities. Williamson said the number one priority is public safety. This means they'll focus on things like live wires, and other situations where health or safety is at immediate risk.
"We want people to be safe, and we do ask for your patience," he said as the group put the finishing touches on their preparation. "We promise [we will be] working as quickly as we can." 
How to know if I've lost power during Hurricane Idalia?
We have included outage maps for all the major utility companies that serve Central and North Central Florida at the bottom of this article. Direct links can be found below:
"Currently, more than 30 utilities from Georgia, Oklahoma, Nebraska, Ohio, Louisiana, Arkansas, Texas, Missouri, Kentucky, and Alabama have answered the call to provide mutual aid assistance," Zubaly said in a statement. "Crews are deploying from their respective states today and will be pre-positioned in Florida or nearby, so they can enter impacted areas to assist with power restoration as soon as it is safe." 
The Florida Municipal Electric Association includes 33 utilities.  Below are outage maps for the major utility companies that serve Central and North Central Florida:
Clay Electric Power Outages
Duke Energy Power Outages Map
Gainesville Regional Utilities Power Outages Map
Kissimmee Utility Authority Power Outages Map
Orlando Utilities Commission Power Outages Map
SECO Energy Power Outages Map
Suwannee Valley Electric Cooperative Power Outages Map
Tampa Electric Power Outages Map
Tri-County Electric Cooperative Power Outages Map