Hundreds stung by jellyfish in Volusia Co.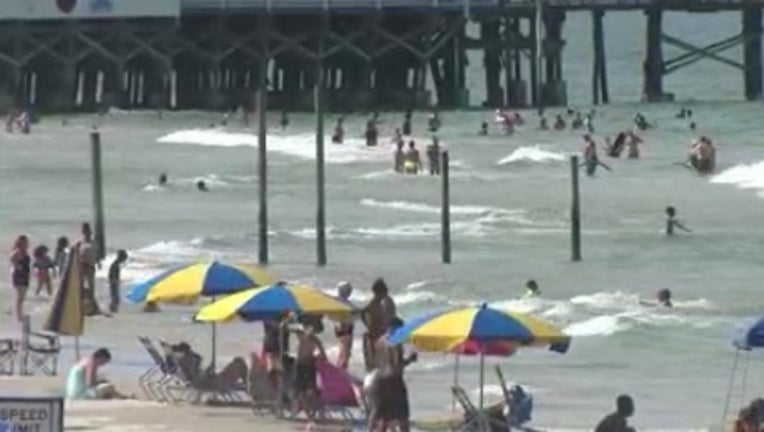 article
VOLUSIA COUNTY, Fla. (WOFL FOX 35) - Volusia County Beach Patrol officials say lifeguards treated more than 500 jellyfish stings on Sunday. 
 
The purple flag was flying, warning people about dangerous marine life. 
Jayson Ness saw the sea creatures up close a few days ago when he snorkeled at Ponce Inlet. 
 
"The thing that really grabbed me was those jellyfish everywhere," Ness said. "You couldn't look anywhere without seeing a bunch of them." 
 
Volusia County Beach Safety Ocean Rescue says 107 people were treated for jellyfish stings on Saturday. 
That number skyrocketed on Sunday to 523 by 5 p.m.  
 
"That's a large number," said Liz Driskell, Beach Safety Deputy Chief of Administration.
 
She says the current is bringing the jellyfish closer to shore. 
 
"As they get tumbled out there in the water, the tentacles become broken off and then the tentacles are just floating around and that's what's stinging people," she said. "That's why they're not seeing a big, large jellyfish." 
 
Gaby Sanchez, who was visiting Daytona Beach from Orlando with her family Sunday, is among those to feel the pain. 
 
"I felt like something, like it felt like it was stinging," she said. 
 
And not surprisingly, Ness said he couldn't escape their tentacles during his snorkel trip either. 
 
"These were like a level, on a scale of 1 to 10, it stings like a four, but it sticks around for a few days and leaves a few marks," he said.
 
Lifeguards say if you're stung at the beach, let them know and they can put vinegar on it to help with the pain. 
As for when the jellyfish will move out, Driskell says that depends on the weather. 
 
"As long as this wind is continuing to push off the ocean, we will continue to have jellyfish," she said. 
 
Driskell says the stinging usually goes away with time.
But if you have shortness of breath after you're stung, you may be allergic and should tell a lifeguard right away, or call 911.