Polk County man shoots, kills stepson before turning gun on himself following hostage situation, police say
LAKE WALES, Fla. - A man and his 19-year-old stepson are dead following a hostage situation early Monday morning in Lake Wales. 
According to Lake Wales Police Chief Chris Velasquez, a woman called 911 shortly after 4 a.m. asking for help removing children from the home due to a domestic disturbance at the intersection of Lindsey Place and Tartan Loop. 
Velasquez said when police arrived, a child ran out of the home and said the suspect, 40-year-old Antonio Oliver, was inside and they thought they heard a gun being cocked. 
The chief stated that when officers arrived Oliver was in the home with the stepson, a 14-year-old girl and a 16-year-old girl. He said that the woman who called 911 came back to the scene and wanted officers to get the children out of the house.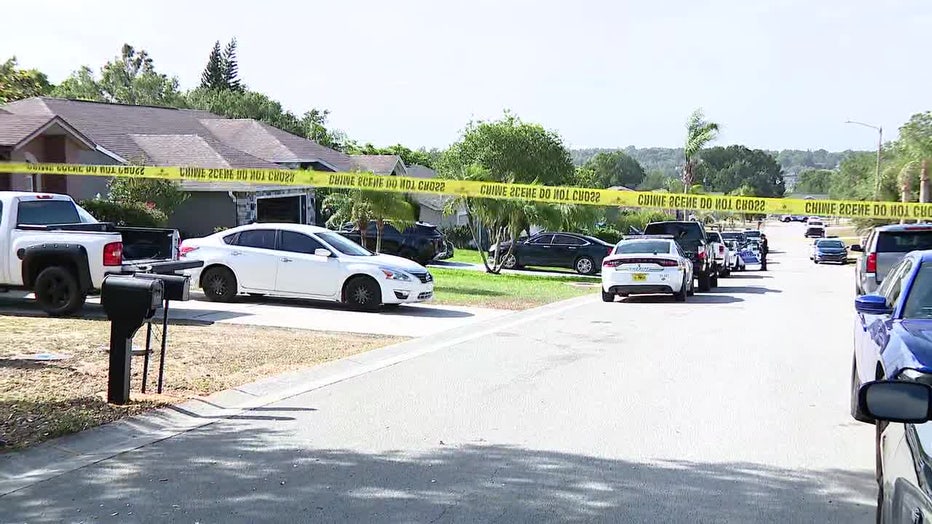 Law enforcement outside fatal hostage scene in Polk County.
Velasquez stated that officers immediately began trying to make contact with the suspect through a PA system and asked him to cooperate. 
However, Oliver told police not to shoot into the home because he was using children as a shield. 
READ: Florida man accused of running crime ring to steal equipment from Home Depot and sell it online
Around 7 a.m. police say they heard a gunshot and SWAT team members ran into the home. Upon making entry, law enforcement officers said they found Oliver dead just inside the front door. 
The body of the suspect's 19-year-old stepson was found in a back bedroom. It is unclear when the teen was shot. 
According to Polk County Sheriff Grady Judd, the suspect has mild criminal history and there is some prior domestic violence between the suspect and an adult woman.
READ: 'It angers me': Polk County Sheriff Grady Judd talks security after Nashville school shooting
"Right now, our main concern is the family, the survivors and their mental health and basically just their well-being," shared Velasquez. "We want to make sure they're going to be OK. What they've experienced today, nobody should ever experience. This was tragic. The number of people who are affected by this are countless. Not only the victims inside, the deceased, but every single one of these people have family members. Every single one of these first responders that showed up today - police, sheriff - every single one of them, they have families. They all have to deal with this."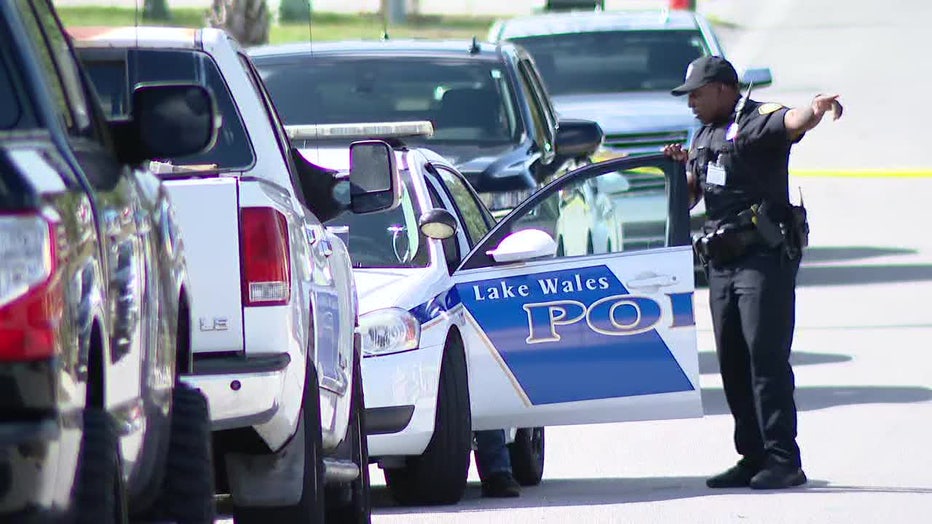 Lake Wales police officers outside fatal hostage scene. 
Velasquez stressed that officers tried to get the suspect to exit the home peacefully.
"He was obviously going through some type of crisis personally in his mind and he chose the wrong way to handle this," Velasquez added.
Sheriff Judd added that deputies located several firearms inside the home.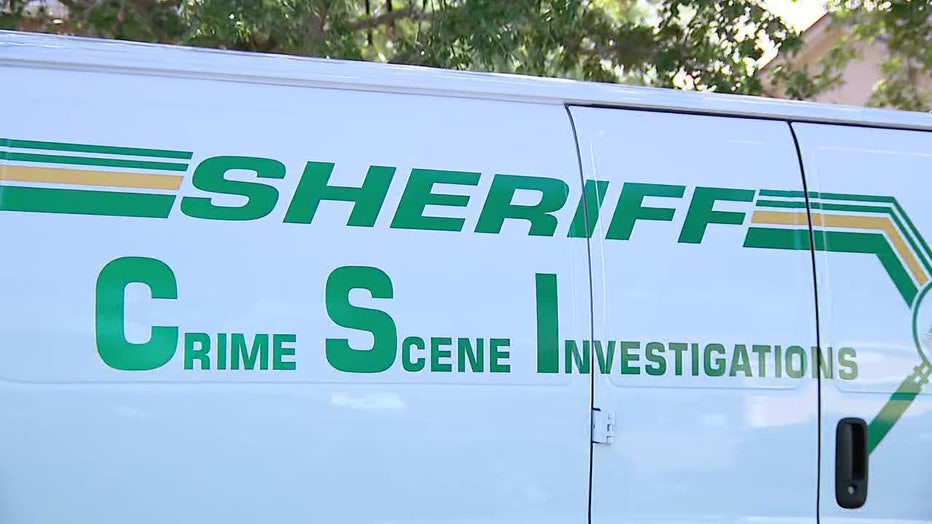 Crime Scene Investigators van at scene of fatal hostage situation. 
"We considered ourselves very, very lucky today. Had he wanted to have a gunfight, he could have created a war," Judd stated. "We saw numerous long guns, semi-automatics. We saw handguns with 50-caliber drums attached to them, so he had a lot of firearms."
READ: Lakeland self-proclaimed rapper arrested for murder made music video about deadly shooting: sheriff
Judd said he recently learned that Oliver may have shot over his wife in a vehicle a few months ago, but she didn't report it to law enforcement. 
Judd added that the woman put the guns in the back of the car after that incident, but it is unclear when or how the guns ended up back inside the house.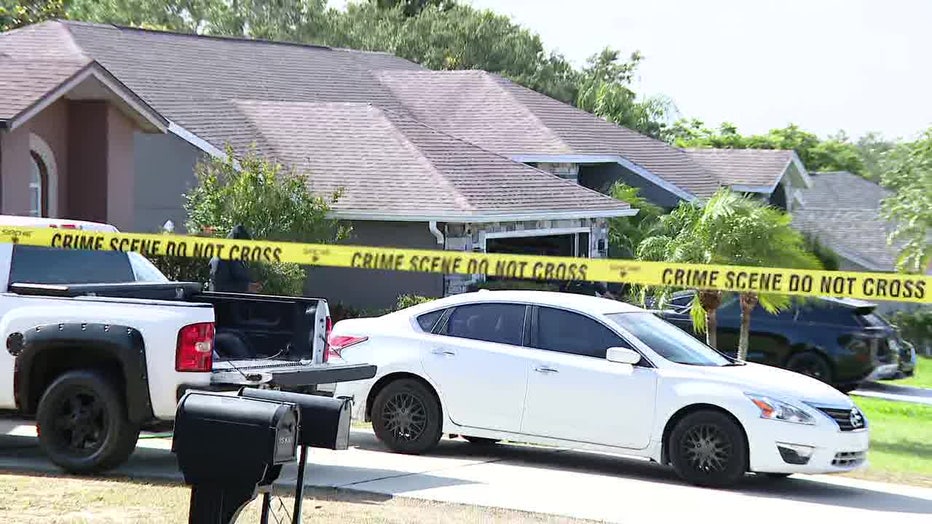 Crime scene tape outside of a home where a hostage situation turned fatal early Monday morning. 
According to Judd, the suspect talked to law enforcement and begged officers to shoot him. Judd says officers told Oliver they were not going to shoot him. Negotiators had told Oliver to call 911 and talk to law enforcement and he did, so they thought the situation was going to be resolved peacefully.
"It was a horrible situation. There was a hostage situation and he had these two children and he made statements that he was using them as a shield but not really. 'Don't shoot into the house. You might hit the kids.' So, he was dead-set on shooting himself."
Judd said the family was at a party Sunday evening and there was an argument after the party.
READ: What does it take to be a member of the SWAT team?
"We did everything possible to resolve this peacefully and he resolved it with violence, a lot of violence," Judd stated.  
The two teenage girls were unharmed during the incident. 
The fatal shooting remains under investigation. 
This is a developing story. Check back for updates.