Florida homeowners say county removed makeshift speed limit signs reminding drivers to slow down
MARION COUNTY, Fla. - The plywood signs two Marion County residents made to remind drivers to slow down may have looked a little rough, but the message they sent was crystal clear.
"There was somebody on Sunday morning who actually threatened my life because I asked them to slow down," James Rix Jr. said Thursday.
He and his neighbor Steven Fowler are tired of drivers speeding down Marion Oaks Manor. The speed limit in the area is 35 mph, but they suspect some drivers go 70-80. They reached a breaking point this past weekend when they say a speeding driver killed Fowler's dog, who had escaped from his home. 
"If they were doing 35 [mph], I think they would have seen her. But the way that they fly, I mean, they probably didn't even see [her], thought it was a bump in the road," Fowler said.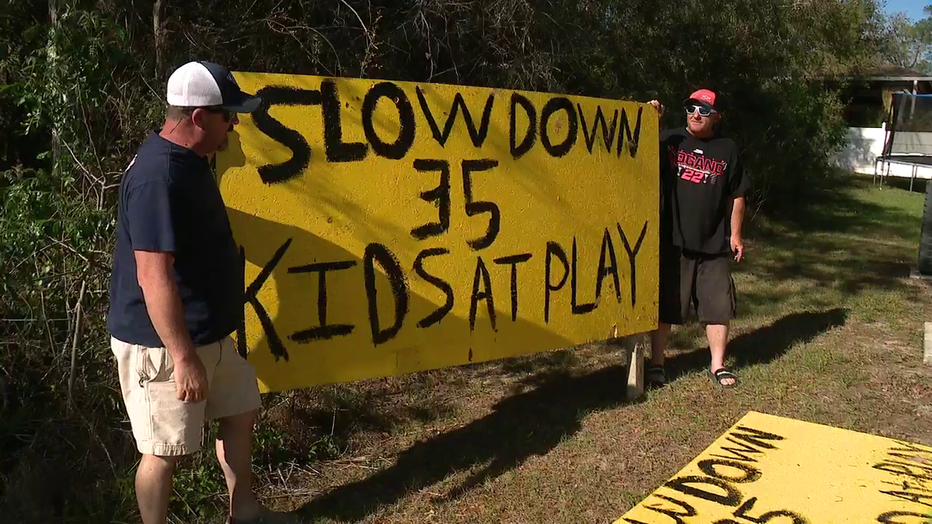 Sunday morning, the two got to work and bought, painted, and planted two large plywood signs on the median outside their homes. And they appeared to have been working. 
"People were slowing down. They were giving thumbs up," Fowler said.
But their impact barely lasted a day. The following morning, the two say a county employee removed them. 
"I was getting ready to go for work and I saw him pull up with the big dump truck, and I was like, 'Oh, they're here,'" Fowler said.
In a statement, Marion County official Matt Leibfried said: 
"On Monday, March 20, 2023, at 7:30 am, the Marion Oaks MSTU General Services Road Division removed the large plywood signs from the right-of-way in the 200 block of Marion Oaks Manor. About an hour later, MSTU staff spoke with Mr. Steven Fowler and Mr. James Rix Jr. regarding the signs. During the conversation, the MSTU staff explained the safety concerns with the use of these signs in the right-of-way in Marion Oaks to Mr. Fowler and Mr. Rix Jr. The Marion Oaks MSTU staff also reached out to Marion County Office of the County Engineer to request the installation of appropriate signage for the area. Our Marion County Office of the County Engineer is reviewing the area to address these concerns. The MSTU staff returned the large plywood signs to Mr. Fowler and Mr. Rix Jr. after they removed the sign from the right-of-way."
For now, the two hope to plant them on their properties until the county and sheriff's office do something about the speeding drivers. So far, any efforts to curb the problem have been futile.
"I've been trying. I've sent emails. I've done everything I could," Rix Jr. said.