FWC: Rise in coyote sightings reported in Maitland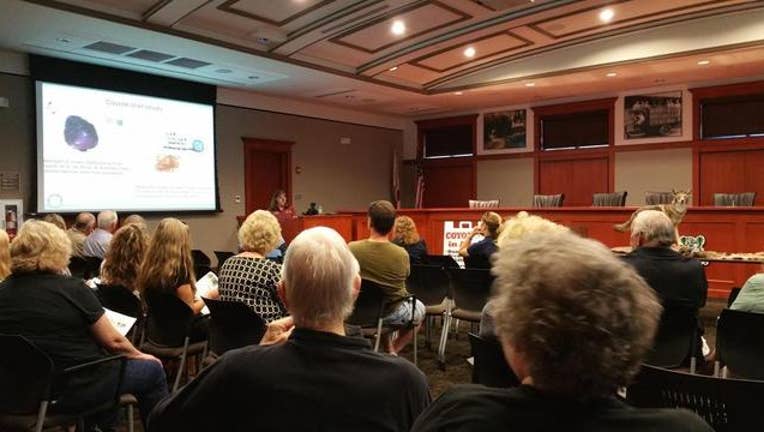 article
MAITLAND, Fla. (WOFL FOX 35) - Florida Fish and Wildlife Conservation Commission officers held a meeting in Maitland on Monday, educating people about coyotes after a number of sightings in the area.   Joe Forshee says he was out walking his two dogs, when he noticed something from a short distance. "There was a coyote staring back at me and he just kind of stared. Leashed my dogs up back quick, because I didn't want them running out to him or vice versa."
According to wildlife officers, more residents in Maitland have been reporting seeing coyotes. It has pet owners like Sandy Williams watching over their cats.  "The one that sleeps on the front porch, I've been keeping him in for the past couple of weeks at night time," she says.   
Wildlife officers say neighbors should avoid leaving garbage out at nighttime and bring their pets inside. FWC spokesman Greg Workman says, "Their habitat is being fragmented and their population is growing and they're being pushed around and they're on the move more." 
Forshee says, "A lot of what happened on I-4 has forced a lot of the wildlife this way and whether its needs control, monitoring, something probably needs to be done." Wildlife officials say, any development could cause the coyotes to shift into a residential neighborhood. They say people can hire trappers to have them removed from their property. If you happen to see a coyote Workman says, "Stay away from it, we recommend you bring some type of loud sound producing device like an air horn, back out and leave the area."
Experts say coyotes usually won't attack a human, they look for small pets.