France's truck attack marks deadly twist in Europe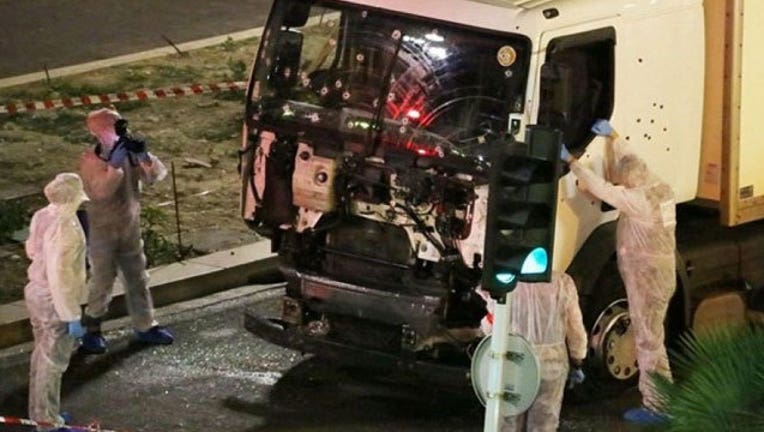 article
LONDON (AP) — France's deadly truck attack marks a frightening new reality in Europe: assailants turning to an ever-expanding arsenal to carry out violence that is becoming harder to predict or prevent.
Europe is no stranger to such bloodshed, but Thursday's death toll of at least 84 people represented one of the deadliest vehicle attacks in recent years.
Although the motivation behind the attack is not yet clear, the Tunisian driver plowed the vehicle into a crowd of revelers who had been watching fireworks for Bastille Day. Unlike attacks that have involved explosives-laden vehicles, the sheer weight and speed of the truck on the busy promenade appeared to have caused the high number of deaths.
"Using vehicles in attacks is a fairly well-established tactic with al-Qaida and the Islamic State group," said Matthew Henman, managing editor at IHS Jane's Terrorism and Insurgency Centre. "The deliberate use of a heavy truck targeting a crowd illustrates the demonstrability of the attack and could be the precursor for other attacks."
Supporters of al-Qaida and the Islamic State group praised the attack Friday, but there was no immediate claim of responsibility.
The militant group has called on supporters to use any means possible to strike at its targets. Attacks inspired by terror groups in recent years have involved planes, bulldozers, tractors, guns, knives, machetes, bombs, explosives and vehicles.
Al-Qaida in the Arabian Peninsula released propaganda in 2010 depicting a truck as "the ultimate mowing machine," and the Islamic State called on its French supporters to "run them over with your cars," just days after the November 2015 attacks in Paris.
In France, there were two other recent attacks using vehicles, but it was disputed whether the assailants had links to terrorist cells. On Dec. 22, 2014, a man ran over pedestrians at a Christmas market in Nantes, killing one and injuring nine. That attack came a day after a similar incident in Dijon when a motorist injured 13 pedestrians. Both suspects, who survived, have histories of mental illness.
In Montreal, a vehicle was used to kill a soldier in October 2014; a year earlier, attackers in a car ran over an off-duty soldier in London before stabbing him to death.
Terrorist attacks involving vehicles have been more common outside of Europe.
The deadliest recent attack occurred July 3 when a suicide bomber from the Islamic State group killed at least 292 people and wounded another 200 by exploding a minibus in a crowded commercial area of Baghdad. The blast came near the end of the Islamic holy month of Ramadan when streets were teaming with people — much like Thursday's festivities that drew crowds across France.
In Afghanistan, Taliban militants using a minivan killed 64 people and wounded more than 340 in an attack this year aimed at a government convoy. Last year, a truck bomb was also used to kill more than 10 people in Kabul. Similarly, a dump truck in Pakistan was loaded with explosives and devastated the Marriott Hotel in Islamabad in 2008, killing 50.
Israel, too, has seen a recent series of attacks using vehicles, many of which have been used against Israeli soldiers or civilians. Other attacks have involved bulldozers and tractors. Some bus and trolley stations have since been fortified with concrete barriers to prevent cars from driving into crowds.
The deadliest vehicle attack was in Beirut in 1983. Two trucks packed with explosives plowed into barracks housing U.S. and French military members, killing more than 300 people. In the United States, Timothy McVeigh killed 168 people in 1995 by driving a truck laden with explosives into a federal building in Oklahoma City.
Nathalie Goulet, a French senator who headed a commission investigating jihadi recruitment networks, said such attacks are difficult to prevent but questioned whether France could be doing more. Islamic State-linked extremists attacked the Bataclan concert hall and other sites across Paris on Nov. 13, killing 130 people.
"We can't put a police officer behind every person," Goulet said. "But, then again, if there really was a state of emergency, we should not have had a gathering like the fireworks show. ... This is a vicious cycle that is not ending."
France has been under a state of emergency since November. The measure allows for any gathering — such as the Bastille Day festivities — to be banned. It also allows for people's homes to be searched without a warrant and for suspects to be held under house arrest without formal charges.
Security officials say an increase in "lone wolf" attacks also makes prevention more difficult. Two such cases in the U.S. involved last year's attack in California when a married couple killed 14 people at the Inland Regional Center in San Bernardino, California. Investigators determined they were inspired but not directed by foreign terrorist groups. Last month, a 29-year-old security guard killed 49 people and wounded 53 others at a gay nightclub in Orlando. He said he was inspired by the Islamic State group and other rival militant groups, although his motive remains unclear.
Sebastien Pietrasanta, a French lawmaker who was on the commission investigating the November attacks, said the truck driver in Nice had not been flagged as having ties to radicals.
"This was an individual who apparently was not known as radicalized," he said. "It's obviously very difficult to prevent. This is the same idea as Orlando."
___
Associated Press writers Lori Hinnant in Perigueux, France, Kathy Gannon in Islamabad and Tia Goldenberg from Jerusalem contributed.