Florida woman leaves three dogs on hot porch with no food or water for 16 days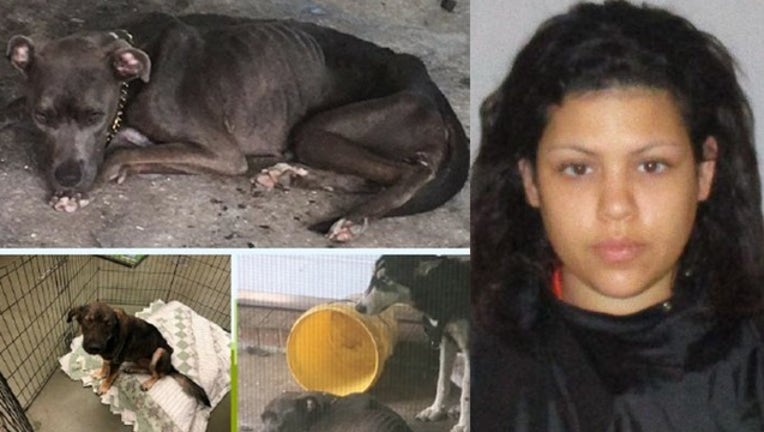 PALM COAST, Fla. (FOX 35 WOFL) - A woman was arrested after they discovered she left three dogs trapped on a hot porch with no food or water 16 days. 
The Flagler County Sheriff's Office says that deputies arrested Rochely Ann Lopez-Colon on an active felony warrant for three counts of aggravated animal cruelty after three dogs were left unattended and confined for 16 days trapped on a porch with no food or water in Palm Coast. 
They say that on August 15th, Flagler County deputies and Palm Coast Animal Control Officers rescued three adult dogs from a residence on Richmond Drive in Palm Coast. The dogs were found in grave health conditions and were located on the back screened porch.
Deputies say that there was a large amount dog feces, consistent with animals confined for long periods of time, on the porch. There was also no food or water observed for the three confined dogs. The bodies of the dogs were emaciated and their bone structure and ribs were visible. 
Two dogs, a Shepherd mix and a Husky, were reportedly able to walk with Animal Control Officers to their truck, but the third dog, which was a Terrier, required an emergency animal stretcher due to her weakened condition.
Flagler County Sheriff Rick Staly commented on the dogs, saying that "there is no excuse for what happened to these dogs. 16 days trapped without food and water on a hot porch during the summer horrific cruelty." He continued speaking, saying that "this arrest is another example of agencies working together to fight animal cruelty, which studies often find can be linked to domestic violence situations."
Palm Coast Animal Control says that two of the three dogs are in foster care by families likely to adopt them. The last one, who couldn't walk, is still in vet car and has a potential foster family lined up. They may also adopt him. 
Rochely Ann-Lopez Colon was arrested and booked into the Sheriff Perry Hall Inmate Detention Facility with $10,500 bond for the animal cruelty charges. Upon arrival at the jail, additional charges for possession of a controlled substance (narcotics) and introduction of contraband to an inmate facility increased bond by $5,000. She is currently being held with a $15,500 bond.