First look at Brightline's 'Orange 2' train as officials say rail line to Orlando 90% complete
ORLANDO, Fla. - Brightline's "Orange 2" higher-speed train has arrived in Orlando. The latest and final addition to their fleet was delivered over the weekend. 
"These trains are going to be going much faster than what people are used to," said Brightline Director of Public Affairs, Katie Mitzner. 
Brightline's trains can hit speeds of 125 mph – two times faster than the maximum speed of a freight train.
"We are starting testing between the airport and Coco and Coco to West Palm in the next couple of weeks," said Mitzner. 
Brightline gave FOX 35 News a closer look at the train with a view from the inside – the brightly-colored train consists of two locomotives and four coaches. 
There is plenty of space to move around and stay connected. Each train is made up of smart cars and premium cars – the premium cars have slightly bigger seats and more legroom. No matter what car you are in, you will have reclining leather chairs, tables, and power outlets with every seat.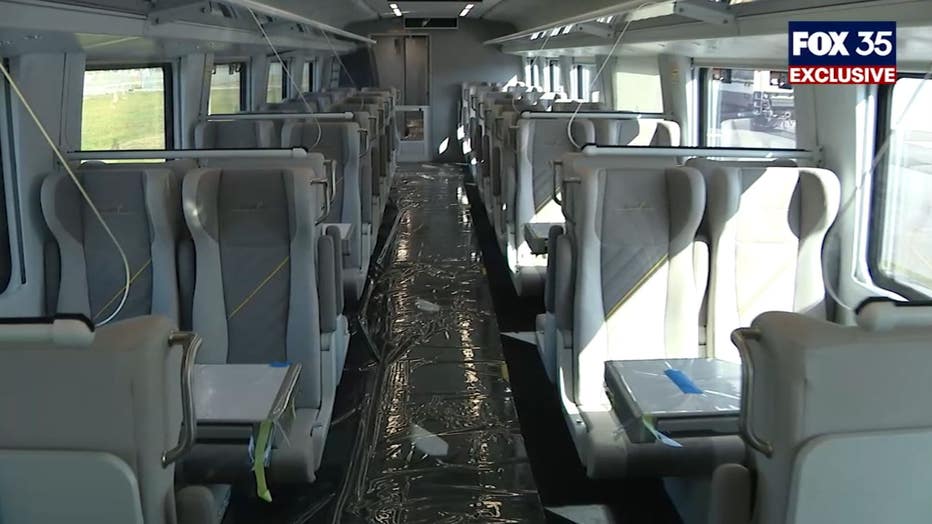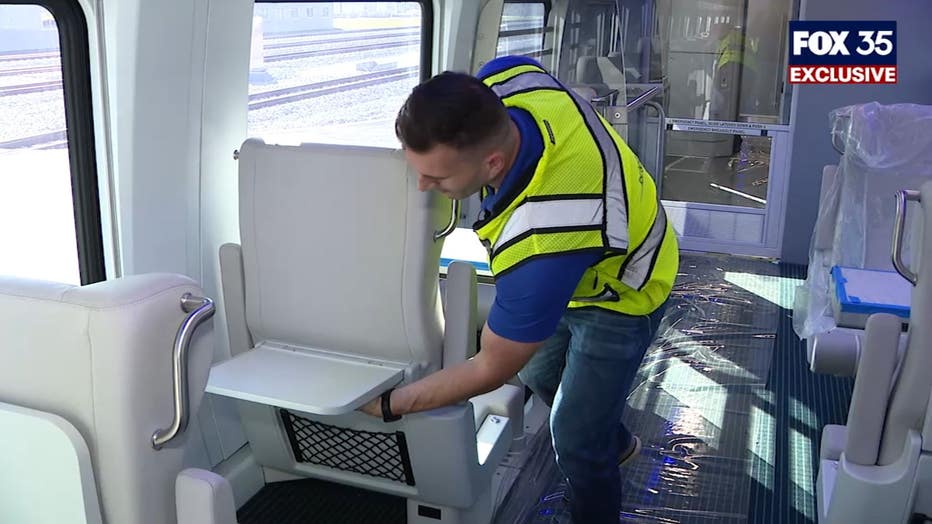 "We have 10 trains now that will service our Orlando extension," said Mitzner. 
Recently, the Associated Press named Brightline the most dangerous rail line in the nation, having contributed to 88 deaths involving its trains since 2017. None of the deaths involving Brightline have been found to be the railroad's fault. Brightline insists their trains are safe. They said the deaths are not due to their engineers but to people or cars being on the tracks at the wrong time. Most have been suicides, pedestrians who tried to run across the tracks ahead of a train, or drivers who maneuvered around crossing gates rather than wait.
With more testing coming in weeks, Brightline has launched a new ad campaign to remind people to be aware of the tracks. 
"It takes up to a mile for a train to stop, but staying off the tracks is a simple solution to keeping everyone safe," said Mitzner. "As folks are approaching railroad tracks, follow those signals. Pay attention to those gates. If those gates are coming down, don't try to beat them. Don't try to drive around them. Always cross at a designated crossing, and never stop on the tracks."
Brightline said the rail line connecting West Palm Beach to Orlando International Airport is 90% complete, and it hopes to open before July of this year.