Firefighters: Wildfire burning in Volusia County 90% contained
VOLUSIA COUNTY, Fla. - UPDATE: Fire officials said Sunday that the Possum Camp Road Fire in Volusia County is 90% contained.
The acreage of the fire was found to be 1,675 acres, according to the Florida Forest Service - Bunnell District.
Fire officials said rain on Sunday helped put out the wildfire, along with the tireless effort of crews at the site.
Firefighters are expected to be back out on Monday to watch for hot spots and improve containment lines to put out the fire at 100%.
PREVIOUS VERSION: The Florida Forest Service and other agencies say they are working a wildfire near Interstate 95 in Volusia County.
They said that the fire is on the west side of the interstate between New Smyrna Beach and Edgewater. So far, the fire has burned an estimated 2,200 acres of land and is about 60 percent contained as of Sunday afternoon.
On Saturday, the fire was said to be about 1,000 acres wide.
"Minimal fire activity at this time and the fire is receiving a little bit of rain," the Florida Forest Service said.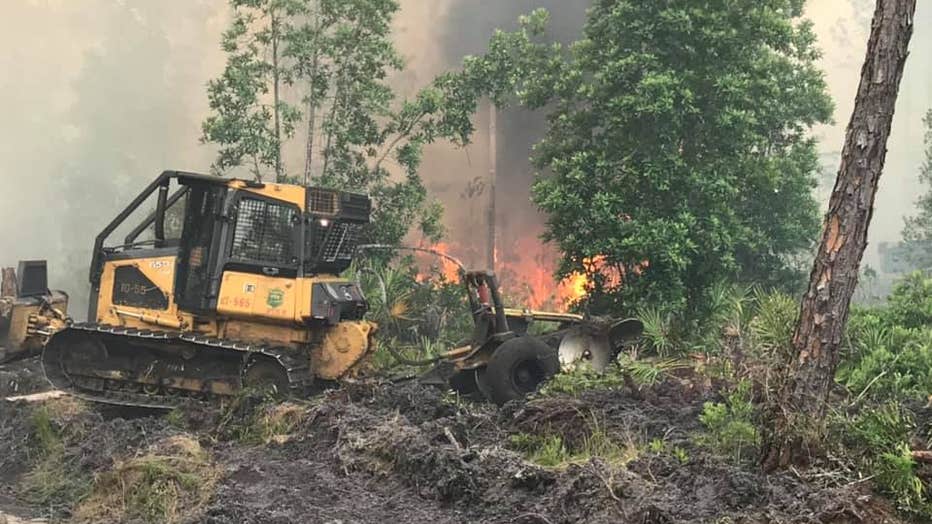 So far, the smoke has not caused any visibility concerns and no homes have been threatened so far. Firefighters said there are no structures in danger and crews are working to contain the blaze. They are using eight bulldozers and four helicopters as they battle the flames.
BREAKING NEWS ALERTS: Download the FOX 35 news app for breaking news as it happens and more
Interstate 95 is still open but fire officials caution drivers to be careful of any smoke that might appear.
Watch FOX 35 Orlando for the latest Central Florida news.