Downed trees, debris around New Smyrna Beach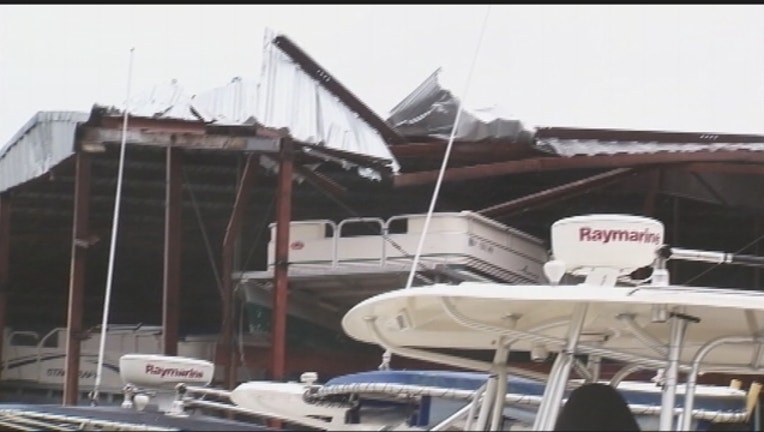 article
NEW SMYRNA BEACH, Fla. (WOFL FOX 35) - The City of New Smyrna is left picking up the pieces as Hurricane Matthew continued lashing the city with strong winds and pounding rain.
New Smyrna's Fishing Cove Marina, one of the many places here given a "hurricane makeover" by Matthew as he tore up the Florida coast.  Downed trees and debris from buildings scattered far and wide across roads and lawns. Like the roof on a parking lot - torn into pieces, and littering the area. Lou Giammatteo lives at the condo complex.
"It appears a lot of these carports have a lot of damage. And there's a lot of trees down - we had a lot of brand new trees they planted on the north causeway, they're all down," Giammatteo says.
And it's not just homes that have been hit, it's local businesses, too, like Paddleboard New Smyrna. With all this wind it's easy to see how the debris that's around here all used to be part of a roof structure that was behind that building. Eric Lumbert owns the shop and was shocked when he came by to survey the damage.
"It's a bit of a punch in the stomach," Lumbert says, "but it's out of our control. We just need to pick up the pieces and move on."
From the front, it just looks like some roof shingles missing, but take a closer look and you'll see the extensive damage. Inside, a chunk of the workshop roof is gone, and steel doors blow in the wind like bedsheets. The covered parking lot in the back has totally collapsed, and their dock has floated away.
"A bit of agony," Lumbert says, "but then you've got to say we've got a strong community here that rallies around local business owners, and I'm sure there's others in the same situation, so we're not alone, we'll figure it out."
Lumbert and his family spent last night on the mainland, but lives in New Smyrna Beach - police aren't letting anyone onto the bridges, so he has no idea what their home is going to look like when they arrive. One thing he is sure about, is that he wants to get this business back up and running within a week.