New Disney Treasure redefines ocean views with glass ceilings, plus other exciting additions
CELEBRATION, Fla. - Your favorite Disney princesses, Pixar characters and Star Wars icons will all come together on one special ship that's set to hit the high seas in 2024 – the Disney Treasure. 
Disney Cruise Line shared a first look at the interior of the ship for the first time since the new cruise was first announced – and it does not disappoint. Guests can marvel at the Grand Hall, watch a Broadway-style show at the Walt Disney Theater, snack on Zootopia-inspired sweet treats and even immerse themselves in their own Star Wars story in Cargo Bay, the cruise line said in a press release on Tuesday. 
The Disney Treasure is will start accepting bookings for all guests on September 20, with travel scheduled to begin December 21, 2024 from Port Canaveral. The seven-night cruise will travel to the Eastern and Western Caribbean, with stops in the British Virgin Islands, St. Thomas, Mexico, Grand Cayman, Jamaica, Puerto Rico and, of course, Disney Castaway Cay.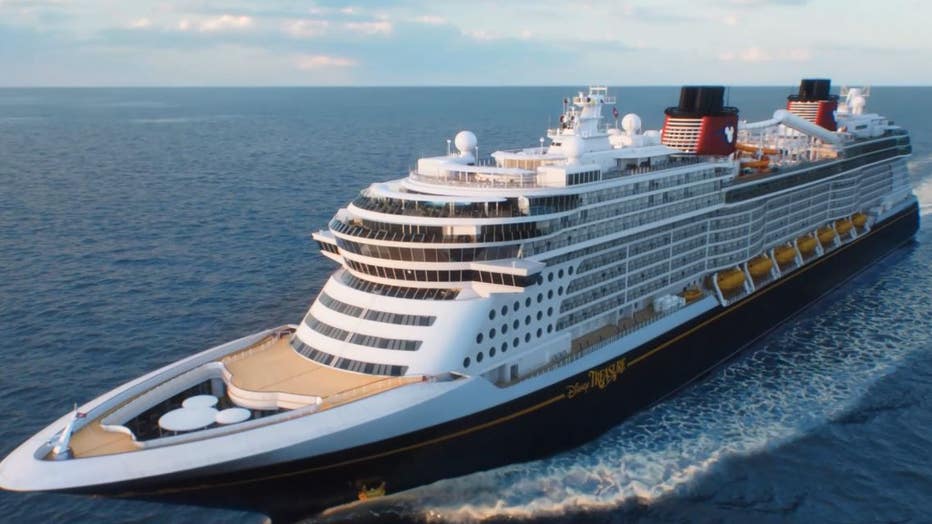 Photo: Disney Cruise Line
There are over 1,250 staterooms on board, 70% of which have a veranda. 
The Disney Treasure, currently being constructed in Germany, will be slightly larger than the Disney Dream and Disney Fantasy at 144,000 gross tons. 
Photo: Disney Cruise Line
Here's a look at some of the one-of-a-kind experiences guests can enjoy aboard the Disney Treasure:
New dining experiences inspired by Coco and Zootopia
Two restaurants you might already be familiar with from the Disney Wish will also be onboard the Disney Treasure – 1923 and Worlds of Marvel – but the new ship is also bringing a whole new world to your plate. 
Introducing Plaza de Coco, inspired by the Pixar film Coco. Guests will immerse themselves in the story of Miguel and his family as they munch on a modern twist on traditional Mexican food and watch a spectacle of live entertainment.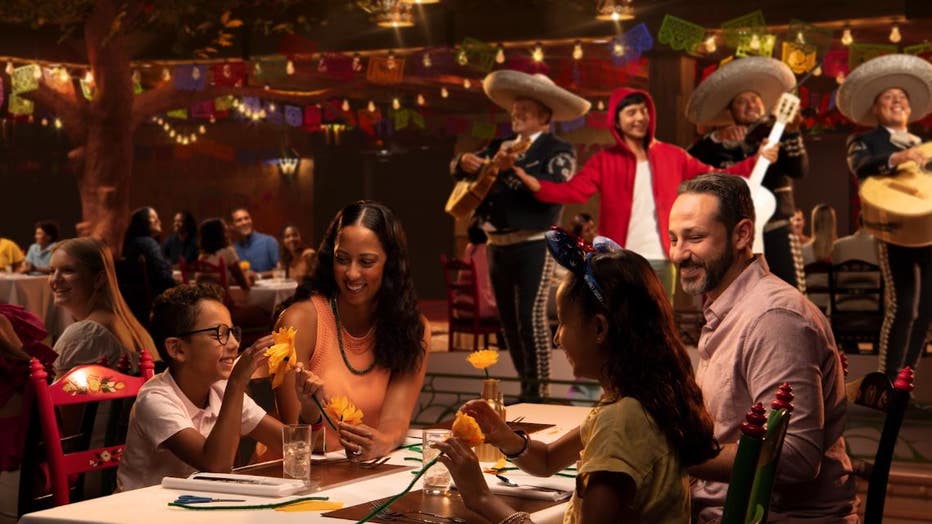 Photo: Disney Cruise Line
Jumbeaux's Sweets is also a new addition to the Treasure, an ice cream shop inspired by Zootopia.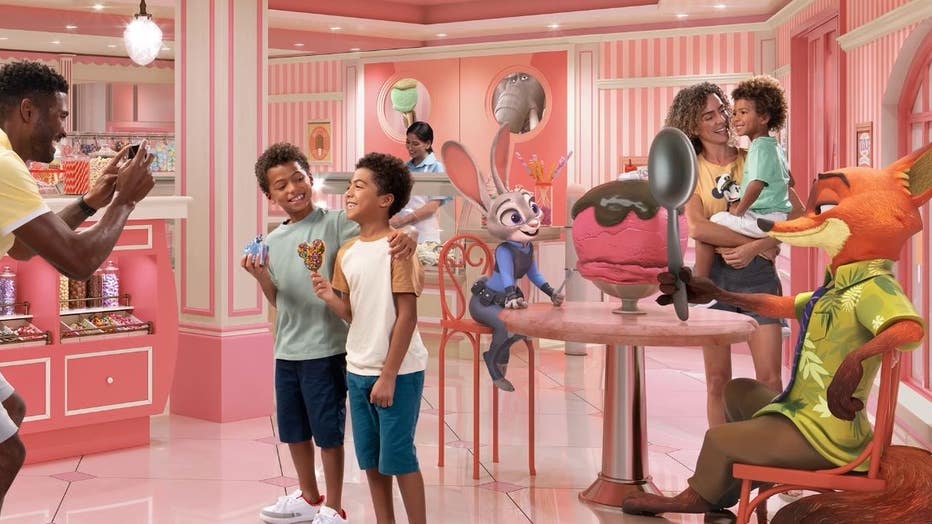 Photo: Disney Cruise Line
MORE DISNEY NEWS:
Aladdin, Lion King and Beauty and the Beast take center stage
The Grand Hall on the ship is inspired by Aladdin and serves as the Disney Treasure's "most prominent gathering space."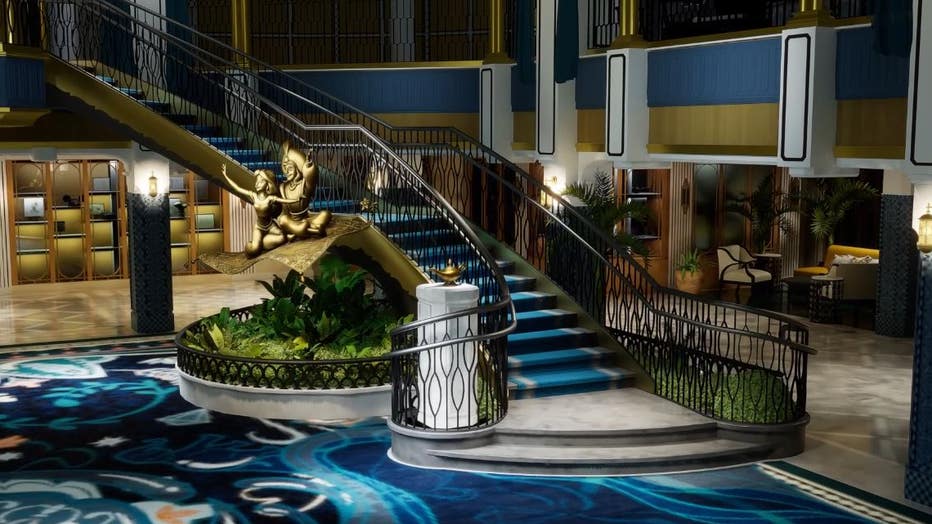 Photo: Disney Cruise Line
There's also a Sarabi, named for the lioness matriarch of The Lion King that will be a central hub for daytime activities and adult-only evening entertainment. This is where guests can participate in nightly game shows like "Match Your Mate," "Family Time Game Show" and "Villains Game Night."
The Walt Disney Theater will feature Broadway-style productions of Beauty and the Beast and Disney Seas the Adventure onboard the Disney Treasure.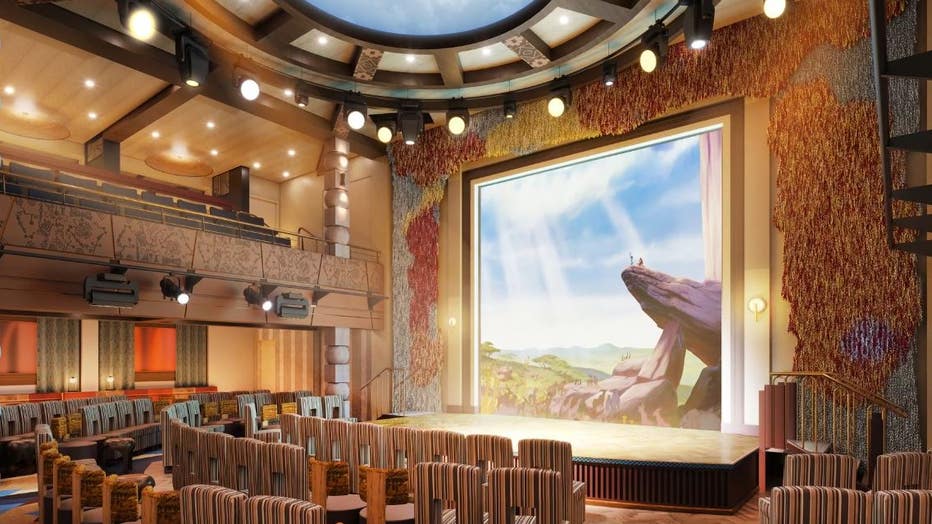 Photo: Disney Cruise Line
A new, third show developed exclusively for the Disney Treasure will be announced at a later date. 
Plunge into the world of Mickey and Minnie Mouse
AquaMouse is back – and the Disney Treasure will get an all-new storyline for those who are seeking a little adventure. The two-person tube goes through 760 feet of winding tubes that offer breathtaking views of the ship and the ocean below.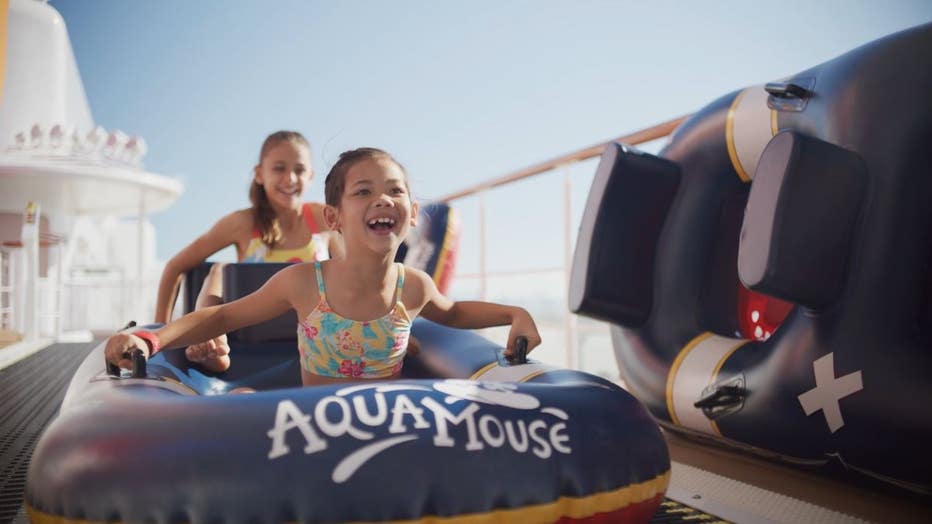 Photo: Disney Cruise Line
There's also a Toy Story-themed district for little ones to splash and play around. 
For the parents and adults, Quiet Cove is where those of age can indulge in a private infinity pool, poolside bar and café.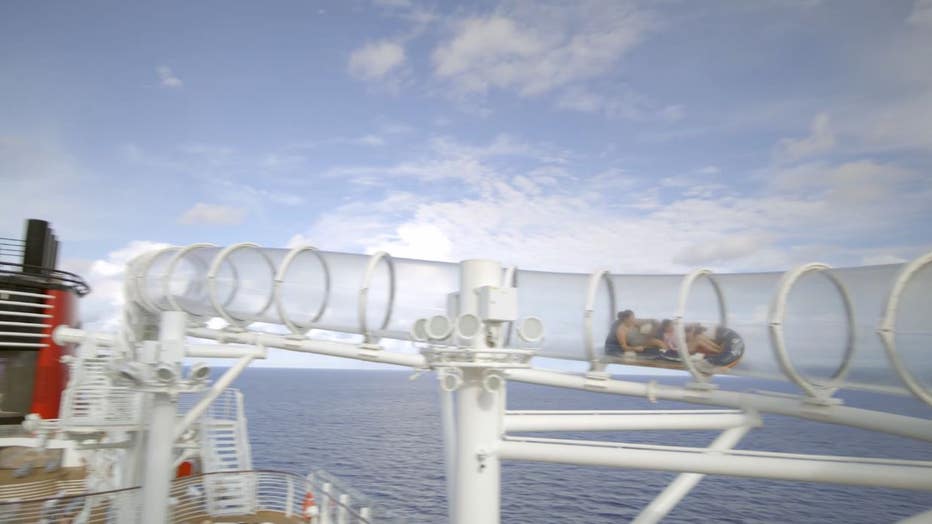 Photo: Disney Cruise Line
Watch sports and grab a beer at an all-new submarine-style pub with glass ceilings
Periscope Pub is Disney Cruise Line's first venue insured by 20,000 Leagues Under the Sea, Walt Disney's film from 1954. Guests can experience the ocean without ever getting wet by looking through the glass ceilings.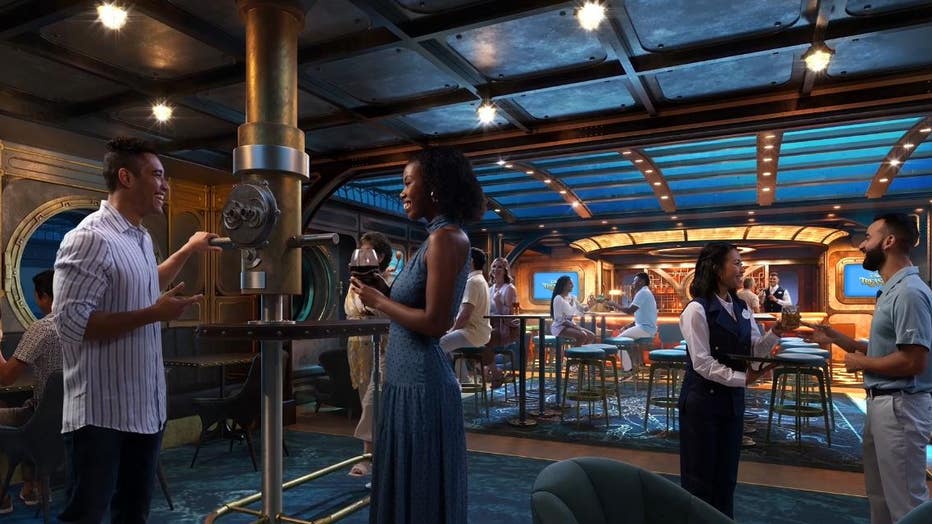 Photo: Disney Cruise Line
Skipper Society is a Jungle Cruise-inspired spot where guests can sip on themed cocktails and light snacks.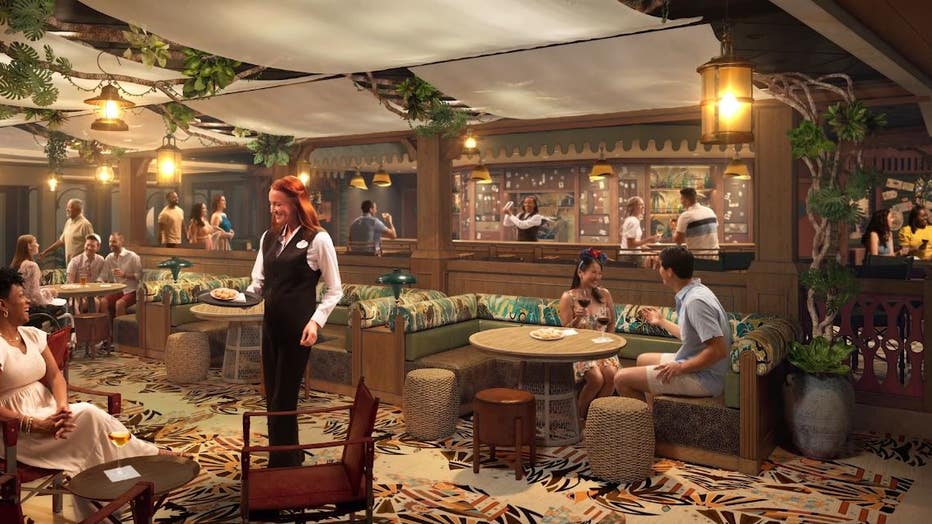 Photo: Disney Cruise Line
Other fan favorites for adults from other Disney Cruise Line ships will also be on the Disney Treasure, including Palo Steakhouse, Enchanté and The Rose. 
Marvel, Star Wars and Disney Princesses come to life in the kids' club
Here's a look at some of the kid-friendly attractions found in Disney's Oceaneer Club:
Marvel Super Hero Academy
Fairy Tale Hall
Walt Disney Imagineering Lab
Star Wars: Cargo Bay
Mickey and Minnie Captain's Deck
Photo: Disney Cruise Line
Click here for more information about the Disney Treasure, or to book your next trip.