Deputy uses CPR to save Strawberry Crest High School student
DOVER, Fla. - David Nieves says he got a little choked up when he first saw the bodycam video.
"I got maybe a little emotional when I saw it. I'm like – wow," he said. "This is just, wow."
The Strawberry Crest High School senior remembers going to the cafeteria Monday. The next thing he knew, he was in an ambulance.
"I don't remember anything in between the events of what happened," he said.
You see it all unfold on the school resource deputy's body camera video. Deputy Pedro Colon rushed to find David seizing on the ground, then immediately began performing CPR for several minutes.
"Well, the first thing that went through my mind when I walked in was, I had just greeted him 10 minutes earlier," Colon said. "And so I recognized who the student was. The next thing was, OK, what do I need to do? I noticed he had stopped breathing and started CPR, like we're trained to do."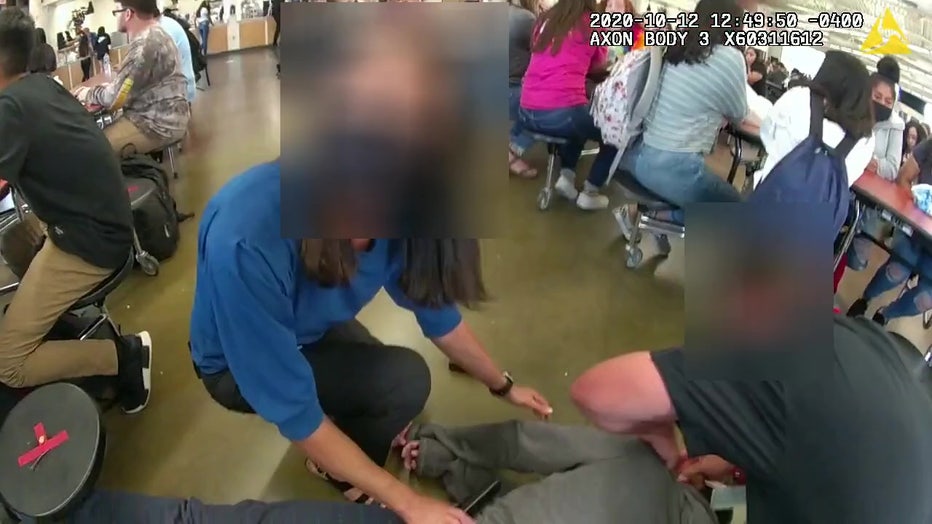 Within minutes, David was breathing again. He says he had open-heart surgery when he was 3 years old, but nothing like this has ever happened. He is grateful it happened on campus.
"Very lucky, very lucky it happened because had I been somewhere where not a lot of people would have been, the worst could have happened," he said. "Had I not been in that lunchroom, I wouldn't be here today."
With David now back at school for the first time since Monday's incident, Deputy Colon says, it's great to see his familiar face.
"I'm relieved to see him doing much better, obviously, back to his normal self. Just happy that he's here with us," he added. 
Colon has been with the Hillsborough County Sheriff's Office since 2003 but this was his first year as a school resource officer at Strawberry Crest High School.