2 dead in apparent murder-suicide at Longwood-area home, deputies say
LAKE MARY, Fla. - Two people are dead in what investigators are calling a murder-suicide incident at a home in the Wekiwa Springs area of unincorporated Longwood.  
Law enforcement officers with the Seminole County Sheriff's Office said they were called to a home on Jennifer Hope Boulevard for a reported shooting late Wednesday afternoon, which they believed to have stemmed from a domestic violence incident. After several hours of attempts to communicate with a person inside the home, deputies later confirmed the two deaths.
Upon arrival, deputies said they located an injured woman lying in the front yard of the home. She was transported to a local hospital in critical condition and later succumbed to her injuries, authorities said.
"Witnesses told deputies the woman was shot by an elderly man who was possibly still inside the residence," said Seminole County Sheriff's Office spokesman Bob Kealing. "After obtaining a search warrant, deputies entered the home and discovered the man deceased inside from an apparent self-inflicted gunshot wound."
A helicopter, an armored vehicle, a critical incident truck, an ambulance, and dozens of deputies all filled the normally quiet neighborhood for the better part of the evening.
Harry Jacobs said he and his wife were swimming in their pool when they said they heard four or five gunshots ring out. "We've been here some 42 years in this neighborhood. Never seen anything like this before," said Jacobs. "I was hoping that no one got hurt."
Mark Matthews said his wife just had knee surgery, so she wasn't able to evacuate even though the shooting happened right across the street from her house.  Over the phone, she told FOX 35 News that deputies armed with large rifles told her she would need to hide in the kitchen. "She's definitely scared, but it's a matter of being frightened and being stressed," said Matthews.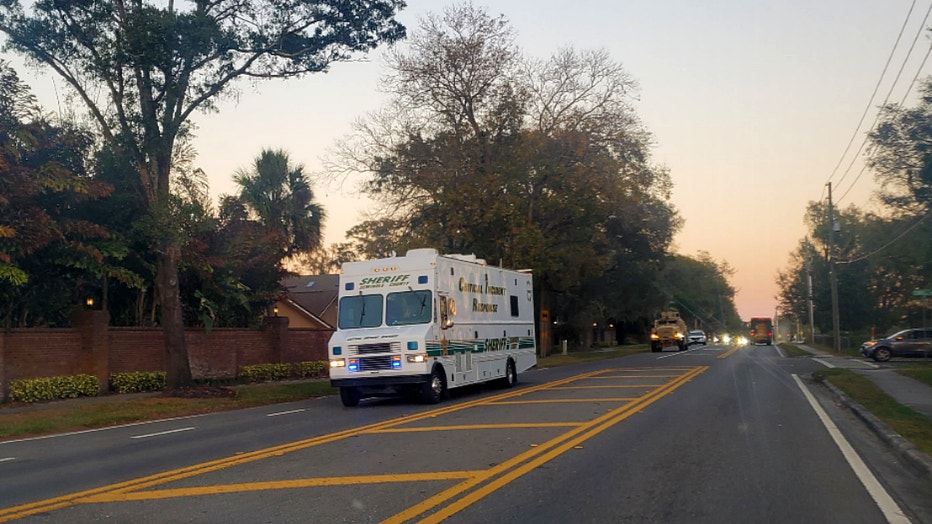 Authorities respond to a reported shooting a Longwood subdivision, Jan. 11, 2023. 
Matthews said deputies would not let him over to the house to care for his wife. "It's just nerve-wracking for my wife. I'm safe. I'm concerned about her because she can't get around, and the whole downstairs of her house is glass. Sliding doors or windows. I just hope whoever has the gun decides to stay in his house."
Randy Berridge is part of the Homeowner's Association Board in Jennifer Estates and was astonished at the number of sheriff's deputies that flooded his neighborhood. "My wife and I have lived here for 43 years, and this is obviously the first time something like this has happened. And it's a sad day for sure that somebody's been hurt," said Berridge.
The sheriff's office continues to investigate the incident but said there is currently no threat to the community