CHP reminds public of surrendered baby law after infant abandoned in middle of road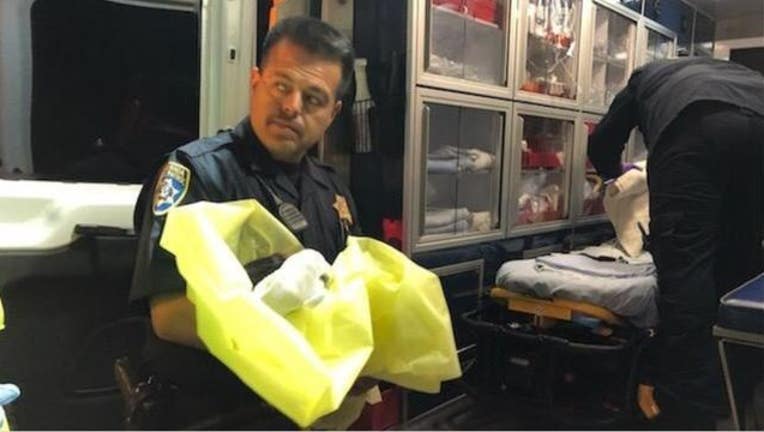 article
MADERA, Calif. (KTVU) - The CHP is reminding the public of California's Surrendered Baby Law after an hours old baby was found abandoned in the middle of a Central California road. 
According to the Fresno Bee, a Fresno Bee newspaper carrier was delivering papers in Madera Monday - traveling at about 5 mph - when he noticed the newborn baby in the middle of the dark road. 
It was 4:30 a.m. when he made the discovery in the 35000 block of Avenue 13 ½  and called police. The newborn was only dressed in a soiled onesie as temperatures dipped below 30 degrees. 
Aurelio Fuentes Jr. tells the Fresno Bee, "If there was another vehicle, that baby would have been badly hurt (or killed)." He added the baby was on its back and crying. 
A Good Samaritan who was driving by let the newborn into her warm car, according to the Fresno Bee report. 
When the CHP arrived at the scene Officer Alfred Medina scooped the baby girl up in a blanket for warmth.  
According to the Madera County Sheriff's Office, the newborn girl was rushed to Valley View Hospital. Although the baby is in good condition, she was admitted to the NICU. 
As authorities continue to work to find the woman who left they baby in the roadway, they are reminding parents they can safely surrender an infant within 72 hours of birth, with no questions asked, at designated safe drop-off sites. The sites are typically hospitals or fire stations. 
Authorities are trying to identify the woman who left the baby in the roadway.
She is described by witnesses as a Hispanic female adult, possibly in her early 20's. Her physical description is unknown. She left the scene in a small white SUV of unknown make or model.
Anyone with information on the case is being asked to contact the Madera County Sheriff's Office at 559-675-7770.