Charges dropped against man who killed wife's attempted rapist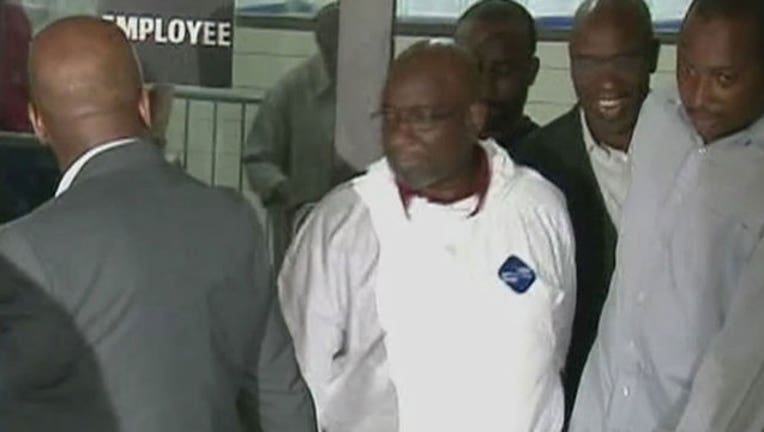 article
NEW YORK (FOX5NY) - Charges have been dropped against a man in connection with the death of a man he had beaten for trying to rape his wife in their Bronx apartment.
Mamadou Diallo, 61, was arrested after the attack in May in the Morrisania section.
The alleged assailant, identified as Earl Nash, 43, reportedly ripped the 51-year-old victim's clothes off and smashed her head into a chair before she managed to break free and call her husband on her phone. Neighbors told Fox 5 that he had been acting aggressively to other women in the building.
Diallo, who was outside the building looking for a parking spot, hurried to his wife only to find the suspect on the 6th floor hallway of 1240 Washington Ave.
Diallo allegedly assaulted Nash with a tire iron as the career criminal attacked Diallo with a leather belt.
Police found Nash, of the Bronx, unconscious and unresponsive with severe trauma to his head and body. He was taken to Lincoln Hospital in critical condition by an EMS crew where he later died.
Police arrested Diallo and initially charged him with manslaughter.
In announcing that the charges were dropped, Bronx District Attorney Darcel D. Clark said, "This case was a tragedy for all whose lives intersected in that Bronx building on the night of May 30, 2016."
Clark went on to say, "We waited for three months for the autopsy results, and after a thorough investigation as well as discussions with the deceased's family we have determined that no grand jury action is warranted."
Assistant District Attorney Cruz read a statement from the Nash family that said in part, "We truly believe that both the Nash and the Diallo family have suffered a great deal of pain as a result of May 30, 2016…. While we cannot undo the damage that was done that evening, we hope to bring some closure not only to our family but to the Diallo family as well.  As such, we wholeheartedly recommend that District Attorney Clark dismiss all charges against Mamadou Diallo."