Cardi B visits CHOA, signs patient's cast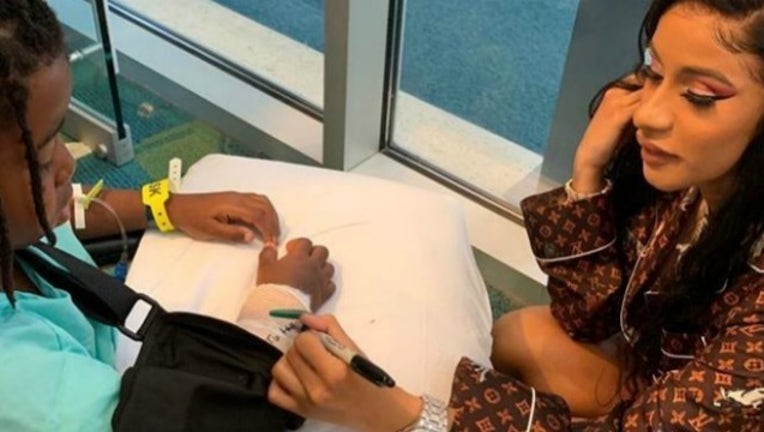 article
ATLANTA (FOX 5 Atlanta) - Super Bowl LIII has brought many famous faces to Atlanta. 
This week, rapper Cardi B stopped by Children's Healthcare of Atlanta to spend some time with patients at the hospital. 
On Super Bowl Sunday morning, CHOA shared a sweet photo on Instagram of Cardi B signing a little girl's cast. 
"Having the Super Bowl in Atlanta has brought a week of one-of-a-kind memories to the kids in our hospitals," CHOA said. "Including this one: an arm sling keepsake autographed by Cardi B." 
Saturday night, Cardi B performed at the Bud Light Super Bowl Music Fest in Atlanta for the final night of the three-night festival at the State Farm Arena, next door to where the New England Patriots will play the Los Angeles Rams Sunday night. 
Cardi B declined an offer to take the Super Bowl stage, but performed a series of songs at the Super Bowl-related event including "I Like It," ''Bartier Cardi" and "Bodak Yellow." The rapper said the energy around the city motivated her even more before the concert.
"I come here a lot, but everyone seems to be more excited," she said in an interview. "It feels like a real holiday. The streets are extremely busy, the malls are a little crowded, everybody is bringing out their best cars, their best jewelry. All these artists are in town. It's like 'Wow.'"
DON'T MISS: Patriots, Rams set to square off in Super Bowl LIII