Brevard County residents line up for hours to get sandbags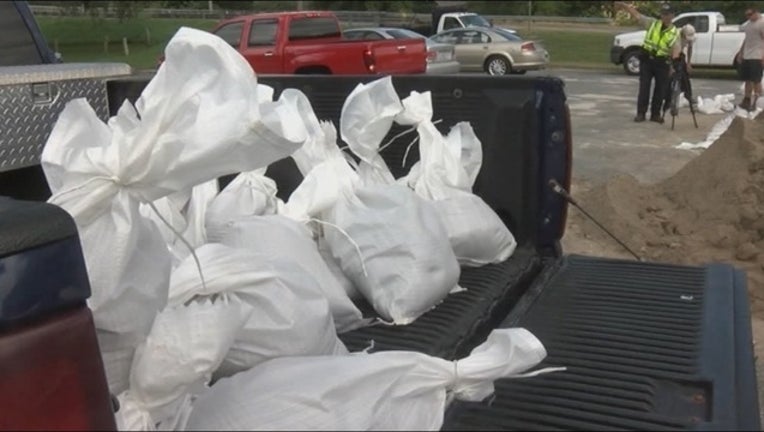 article
COCOA, Fla. (WOFL FOX 35) - Many Brevard County residents waited for more than seven hours on Tuesday, in order to get sandbags. Some say there needs to be a better process when it comes to distribution.
It was stop-and-go, as drivers lined up, hoping to get sandbags to protect their homes from flooding.  Janet Hunt showed up after 9 a.m. at a location in Cocoa.
"Hot and sweaty, this is the first time I've done it. Probably the last," she said. 
Nataline Ayala also waited for hours.
"This is horrible, we don't know what's going on there's no communication.  I'm desperate I need the sandbags."
Here in Cocoa, the line is at least a mile long for people wanting to get sandbags. We saw a lot of people turning around and others waiting patiently. You can see from the air, how many cars were lined up.
Deputies showed up to direct traffic and hand out water, but by 2 p.m., they decided to ask many drivers to leave and return Wednesday.
"I just turned back, I was in line for three hours. Once you get up to the stop sign its another one-and-a-half-hour wait," said resident Sara Ann Conkling.
Despite the wait, some were still grateful.
"I've been in this line since 9:10 a.m., and they've been nothing but kind, courteous and helpful," said one woman, to which Brevard County Sheriff Wayne Ivey replied, "We're just sorry it took so long to get it going."
We asked Sheriff Ivey why the wait was over four hours long.  
"The difficult part is just trying to stay up on the volume of sandbags that we're pushing out. Between yesterday and today, we're right at 10,000 sandbags."
Sheriff Ivey says inmate crews will fill more bags overnight to keep up with the demand.   The sandbag locations are located in a more remote area, because it's a secure location for the inmates and it won't affect traffic in other areas of the county.  He recommends people monitor the Brevard County Sheriff's Facebook page and mobile alerts.
Click here for sandbag information.