LIST: Florida cities where social security lasts the longest
Many people dream about the day they can retire and move to a sunny island paradise — or Florida. Some choose the sunshine state because it's often cheaper than places up north and out west. Deciding where to live when you retire is a strategic move as many are on a limited, fixed income.
A new report from SmartAsset compiled a list of the counties where the average social security funds exceeded living expenses. 
Sumter County was ranked as the highest in terms of how far social security will go in Florida, followed by Baker, FL, and Saint Johns, FL. 
Places where Social Security goes the furthest in Florida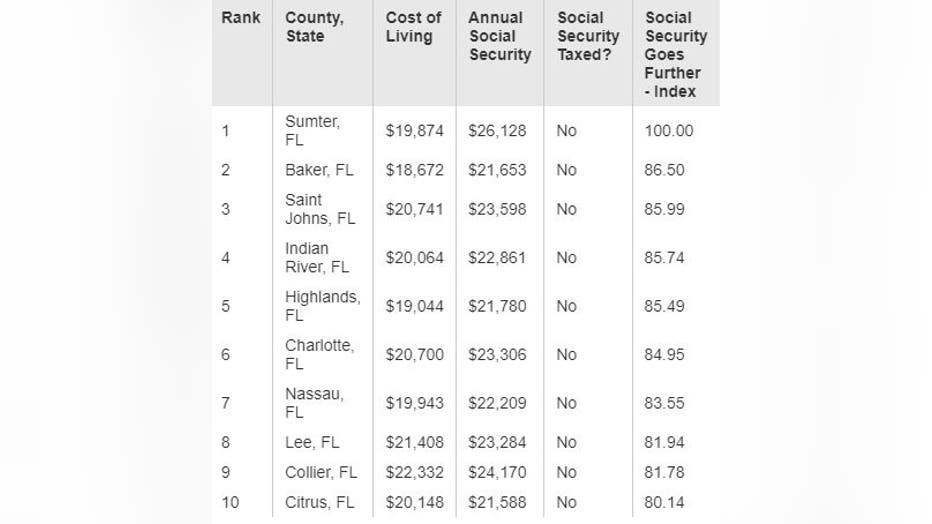 To find the places where Social Security goes furthest, SmartAsset first looked at the average Social Security income for residents in each county. Then they calculated the taxes a typical retiree would pay on that income based on state-specific Social Security tax rules and then subtracted the taxes from that average Social Security income to determine the net income from Social Security.
Next, how far that net income would go in every county to cover the necessities, like food, housing, and transportation was calculated. Then the county-level cost of typical living expenses was subtracted from each county's net Social Security income. 
Then they indexed the results to 100, with 100 showing where Social Security would go furthest in covering the cost of living for residents in any given county.