Alligator attacks man in Florida, bites his leg off, officials say
BREVARD COUNTY, Fla. - An alligator attacked a 72-year-old man and bit part of his leg off Friday afternoon at an RV resort, according to the FWC and Brevard County officials.
The attack happened around 1:50 p.m. at the Great Outdoors RV Resort in Titusville, Florida, the Florida Fish and Wildlife Conservation Commission said in a news release. The man lost his leg at the knee, an official said.
He was flown to Holmes Regional Medical Center. No other details about his condition were immediately released.
A spokesperson for FWC said a trapper was called and two alligators were "removed."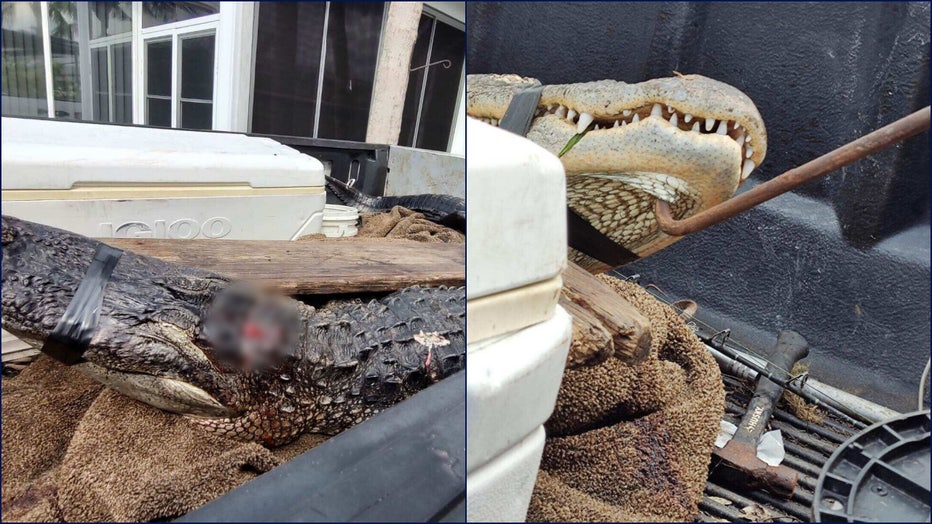 Photos shared with FOX 35.
Alligator attacks in Florida
The FWC said alligator attacks against people are considered to be rare. Alligators typically do not attack people unless provoked, though female alligators can become aggressive during mating season or to protect their nests.
Alligators live in every part of Florida, including lakes, swamps, marches, ponds, and rivers. They are "opportunistic feeders," according to the FWC's website, and primarily eat "fish, snakes, turtles, small mammals, and birds." Smaller alligators can eat insects, amphibians, and small fish.
According to the FWC's most recent numbers – last updated November 2021 – there have been 16 deadly alligator bites on people since 2000, and a total of 26 since 1948. Data for 2022 has not been publicly released yet.
However, FOX 35 has reported on alligator attacks that happened in 2022.
FWC: Alligator safety tips for Florida residents
Never feed an alligator
Keep pets away from water's edge
Swim during the day and in designated areas
If you see an alligator, keep you distance
Florida Nuisance Alligator Hotline
The Statewide Nuisance Alligator Program (SNAP) has been established to address complaints concerning specific alligators believed to pose a threat to people, pets, or property. People with concerns about an alligator should call FWC's toll-free Nuisance Alligator Hotline at 866-FWC-GATOR (866-392-4286). 
To become an alligator trapper, you have to submit an application. Visit myfwc.com for more information.