49ers Kaepernick to start this week against the Bills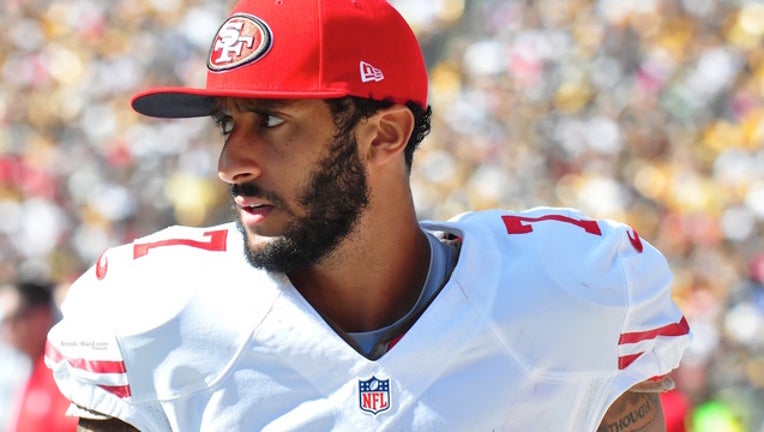 article
SANTA CLARA, Calif. - 49ers quarterback Colin Kaepernick will start this Sunday against the Buffalo Bills, Coach Chip Kelly announced Tuesday morning.
The frustrated fans of the San Francisco 49ers made their feelings clear with chants of "We want Kap! We want Kap!" during Thursday night's game.
Blaine Gabbert threw two interceptions, missed a handful of open receivers and struggled to generate any offense as the 49ers lost their fourth straight game, 33-21 to the Arizona Cardinals on Thursday night.
"I don't think anybody played well on offense. Nobody," Kelly said. "I don't think we protected well enough, I don't think we threw it well enough and we had too many drops and two interceptions."
While there is plenty of blame to throw around after the team allowed seven sacks and a safety, committed three turnovers and punted on four straight possessions to open the game, the focus right now will be on the quarterback position.
Gabbert beat out Kaepernick for the job in training camp based mostly on better practice play, more familiarity with the offense and better health.
Kaepernick led the Niners to the Super Bowl following the 2012 season and the NFC title game the following year before regressing and losing his job last year under coach Jim Tomsula. Three surgeries limited his offseason work and a tired arm cost him two crucial weeks of training camp, cementing Gabbert as the starter.
But Kelly opened the door a bit to a possible change after the game.
"We're 1-4. We're going to look at everything," he said. "We have to make sure we're giving our team the best chance to go out and win."
Gabbert isn't doing that right now. He went just 18 of 31 for 162 yards against the Cardinals, throwing two interceptions and once again struggling to get the ball down field. Gabbert ranks last in the NFL in yards per attempt (5.9) and his 69.6 passer rating is second-worst in the league.
A week after badly underthrowing a deep pass to Torrey Smith that turned a possible go-ahead score in the fourth quarter into an interception, Gabbert missed an open Rod Streater on a deep ball in the first quarter.
"It's extremely frustrating," Gabbert said. "I let this team and this organization down tonight and did not play good whatsoever and that's on me. I had two crucial turnovers there that led to points for the Cardinals and that was the difference in the game right there. I got to do a better job protecting the football and leading this team to scoring more points and winning games."
He then had a pass deflected for an interception late in the second quarter, setting up a tying score for Arizona and threw another interception in the fourth when he stared down Jeremy Kerley on a pass, leading to a second round of chants for Kaepernick.
But right now the players know there are more problems than just at quarterback after the offensive line was dominated for seven sacks.
"Sure I heard it," tackle Joe Staley said. "I'm out there trying to do my job to the best of my ability. That's what I'm focusing on."
Kelly has said that Kaepernick is still not completely healed from the surgeries on his non-throwing shoulder, left knee and right thumb. Kelly has said Kaepernick is not back to the shape he was back during his last good season in 2013, but with 10 days off before the next game at Buffalo, it could be the time for a change if the 49ers want to have any chance of saving their season.