Ibaka: 'Feels good' to be in Orlando after surprising trade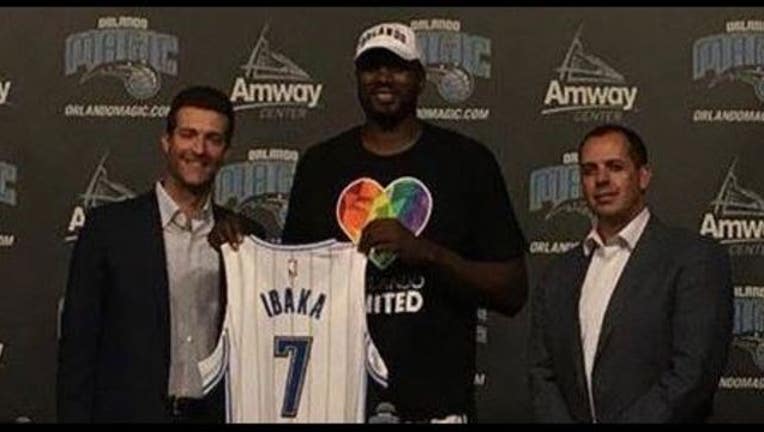 article
ORLANDO, Fla. (AP) - A week ago after waking up in Paris to flurry of congratulatory text messages, Serge Ibaka wasn't quite sure how to feel about the NBA draft night trade that landed him in Orlando.
But one text message in particular helped him feel better about his transition from the Oklahoma City Thunder — a team contending for an NBA championship — to a young team trying to figure out how to make the postseason.
"One of things that made me feel good at that moment was dad texted me," Ibaka said Thursday a news conference. "Before I could get excited and happy, my dad was happy. He congratulated me and said he was real happy for me. That's what changed everything at the moment.
"This is a business, and things happen for a reason. So I'm happy to be here and for my family and for my daughter."
The Magic aggressively went after Ibaka, trading Victor Oladipo, Ersan Ilyasova and the rights to Domantas Sabonis (the No.11 overall pick) to land the veteran power forward. They were looking for an inside presence and leadership; Ibaka, a veteran who has gone deep into the playoffs, gives them both.
Orlando hopes the 6-foot-10 Ibaka is the player the Magic were missing last season as they fell short of making the playoffs for the fourth straight year. The three-time NBA All-Defensive first team member is one of the league's top shot blockers.
"Serge Ibaka is such an important piece to taking this organization to where we want to take it, to become a defensive monster, be one of the best defensive teams in the league," said coach Frank Vogel, who was hired by the Magic last month after coaching the Indiana Pacers. "We are going to preach defense as much as I always have. But you have to have the people that can get the job done."
Ibaka, who wore a black t-shirt with Orlando United on front in recognition of the recent club shooting tragedy that left 50 dead and another 53 injured, said he is looking forward to a likely expanded role that will include being more of a leader and offensive presence while certainly adding the defensive muscle the team needs.
"It feels good," said Ibaka, a native of Congo. "I feel like my first year in the league, I'm that excited. I'm looking forward to the new challenge. I know it's not going to be easier. That's how we become great when we beat the challenges in front of you."
Ibaka, who had a slight dip in productivity last season with the Thunder averaging 12.6 points, 6.8 rebounds and 1.9 blocked shots, will fuse with a young core of players and will be looked to be versatile enough to play both power forward and center when needed. This team will look much different than the Thunder team he is coming from that was headlined by stars Kevin Durant and Russell Westbrook.
Ibaka said he is up for the challenge as he takes what he learned over the last seven seasons with the Thunder organization to Orlando.
"They have great guys and young talent. It's always good to know I am going to work with good people, that's how I am," said Ibaka, who speaks four different languages which include Spanish, English and French. "I'm excited because I know I'm going to bring to them the seven years I've been in the league playing with two of the best players in the game learned me a lot of things and I'm sure I'm going to bring those things here to help the guys."