Clippers' Russell Westbrook, Suns fan have intense exchange at halftime: 'Watch your mouth motherf---er'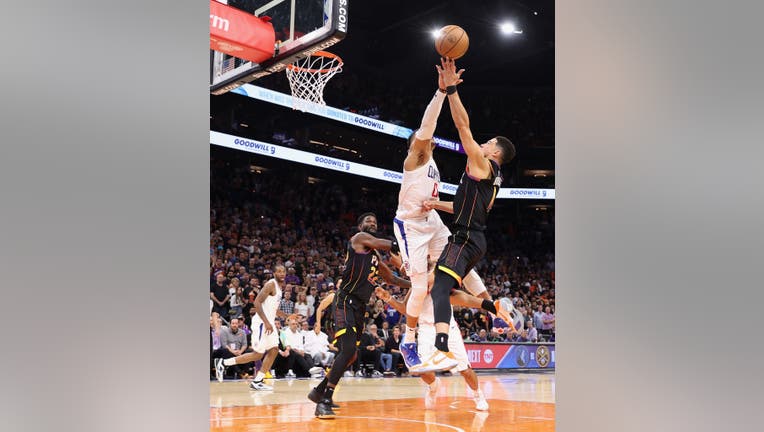 article
PHOENIX - Los Angeles Clippers guard Russell Westbrook was praised for his defensive hustle late in Game 1 against the Phoenix Suns when he blocked Devin Booker's shot and then threw the loose ball off of him and out of bounds.
RELATED: NBA Playoffs: Kawhi Leonard fuels Clippers to Game 1 win against Phoenix
Westbrook was 3-of-19 from the field with nine points, 10 rebounds and eight assists. Kawhi Leonard led the game with 38 points, five rebounds and five assists as Los Angeles won 115-110.
After the game, a video surfaced on social media of Westbrook getting into a very heated interaction with a fan during halftime. Westbrook was about to go back onto the court when he was seen jawing back and forth with a man in a Suns hat.
A security guard stepped in between the man and Westbrook as the Los Angeles star yelled at him.
"Watch your mouth," Westbrook said. "Watch your mouth motherf---er."
The fan was telling Westbrook to "take it like a man." There was a child also present during the tense moment. It did not appear Westbrook addressed the child at all.
WARNING: EXPLICIT LANGUAGE
It was certainly not the first time Westbrook and NBA fans have gotten into it.
In 2021, while Westbrook was with the Washington Wizards, he had exited the game due to an injury. As he went back to the locker room, a Philadelphia 76ers fan dumped popcorn on his head.
In 2019, Utah Jazz fans were issued warnings as the then-Oklahoma City Thunder star went back and forth with a group. Westbrook at the time reportedly told the man he would "f--- you up."
It is unclear what sparked the interaction with the fan. The first game of the series between the Clippers and the Suns took place at the Footprint Center in Phoenix.