What happens when you close a credit card?
If there's a credit card that you don't want to keep anymore, an option is to close the credit card.
"Closing a credit card means you're shutting down the account – you can't use the card anymore," explained Ted Rossman, senior industry analyst, Bankrate.com.
Even though the account is closed, Rossman said your payment history will remain on your credit report for up to 10 years, in the case of positive information, and it's up to seven years for negative information.
But, he cautioned some aspects of a person's credit score will be affected immediately.
"You'll have less available credit, for example, which can cause your credit utilization ratio to spike," Rossman continued. "That's the credit you're using divided by the credit available to you."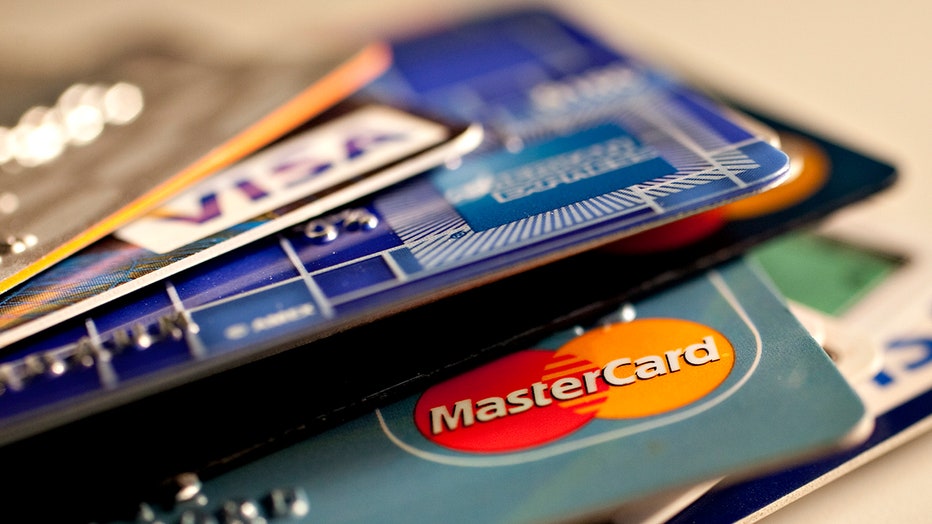 American Express, MasterCard and Visa credit cards are displayed for a photograph in New York, U.S., on Tuesday, May 18, 2010. Credit-card firms caught off-guard by U.S. Senate passage of curbs on debit fees are facing what one executive sees as a "v
During their appearance on 'Mornings with Maria,' MacroMavens President Stephanie Pomboy and Thornburg Investment President and CEO Jason Brady discuss inflation and the future for rate hikes.
How do you close a credit card?
The most common way to close a credit card is by calling the card issuer's customer service department. You can find the number on the back of your credit card. You might also be able to close the account online, in person (at a bank branch, for example) or in writing, Rossman said.
INVESTORS ARE THE MOST BEARISH IN 5 MONTHS AS CREDIT CRUNCH HITS GROWTH
What are the pros of closing a credit card?  
There can be some advantages to shutting an account down.
"Closing a credit card might streamline your finances – for example, if you have a bunch of cards and you're finding it difficult to stay on top of due dates, usage, rewards categories, etc.," said Rossman. 
RELATED: Mortgage rates rise, add to affordability issues
Other suitable reasons to cancel a card could be that you aren't reaping value from the credit card.
"You might also consider canceling a credit card if it charges an annual fee and you're not taking full advantage of its benefits, or if the card charges a high interest rate or has rewards categories that don't mesh well with your spending habits," Rossman told FOX Business. 
What are the cons of closing a credit card?
Before you call your credit card issuer to put an end to that credit card, consider some disadvantages.
"Canceling a credit card can hurt your credit score, however, by reducing your available credit," cautioned Rossman. "That can lead to a higher credit utilization ratio - credit you're using divided by credit available to you.
MORGAN STANLEY WARNS STOCK MARKET IS STILL 'FAR FROM OUT OF THE WOODS'
Here's how Rossman illustrated this point. Let's say you have a credit card balance of $5,000 and a total credit limit of $10,000. If you cancel a card with a $3,000 limit, now you're using $5,000 out of $7,000 (71%), up from 50% initially, said Rossman.
"The lower this ratio is, the better," he pointed out.
And, rather than canceling a credit card, Rossman suggested requesting a product change from your issuer.
"This can represent the best of both worlds. You switch to a different card from the same issuer, allowing you to avoid credit score damage, such as a higher credit utilization ratio, but getting you into a product that suits you better," he continued.  This new card could offer more targeted rewards categories, a lower annual fee, a lower interest rate or other things, Rossman says.
FOX Business host Charles Payne analyzes consumer spending on 'Making Money.'
When you cancel a card, is that reported to the credit bureaus?
Yes, Rossman said all of your credit card account history should be reported to the credit bureaus: account openings, closings, payment history, credit utilization, etc.
Does closing a credit card account impact your ability to get another credit card?
Sara Rathner, a credit card expert at NerdWallet, told FOX Business that every credit card issuer has a system for evaluating card applications, and it can be a bit of a mystery.
"In general, a high credit score can help you be eligible for a greater variety of cards, but that's not going to guarantee an approval every time," said Rathner. "Other financial factors, like your income, current debts and other open lines of credit can affect your eligibility."z