Eta to regain tropical storm strength, edge of Florida is in its path
ORLANDO, Fla. - Tropical Depression Eta is expected to regain tropical storm strength and now just has the edge of Florida in its path.
The National Hurricane Center (NHC) says that Eta is producing heavy rains and life-threatening flooding over portions of Central America. It is expected to move over the northwestern Caribbean on Thursday evening.
Eta reportedly has maximum sustained winds of 35 mph right now but is expected to strengthen and regain tropical storm strength on Friday.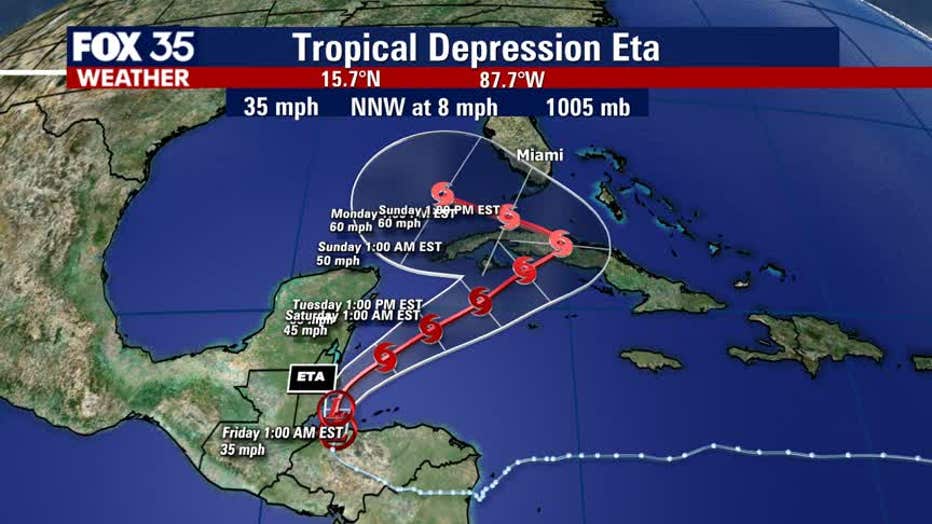 TRACK THE TROPICS: Visit the FOX 35 Orlando Hurricane Center for the latest in the tropics, including daily updates, live radar, and severe weather alerts
"Looks like the main area of wind and rain with Eta will begin to grow tomorrow and Saturday as it shifts north into the Caribbean and feeds off of the warmer water," FOX 35 Chief Meteorologist Glenn Richards explains. 
He added that "the latest forecast models now show a Tropical Storm Eta moving over Cuba on Sunday and then making a hard left turn into the Gulf of Mexico early next week.  his hard turn towards the west will occur due to a building area of high pressure to our north and will aid in pushing Eta away from us."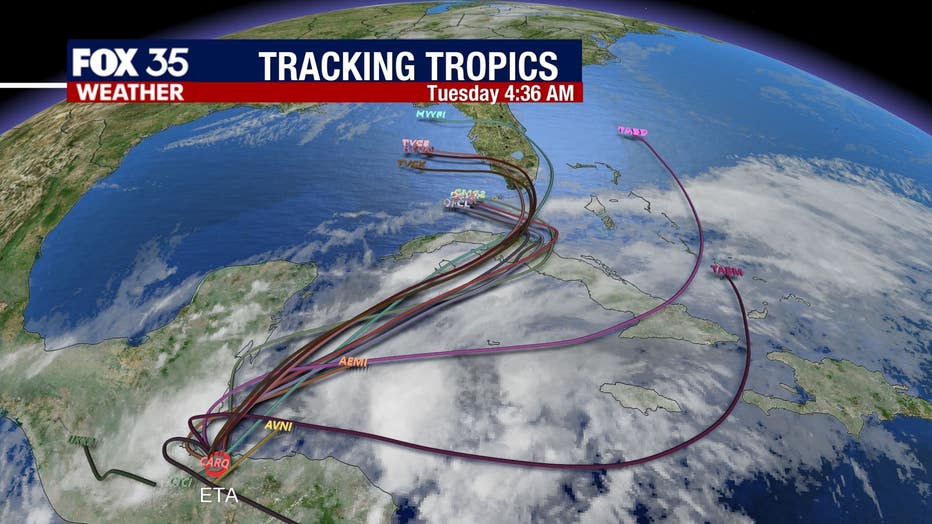 Nevertheless, Richards forecasts that Central Florida will still have breezy to windy weather this weekend and early next week as the pressure difference continues to grow. 
"Right now, our weekend will include plenty of sunshine with periods of rain showers blowing in from the ocean. Based on the current forecast track, we would not experience any direct impact from Eta, nor would we have any threat of severe weather conditions," he clarified.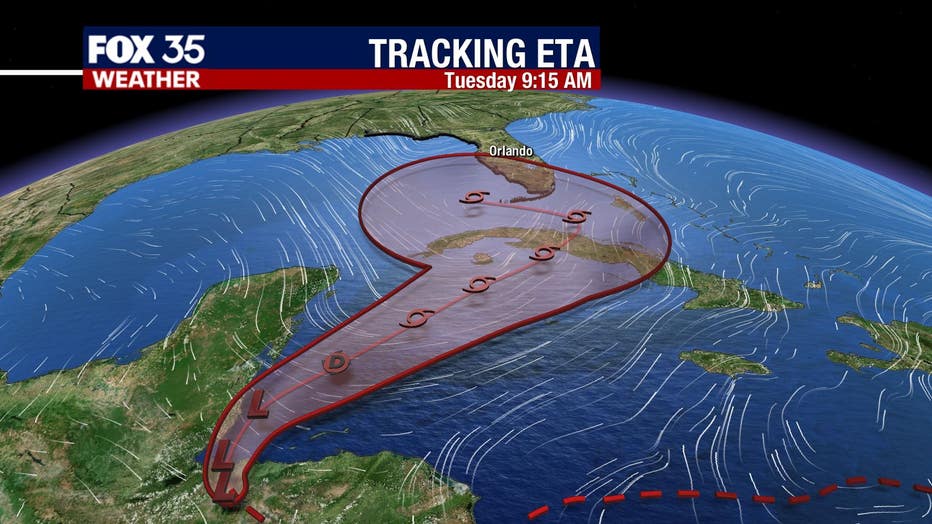 WEATHER ALERTS: Download the FOX 35 Weather App to track the tropics on your phone, receive severe weather alerts, and get the latest daily forecasts
Eta is the 28th named storm of the 2020 Atlantic Hurricane Season, which runs through November 30th.
Watch FOX 35 News for the latest on hurricane season.