'Tip of the iceberg': Florida residents push back on rezoning plans to facilitate developement
WEST MELBOURNE, Fla. - A local neighborhood is pushing back on plans to rezone their West Melbourne community.
Proposed plans include building more homes in the area, but neighbors said it won't fit into the already established community. 
The area under consideration is just off U.S. Highway 192 near the Melbourne Mall on Campbell Drive. All throughout the area, signs and posters line the street. The message is simple, "Say no to re-zoning." 
"We're just the tip of the iceberg. We're seeing developers all over the state, rush into the state and take away our native Florida lands," said Mitchell Miglis. 
Miglis has been a homeowner in the Campbell neighborhood for over 30 years and is opposed to the zoning changes. The land a developer wants to rezone is in the middle of the neighborhood. It would change lot sizes to 8.9 acres, single-family properties, making them smaller than what's currently allowed in the already-established community.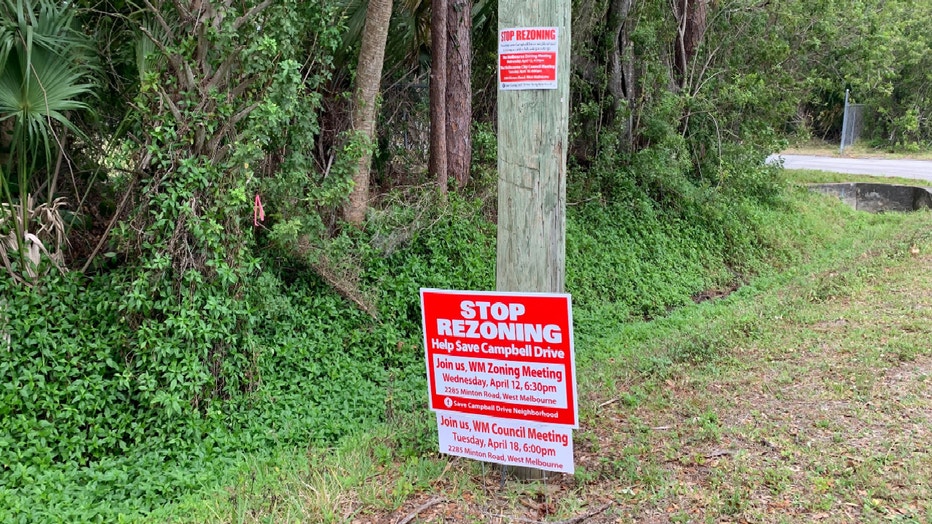 "The goal tonight is to bring it to the attention of everybody what's going on with overdevelopment. We need to save our trees, our animals, our beautiful area here, and not only just for us. We need to do it for other people," added Jeff Cobb whose family has lived in Campbell Drive for decades. 
Cobb's father was one of the original home builders in the neighborhood back in the 1950s. This group is worried 24 more homes would cause traffic congestion and flooding.
"You're going to take about 8.9 acres of permeable soil and cover it over with concrete and homes," Miglis added. "We're really concerned with where that water is going to go, probably in our backyards."
Neighbors said they aren't opposed to new homes, but this project doesn't match the character of their community. They're taking these concerns straight to West Melbourne's Planning and Zoning Board meeting on Tuesday.
"We're not anti-development. We're pro-appropriate development that fits into the neighborhood and follows the same scheme and layout," said Susan Croft who also lives nearby and is against the rezoning.
At Tuesday's meeting, the Planning and Zoning Board will decide whether to recommend the zoning change to West Melbourne City Council.
FOX 35 News did try to reach the engineers overseeing this project for comment. At the time this article was published, we had not heard back but will update this story if we receive new information.