TIMELINE: Storms to bring heavy rain, lightning in Central Florida Wednesday
ORLANDO, Fla. - Today's high: 92 degrees | Tonight's low: 75 degrees
Main weather concerns: Expect typical mid-September weather here in Central Florida on this Wednesday. Highs in the lower 90s inland, coastal locations see some upper 80s.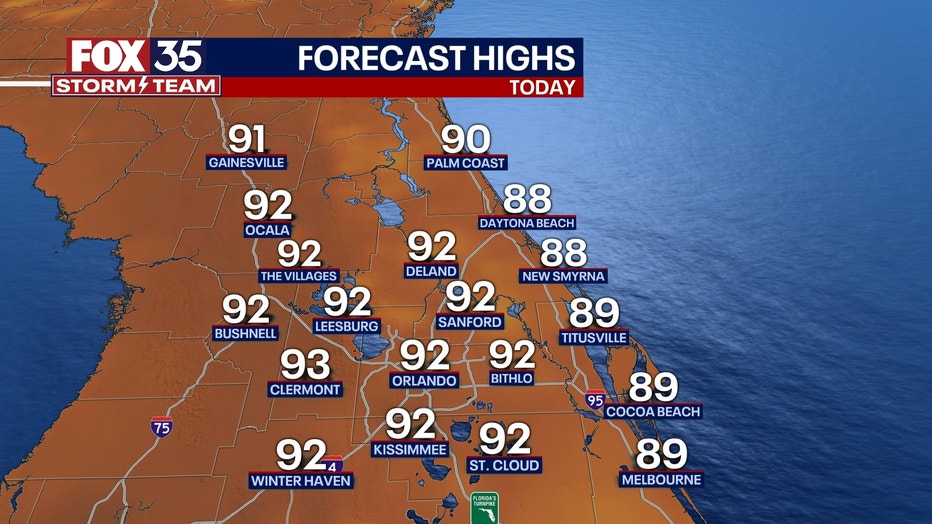 Skies will feature a mix of sun and clouds. Showers and storms return again today coverage near 50% inland, 30-40% along the coastal counties. 
Rain coverage will increase for the coastal areas as soon as late morning as the Atlantic seabreeze develops. Then, after 2-3pm, inland area will begin lighting up with showers and storms. Heavy rain and lightning will be the primary hazards in any stronger storms.
BEACHES: A high rip current risk returns today and continues for the rest of the week all thanks to indirect impacts of Hurricane Lee. High rip current risk and dangerous surf will be likely all week long. Surf up to 4-6+ feet today and increase to 7-9 feet by the end of the week.
Beach erosion is possible. Storm chances rise by late morning and carry over into the afternoon hours. Lightning will be of issue in stronger storms.. Highs warm to the upper 80s under partly cloudy skies otherwise.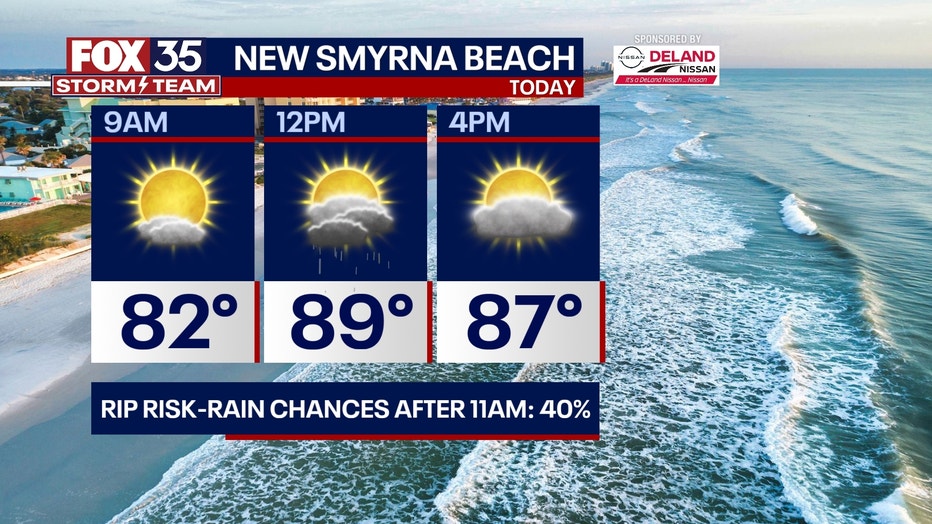 THEME PARKS: It will be hot and humid at the parks with highs warming to near 92 degrees. Scattered storms return after 2-3pm today. Be ready to head indoors if you hear thunder!
OUTLOOK: Storm coverage for the pm hours will hold steady through the coming weekend. A weak front will move into Central Florida late this week. The front will serve as the main driver of shower and storm chances mainly for the pm hours. While forecast models keep Lee well to our east, impacts like large, battering waves, coastal erosion and deadly rip currents are all likely through the weekend.
TRACKING THE TROPICS: The FOX 35 Storm Team is monitoring Hurricane Lee and distant Hurricane Margot. Lee will head north by mid-week and will need to be watch closely for areas along the Northeast and Canada. Lee will bring dangerous surf all week peaking by Thursday with surf up to 7-8 feet at its highest. 
Beach conditions will slowly improve by early next week. Elsewhere, another tropical wave has a high chance (80%) of developing over the next 7 days. A tropical depression could form out of this feature by the weekend. If this developing system gets a name, it will be called NIGEL.