Suspects stole nearly 1,100 gallons of fuel from Central Florida gas station, police say
ST. CLOUD, Fla. - With gas at nearly $5 per gallon and diesel close to $6 per gallon, experts say thieves across the state and country are targeting the pumps. 
In St. Cloud, police say these two men stole nearly 1,100 gallons of diesel fuel from a gas station earlier this month. 
Officers say the stolen diesel was worth about $6,000.  According to investigators, the suspects showed up in two, white F250 pickup trucks, filling up tanks in the bed of the trucks.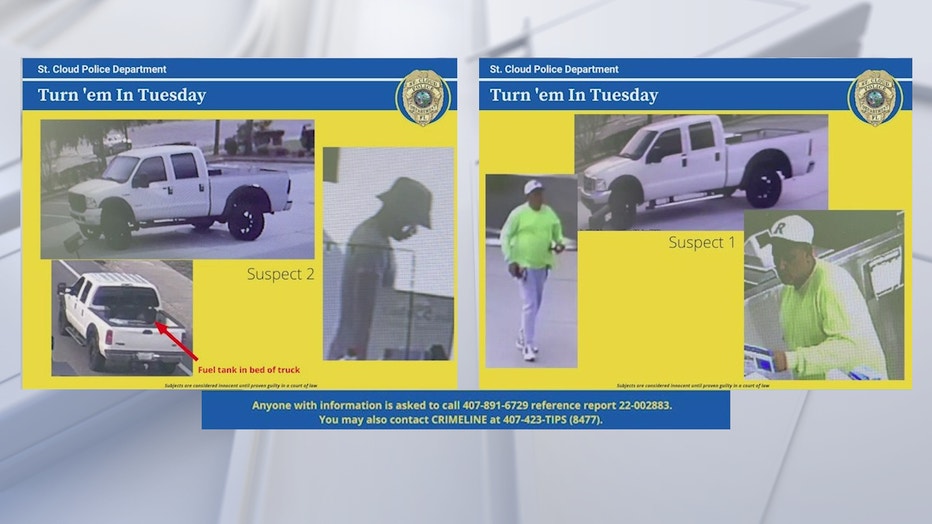 "Throughout the afternoon, they're taking turns going to that pump, pump number three I think it was, a number of times over some hours," said St. Cloud Police Sgt. Wayne Souza. 
As gas prices soar - gas thefts are becoming more lucrative.
MORE NEWS: Inflation: Higher hotel room rates could put damper on Florida tourism
In the Houston area, police say thieves got away with $8,000 in diesel.  In Las Vegas recently, investigators found three hidden fuel tanks in a modified truck. 
Experts say in some cases, the thieves are tampering with what's called a "pulsator" in the pump to avoid paying. 
"That reads the meter on how many gallons and what you pay for that fuel. By changing the pulsator, they can change the retail price to a penny a gallon," said Ned Bowman, Exec. Dir. Of the Florida Petroleum Marketers Association. 
He says as soon as cops bust one gas theft ring, another one seems to pop up.  
"I know we're working very closely with law enforcement from the federal level and the state level," Bowman said. 
Police are still searching for the two diesel suspects in St. Cloud. Anyone with information is asked to call Det. Mannix at 407-891-6729.