Underwater Easter egg hunt happening in Central Florida next week
article
PALM BAY, Fla. - A unique Easter egg hunt is kicking off next week so grab your bathing suits and get ready to head to Palm Bay. 
The Palm Bay Aquatic Center will host an underwater egg hunt on Saturday, April 1 for kids aged 13 and under from 10 a.m. to 12 p.m.
The city of Palm Bay said all the eggs for the hunt will be placed in the water and sunk to the bottom of the pool from the 0 zones all the way until the deeper end allowing the opportunity for kids who can and can't swim to collect their eggs. 
All the kids will receive a mesh bag to put their eggs in, and they can also exchange their bag of eggs for a prize.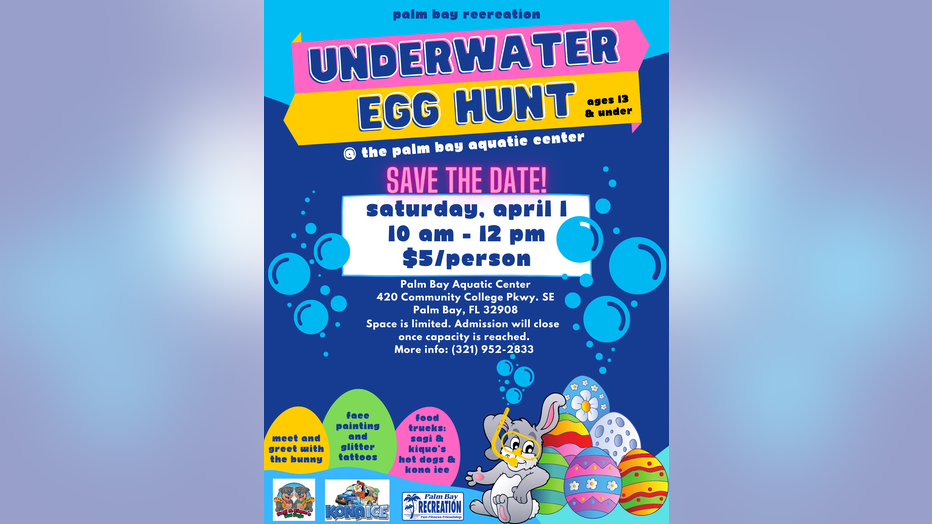 There will also be four golden eggs and the lucky winners who pick those up will receive a bigger prize. 
The event features the Easter bunny, face painting, and glitter tattoos. Families can also enjoy hot dogs and flavored shaved ice. The cost is $5 per person. 
Adults are allowed to swim during the event — but can't collect eggs. 
Admission will close once capacity is reached as space is limited.