Sanford Bats Lacrosse Club has innaugural game against Lake Brantley
ALTAMONTE SPRINGS, Fla. - Thursday was a "David and Goliath" type matchup, as the Sanford Bats Lacrosse Club played their first ever club game against powerhouse Lake Brantley. It's a moment these kids have been anticipating for a while, and the butterflies were there.
"These kids have been playing a lot longer than us, so that's a nerve," Kyler Carroll said.
Along with family and friends, the mayor of Sanford, Art Woodruff was also in attendance supporting the new team. The club was created in November of last year, starting out with just a handful of players.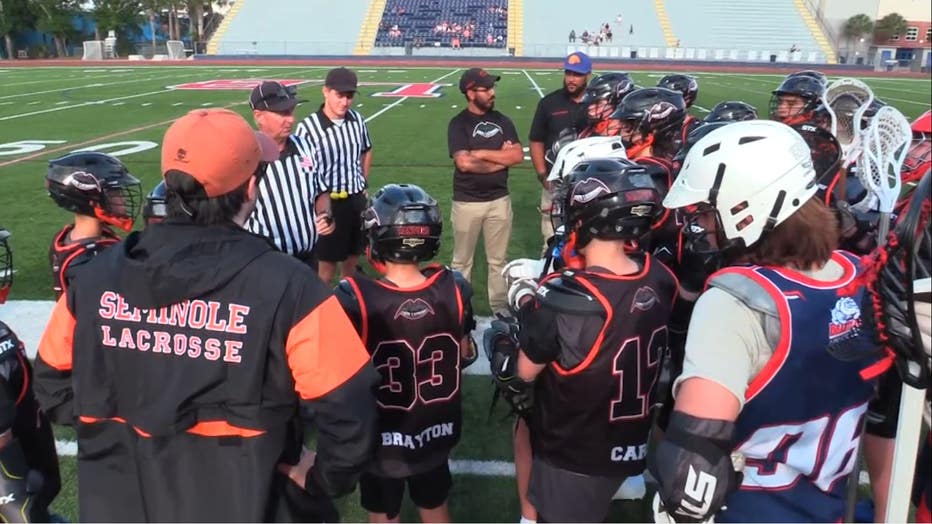 "It was nice to see the build up from then to now, with starting out with three kids including me. To now having like 20," Drake Vogl said.
Twenty-six players to be exact. The club is made up of middle school boys, mostly from Sanford Middle School. Coaches hope this club serves as a feeder for the high school program at Seminole.
"A lot of challenges found with newer high school programs. The kids start the sport too late, which is in high school. A lot of times kids should be starting in the middle school, elementary grade levels, intramurally and interleagues with each other," Sanford Bats head coach, Bryant Santana said.