Rocket launch reignites space station deliveries in Virginia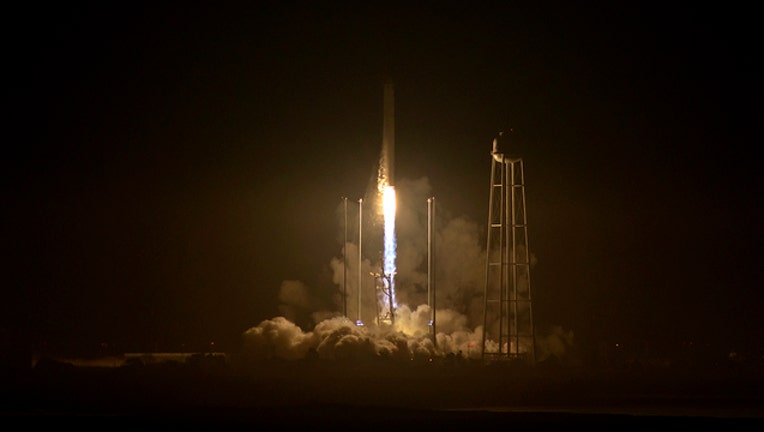 article
CAPE CANAVERAL, Fla. (AP) - One of NASA's main delivery companies made a triumphant comeback seen up and down the East Coast Monday night, launching its first space station shipment from Virginia since a rocket explosion two years ago.
It was the first flight of Orbital ATK's unmanned Antares rocket since the Oct. 28, 2014, blast that wrecked the pad and destroyed everything on the space station supply run.
For Antares' long-awaited return, the pad underwent a $15 million restoration, and the rocket got new Russian engines to replace the vintage ones from a half-century earlier. As the Antares streaked through the night sky from NASA's Wallops Flight Facility, it appeared as though all the work had paid off. Launch controllers applauded when the supply ship reached orbit and victory was declared.
The launch provided a show for sky gazers along much of the East Coast. Reports poured in via Twitter from observers in Washington, Baltimore, Philadelphia and New York, even central Pennsylvania and Raleigh, North Carolina.
Getting a lift from the Antares was Orbital ATK's Cygnus capsule, loaded with more than 5,000 pounds of food, equipment and research, including some experiments to study flames in space and the robotic toy ball Sphero, part of an educational effort.
The Cygnus — named after the swan constellation — will have to hang around in orbit until Sunday before delivering the goods. That's because three astronauts are awaiting launch from Kazakhstan on Wednesday, which would get them to the space station on Friday. NASA wants the new crew to settle in before the Cygnus pulls up.
This will be the sixth Cygnus to arrive at the orbiting outpost since 2013. While the Antares was being redesigned, Orbital ATK made good on two deliveries using another company's rockets flying from Cape Canaveral.
NASA's other commercial shipper, SpaceX, has made nine station deliveries since 2012, but is currently grounded, pending an investigation into last month's rocket explosion during prelaunch testing at Cape Canaveral.
Given the riskiness of space flight, Orbital ATK officials expressed nervousness before the launch, but said they had full confidence in the rocket.
NASA has been relying on Orbital ATK and SpaceX to keep the space station stocked ever since the shuttles retired in 2011.
Next up will be private flights for the station crews, as the space agency works on getting astronauts to Mars in the 2030s.
SpaceX and Boeing are building capsules to carry U.S. astronauts to the 250-mile-high station; those launches are expected in the next couple of years. Until then, NASA will keep flying its astronauts on Russia's Soyuz spacecraft.
The space station is currently home to an American, a Russian and a third astronaut from Japan. They will be joined by an American and two Russians.
Orbital ATK weathered brief hurricane delays over the past 1½ weeks, then a bad cable at the pad on Sunday bumped the launch by a day.
___
Online:
Orbital ATK: http://www.orbitalatk.com/
NASA: http://www.nasa.gov/mission_pages/station/main/index.html