Florida man accused of running crime ring to steal equipment from Home Depot and sell it online
WINTER HAVEN, Fla. - A state-wide investigation led to the arrests of a Florida man and several others accused of selling heavy equipment they stole from Home Depot stores throughout Florida. 
According to the Polk County Sheriff's Office, the suspects would rent items such as Toro Dingo utility loaders, stump grinders, trenchers, and mini-excavators (and the trailers they sit on) from the retail giant, not bring them back, and sell the equipment on social media. 
The investigation began in late 2021 when Home Depot investigators began reviewing large equipment overdue rentals and found a pattern of activity in the southeast region, which includes the Tampa and Orlando area stores. The overdue rentals and thefts had several similarities: they were one-day rentals by renters with Orlando addresses, and the GPS devices installed in the units were disabled within hours of the equipment leaving the store. The stolen equipment was then posted on social media sales sites, such as Facebook marketplace.
READ: 'It angers me': Polk County Sheriff Grady Judd talks security after Nashville school shooting
According to PCSO, Johnson completed a one-day rental form for a Toro Dingo TX427 using his Florida Driver's license. He then listed an "auger for sale" on Facebook marketplace, and a witness answered the ad because his auger had recently been stolen and he wanted to meet with the seller (Johnson) to see if the listed auger was his.
The two arranged to meet, at which time the witness recognized that the auger was a rental from Home Depot. The witness saw Johnson and three other black men trying to remove the equipment from the trailer, but they were unsuccessful. 
They then appeared to become nervous and suddenly left in a white truck. The witness reported the incident to the Indian River County Sheriff's Office, including the tag number of the truck. Indian River Sheriff's Office deputies responded to the Home Depot and confirmed the equipment had just been rented by Johnson.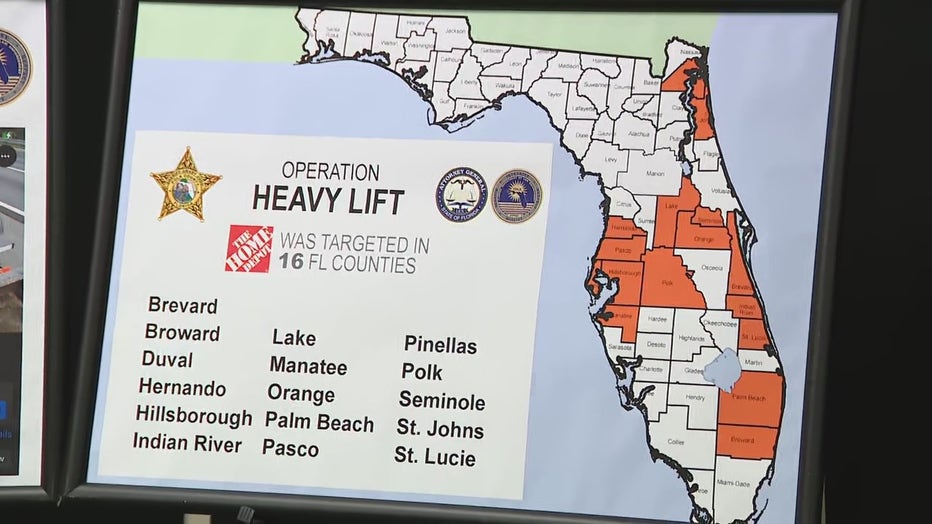 They issued a warrant for his arrest, charging him with grand theft; he was arrested on that warrant in January 2022 in Orange County and later released after posting bond.  
On January 27, 2022, Johnson was found with another piece of equipment in Polk County. He was stopped for driving while his license was suspended or revoked. It turned out he had just rented the equipment, and it was still a legal rental at the time, so he could not be charged with theft, but he was taken to jail that day. He posted bond was out again.
While investigating, detectives identified Johnson's girlfriend, Natasha Tacathy Anderson, as part of the theft ring.
According to Polk County Sheriff Grady Judd, Johnson was tied to several thefts via video surveillance, social media messages, and text messages.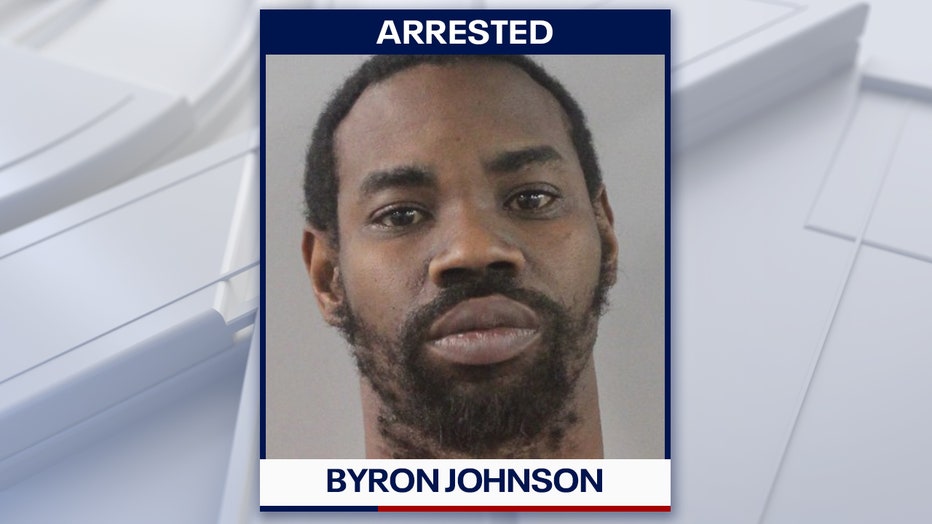 Byron Johnson mugshot courtesy of the Polk County Sheriff's Office. 
READ: Lakeland self-proclaimed rapper arrested for murder made music video about deadly shooting: sheriff
He often used his own identification when completing the rental agreements and his own Facebook page to post the equipment for sale. Johnson told the unsuspecting buyers that he was a "construction worker going out of business," or "my father passed away and I need money."
Records state that Johnson paid friends, family members, and other acquaintances to act as "lookouts" when meeting potential buyers, to do counter-surveillance when making the fraudulent rentals, to use their personal vehicles or rental cars, and asking them to deliver the stolen equipment when he was unavailable.
After Johnson did not show up for court, a warrant was issued for his failure to appear. He was stopped in Volusia County while deputies were taping an episode of 'Patrol Live'.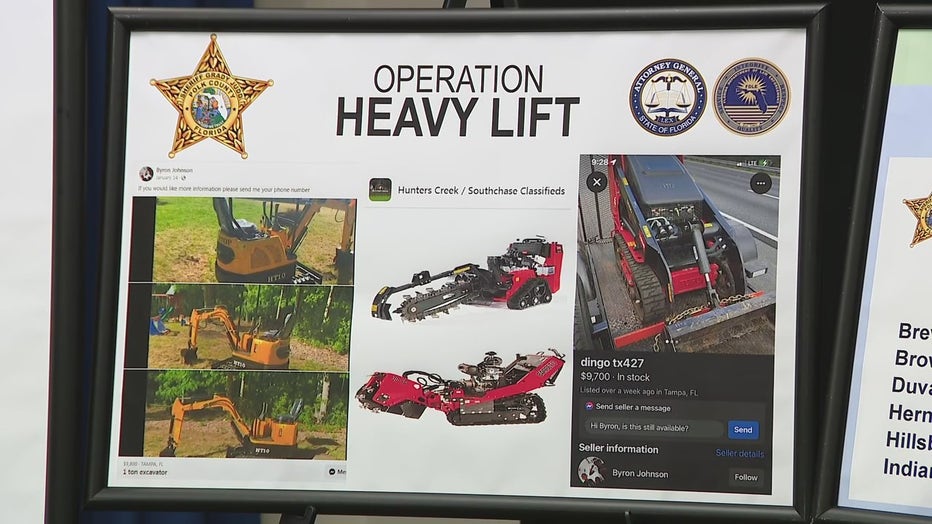 READ: What does it take to be a member of the SWAT team?
Video shows Johnson climbing into the backseat before getting out of the SUV. There were three children in the SUV as well. The Toro Dingo on the trailer was the one that was stolen by Johnson in Jacksonville in December 2021.
Some of the Home Depot team was watching 'Patrol Live' and called detectives to say that was the guy who was stealing from their stores. The detective contacted deputies on the scene in Volusia County and gave more details about Johnson and his suspected activity.
He was taken into custody again.
Johnson pleaded guilty to his original theft in Indian River County and was given 58 days credit in jail, time served, and two years of probation. He was also ordered to attend an anti-theft class.
"The class didn't do any good at all," Judd stated. "We had given him our own anti-theft class when we arrested him and told him we are watching you. We're investigating you. He and his team continued to steal."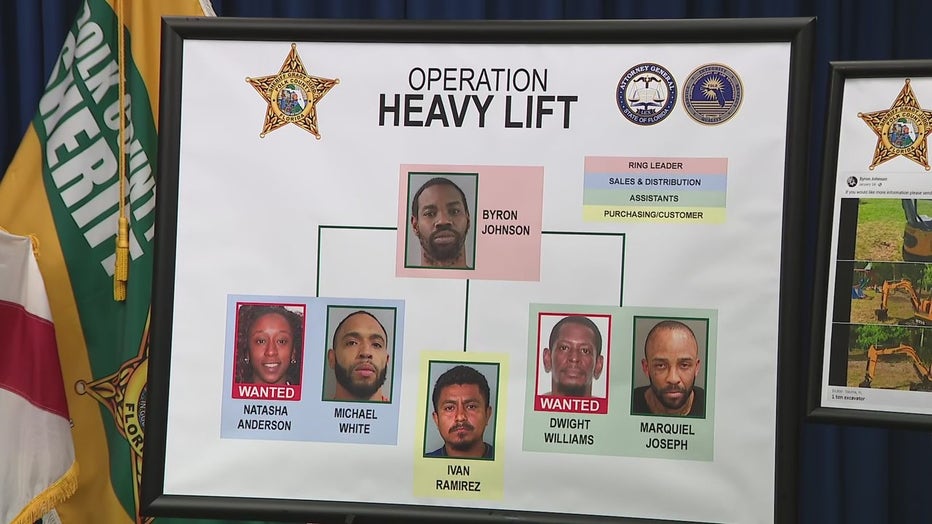 Johnson and his team, according to Judd, sold the equipment they stole on social media. Judd says the group stole at least 61 pieces of equipment, which cost Home Depot a loss of more than $1 million. 
READ: New task force takes aim at gangs after major uptick in drive-by shootings in Polk County
Judd said they are being charged with the theft of 50 pieces of equipment that cost nearly $600,000 because that would be the current market value of the items.
Judd says investigators have only recovered 10 pieces of equipment.
"If you bought a piece of equipment from Byron Johnson or any of these other folks, you could turn it in to us, because it is stolen, and you're now told that it is stolen, you can turn it in and not be charged. But, if you wait for us to come to your house or your business to find it, guess what, you too will go to jail," Judd said.
According to PCSO, Michael White, Marquiel Joseph, Natasha Anderson and Ivan Ramirez have been arrested in connection with the alleged crime ring.
Judd said all members of the crime ring were from Orlando except for Ivan Ramirez, who owns Smiley Construction Rentals in Bradenton.
Law enforcement is still searching for Natasha Anderson and Dwight Williams. Judd asked anyone who knows where they are asked to call Crime Stoppers at 1-800-226-8477.
"We appreciate the hard work and cooperation from the Florida Department of Law Enforcement, and Attorney General Ashley Moody's Office of Statewide Prosecution—because of the multi-county theft and fraud that occurred in this case, we could not have held these thieves appropriately accountable without their state-wide resources. Organized retail crime is a serious problem in Florida. It drives up the cost of goods and we all suffer through higher prices. These brazen thieves made a living systematically stealing. They made the mistake of stealing in Polk County—our detectives are among the best in the nation investigating organized retail theft. We will absolutely hold them accountable and put their butts in jail and then prison," Judd said.  
Johnson is currently serving a 1.5-year sentence in Florida state prison for felony fleeing to elude and child neglect based on this arrest. He is scheduled to be released in January 2024.