Orlando weather: Rain, storms likely this weekend across Central Florida
ORLANDO, Fla. - Today's high: 90 degrees | Tonight's low: 75 degrees
Main weather concerns: Toasty temps and a return of rain chances lead our Central Florida headlines on this Friday. Highs near 90 pretty much in all locations. Skies start mostly sunny but, clouds will increase by late morning.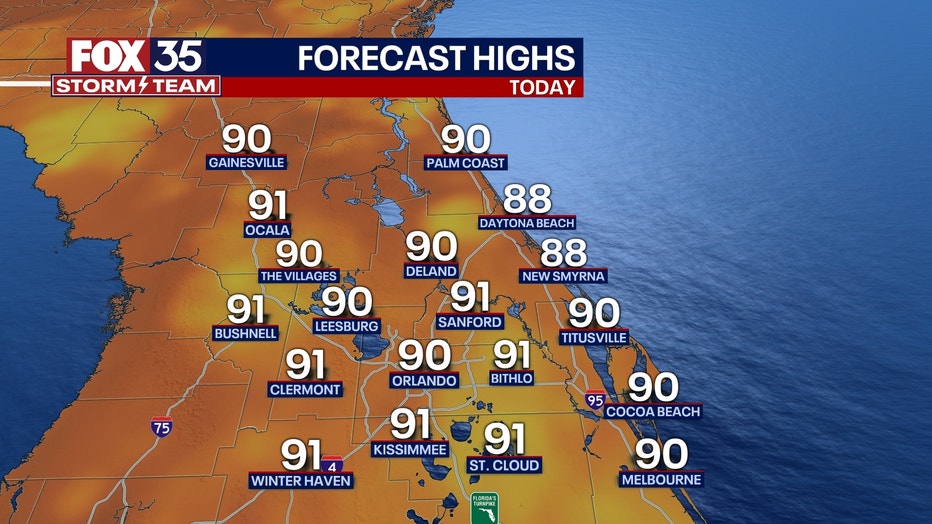 It's at that point that a few showers and storms develop with even higher chances after 2pm. Coverage will peak around 70%, easing after 8-9pm this evening. Heavy rain, lightning, gusty winds and even areas of small hail will be possible in the stronger storms.
BEACHES: Rip current risk is moderate- high again today at all Central Florida beaches. Skies are active with storms in the coastal areas mainly after 1-2pm today. Heavy rain and lightning are the main concerns.
Temperatures will be in the upper-80s to near 90 degrees. Surf is in the 2-3' range as more distant NE swell works into our local surf zones.
THEME PARKS: Theme parks start with sunshine but, storms move in primarily after 2pm. Rain chances are near 70%. Remember, when thunder roars, head indoors.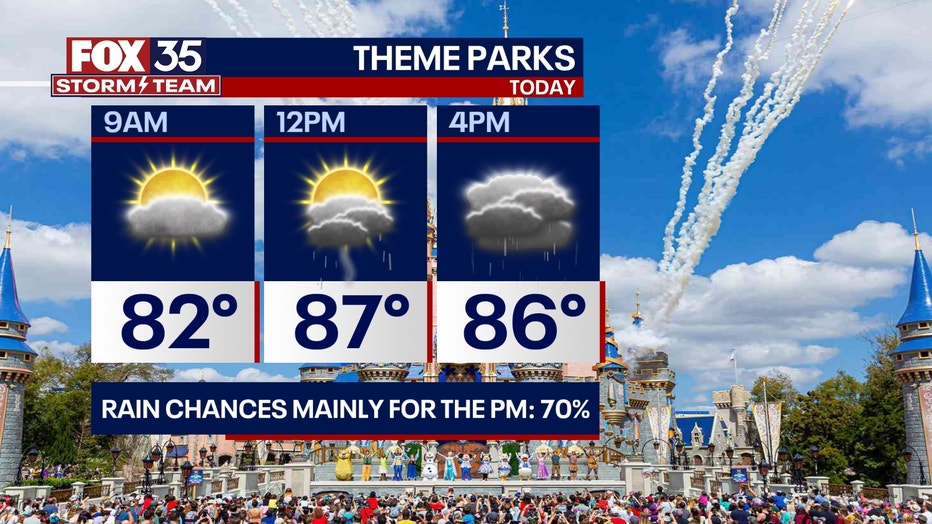 OUTLOOK: Saturday and Sunday will feature rain chances mainly for the pm hours. Coverage looks to hang in the 40-50%. Heavy downpours and lightning look to be the main threats during this time in any stronger storms. We need the
rain as the last 5 days have been hot and very dry. 
Accumulations are likely for many of us, especially over the Eastern portion of the viewing area. Longer term, large ocean swell from major hurricane LEE, will roll into the local beaches by Monday. While forecast models have LEE eventually turning in a more Northerly direction, passing 500 miles+ East of Florida sometime next week, it appears coastal impacts will  be of issue. Large, battering waves, coastal erosion and deadly rip currents are all very likely.
TRACKING THE TROPICS: The FOX 35 Storm Team is monitoring Major Hurricane Lee and distant Tropical Storm Margot. Margot looks to stay far, far away, all while becoming a hurricane late weekend into next week. Cat 5 Lee is expected to remain in a WNW track through the weekend. Forecast models take Lee on an eventual Northerly Turn. Right now, it appears that only coastal impacts will be on tap for Florida. Large breaking waves in the surf zone, beach erosion, higher tides and rip currents are all very likely. These impacts will move in as soon as Monday and will remain in place through ALL of next week