'Disney Wish,' Disney's newest cruise ship, arrives to Port Canaveral
PORT CANAVERAL, Fla. - Mickey and Minnie Mouse waved as Disney Wish, the newest Disney cruise ship, made its way through the glistening waters to its homeport.
It arrived at Port Canaveral just before sunrise Monday as it prepares to finally set sail this summer. 
The cruise ship passed Jetty Park and was greeted by hundred of cast and crew members. It then proceeded to the West Turning Basin, where it is docked at cruise terminal 8.
"We have anticipated this homecoming of the Disney Wish for some time, and we know that our Port community is excited to watch her arrive at the Port," Port CEO Capt. John Murray said in a statement. 
Disney Ambassador Ali Manion said the ship was constructed in Germany, and was put together in blocks, and before it made its way just 11 days ago across the sea from the Netherlands to Florida.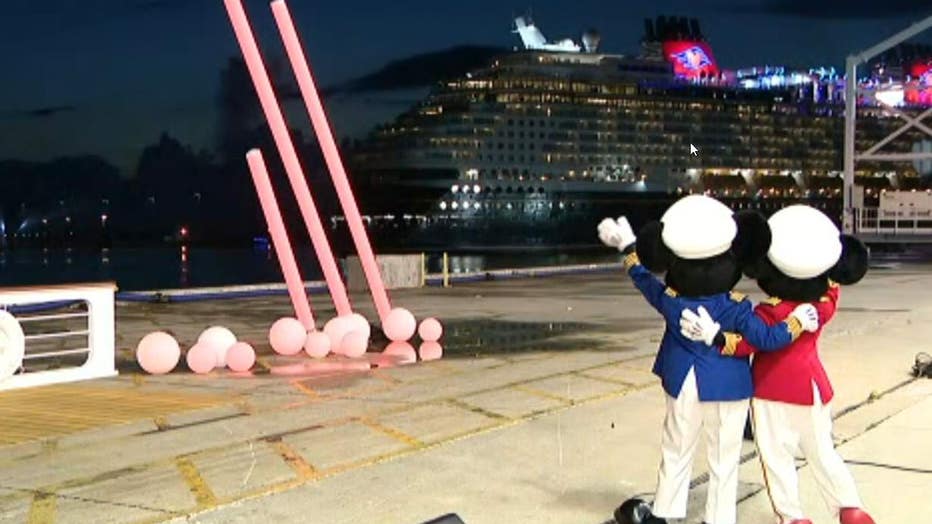 Mickey and Minnie wave hello as the Disney Wish cruise ship arrived at Port Canaveral, Florida, Monday morning. 
FIRST LOOK: Attractions, shows, and restaurants aboard Disney Wish
An exterior view of Disney Wish, Disney's newest cruise ship (Disney handout)
The ship is one with many firsts.
"We have the Aqua Mouse our first Disney attraction at sea that you can see right up there on the top of the ship and we actually have the first suite, the Wish Tower Suite, that is the first ship that is on a funnel on the ship," Manion said.
"Our first themed restaurant to Frozen that's going to be an incredible dining experience that is totally immersive and the first ever Marvel cinematic dining restaurant experience," added Yolanda Cape, VP of communications for Disney Cruise Lines.
According to the Disney Cruise Line's website, the new cruise ship will travel to Nassau, Bahamas, and Disney's private island Castaway Cay beginning in July, and will offer three- and four-night sailings to each of those destinations.
Sailings for two guests appear to begin at $1,751. Included in the price, according to the cruise line are: 
Broadway-quality shows

Adult-exclusive activities

Pools, waterslides and recreation

Spacious staterooms

Upscale, casual and 24-hour in-room dining

Clubs for kids, tween and teenagers
MORE NEWS: SeaWorld Orlando expands Electric Ocean event to include concerts
Disney plans to give a first look inside the ship on Wednesday, June 29 at 11 a.m. 
The debut will feature musical performances and characters from Disney, Pixar, Marvel and Star Wars adventures.
Visit disneycruise.disney.go.com for more information and upcoming itineraries.