MLB moving All-Star Game from Atlanta in response to voting law
ATLANTA - Major League Baseball is moving the 2021 All-Star Game from Atlanta in response to Georgia's controversial voting law, the league announced Friday. 
The game was scheduled for July 13 at Truist Park, the Braves' 41,000-seat stadium in suburban Cobb County. It would have been the third time Atlanta serves as host, having previously held the event in 1972 and 2000.
MLB Commissioner of Baseball Robert Manfred, Jr. issued the following statement regarding the 2021 All-Star Game:
"Over the last week, we have engaged in thoughtful conversations with Clubs, former and current players, the Players  Association,  and  The  Players  Alliance, among others, to listen to their views. I have decided that the best way to demonstrate our values as a sport is by relocating this year's All-Star Game and MLB Draft. "Major  League  Baseball fundamentally supports voting rights for all Americans and opposes restrictions to the ballot box. In 2020, MLB became the first professional sports league to join the non-partisan Civic Alliance to help build a future in which everyone participates in shaping the United States.
We proudly used our platform to encourage baseball fans and communities throughout our country to perform their civic duty and actively participate in the voting process. Fair access to voting continues to have our game's unwavering support. We will continue with our plans to celebrate the memory of Hank Aaron during this season's All-Star festivities. In addition, MLB's planned investments to support local communities in Atlanta as part of our All-Star Legacy Projects will move forward. We are finalizing a new host city and details about these events will be announced shortly."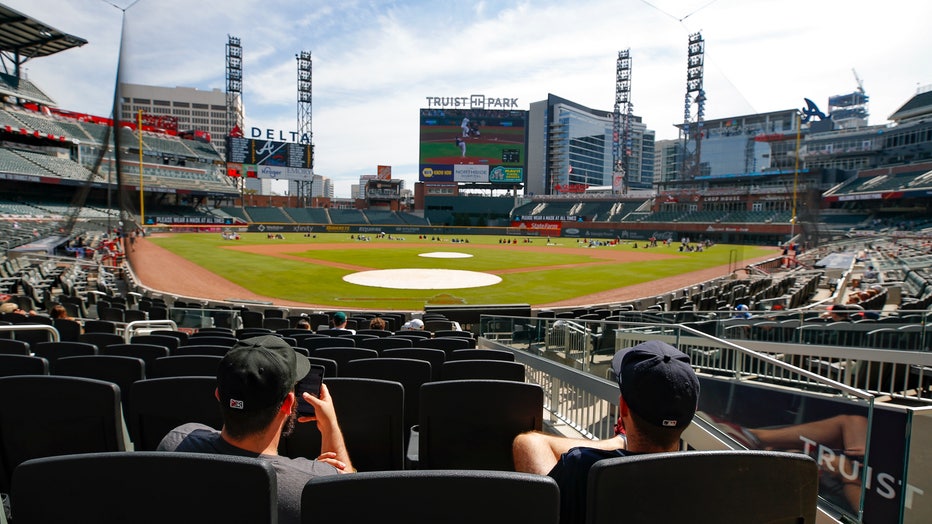 ATLANTA, GA - OCTOBER 08: Atlanta Braves fans watch Game Three of the National League Division Series between the Miami Marlins and Atlanta Braves at Truist Park on October 8, 2020 in Atlanta, Georgia. (Photo by Todd Kirkland/Getty Images)
Georgia's new voting law — which critics say unfairly limits access to the ballot box, especially for people of color has prompted calls from as high as the White House to consider moving the midsummer classic out of Atlanta.
One of baseball's biggest stars, Braves first baseman, and reigning National League MVP Freddie Freeman, weighed in on the divisive issue Thursday, just a few hours before Atlanta opened the season in Philadelphia.
Freeman suggested that the game should remain at Truist Park, but be used as a platform to promote voting rights.
"Why not?" he said. "What's happened in the last couple of months has already gone through" the state Legislature and been signed into law last week by Gov. Brian Kemp.
RELATED: Georgia voting law: Governor responds to critics' attacks
"Why not use what we already have here as a platform in the city and the state it's been passed through," Freeman added. "I think it would be better to keep it (in Atlanta) and use it as a platform."
Others have taken a different tack.
Everyone from President Biden to Major League Baseball Commissioner Rob Manfred to the head of baseball's powerful players union, Tony Clark, saying that moving the game to another city should be on the table.
Two of Atlanta's sports team owners also seemed to express their opposition to the law in statements that bemoaned restrictions on voting access, though neither specifically cited the new statute. 
"Every voice and every vote matters and should be heard through our democratic process in Georgia," said Arthur Blank, owner of the NFL's Atlanta Falcons and Major League Soccer's Atlanta United. "We should be working to make voting easier, not harder for every eligible citizen.′
SEE MORE: Atlanta Falcons owner Arthur Blank responds to Georgia's election reforms
Tony Ressler, owner of the NBA's Atlanta Hawks, noted that his team was the first in the country to open its arena as an early voting site for last year's elections. He said the team remains "committed to endorsing steps that promote equality and encourage participation by all who seek to cast a ballot."
In response to the MLB's announcement, the Atlanta Braves released the following statement:
"The Atlanta Braves are deeply disappointed by the decision of Major League Baseball to move its' 2021 All Star Game.
This was neither our decision, nor our recommendation and we are saddened that fans will not be able to see this event in our city. The Braves organization will continue to stress the importance of equal voting opportunities and we had hoped our city could use this event as a platform to enhance the discussion. Our city has always been known as a uniter in divided times and we will miss the opportunity to address issues that are important to our community. 
Unfortunately, businesses, employees, and fans in Georgia are the victims of this decision.
We will continue to support the community legacy projects which have been planned and are in process."
The Associated Press contributed to this report.
WATCH: FOX 5 Atlanta live news coverage
_____
Sign up for FOX 5 email alerts
Download the FOX 5 Atlanta app for breaking news and weather alerts.