Millions of Americans under severe weather threat in Midwest and southern U.S.
The forecast for an intense, severe weather outbreak Friday covering tens of millions across a large swath of the country has turned even more dangerous as the risk for severe weather was upgraded to its highest level – 5 out of 5 - on NOAA Storm Prediction Center's Severe Weather Outlook scale.
Storms organizing Friday afternoon are leading to a widespread severe weather outbreak with strong tornadoes, destructive winds and large hail in the Midwest and South. According to the FOX Forecast Center, some twisters could be long-track and rate an EF-2 or stronger, and already the first Tornado Warnings began popping up in Iowa and Arkansas around 1 p.m CT. 
The overall severe weather threat covers 87 million people across 23 states. But about 3 million now reside inside the SPC's High/Extreme Risk zone, which is reserved for only the most dire of severe weather events. The SPC describes the severe potential in such High Risk areas as "widespread severe storms expected with tornadoes long-lived, very widespread and particularly intense." Cities in that risk zone include Memphis, Davenport and Iowa City in Iowa, and Moline, Illinois.
In this case the SPC notes "environmental conditions are quickly becoming favorable to support the potential for numerous strong to potentially violent and long-track tornadoes across portions of eastern (Arkansas), southwestern (Tennessee), and northern (Mississippi.)"
Kentucky Governor Andy Beshear encouraged all residents in the western part of the Blue Grass State to seek shelter ahead of the advancing storm system.

It's the first High/Extreme risk issued by the SPC since March 2021.
Another 15 million people reside in the still-dangerous level 4 of 5 risk of severe weather. Shown shaded in magenta on the map below, this includes St. Louis, Indianapolis, Little Rock and Des Moines.  Major cities such as Chicago, Cincinnati, Nashville and Louisville are under threat of severe weather Friday too.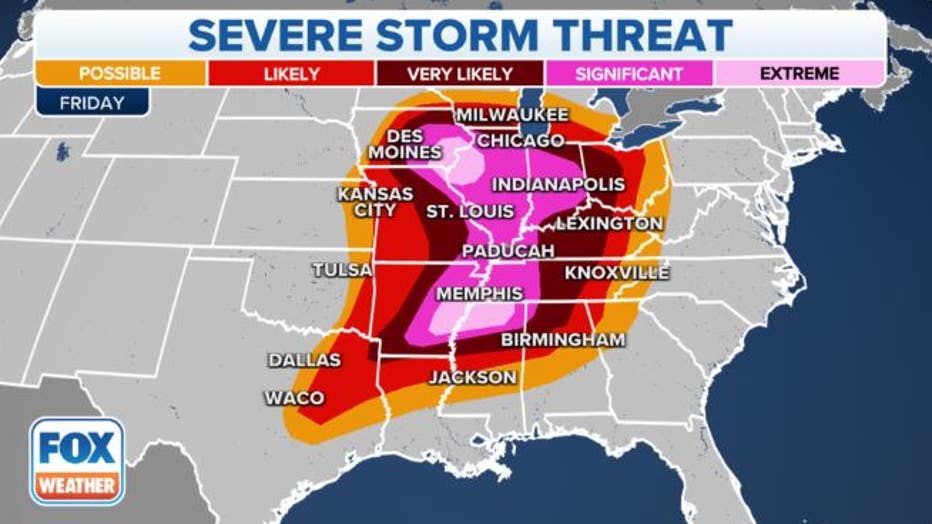 With the imminent threat, forecasters have now issued Particularly Dangerous Situation Tornado Watches for the area, warning for "numerous strong tornadoes expected," "apple-sized" hail, and gusts to 70 mph. 
One PDS Tornado Watch covers 8 million people in southwestern Missouri, southern Illinois, much of Arkansas, and parts of western Kentucky, Tennessee, and northwestern Mississippi, including St. Louis, Memphis, Paducah, and Little Rock. That watch is in effect until 8 p.m. CT.

A second PDS Tornado Watch includes eastern Iowa, western Illinois, and northeastern Missouri through 8 p.m. CT. The Chicago metro was also put under a Tornado Watch, which included more than 13 million residents.
Northern tier: Possible tornadoes and significant damaging wind threat
One area of heightened concern covers eastern Iowa, northwestern Illinois, southwestern Wisconsin, and eastern Missouri, which is close to where a deepening area of low pressure will sweep across the region. That includes St. Louis, Des Moines, and Cedar Rapids in Iowa and Peoria, Illinois.
This atmospheric setup will produce supercells across this region capable of intense wind gusts, large hail, and a few stronger tornadoes -- perhaps rating EF-2 or stronger.
"The Storm Prediction Center in their (Friday) morning update specifically mentioned Missouri, Iowa, and Illinois for the potential for long track tornadoes," FOX Weather meteorologist Britta Merwin said. "Those are very dangerous storms that can stay on the ground for over an hour. So to have that double component of strong straight-line winds and a tornadic ability — that's some scary stuff."
But as the day progresses here, the storm system is expected to evolve into a dangerous line of severe thunderstorms creating significant threats of damaging wind gusts that reach or exceed 75 mph.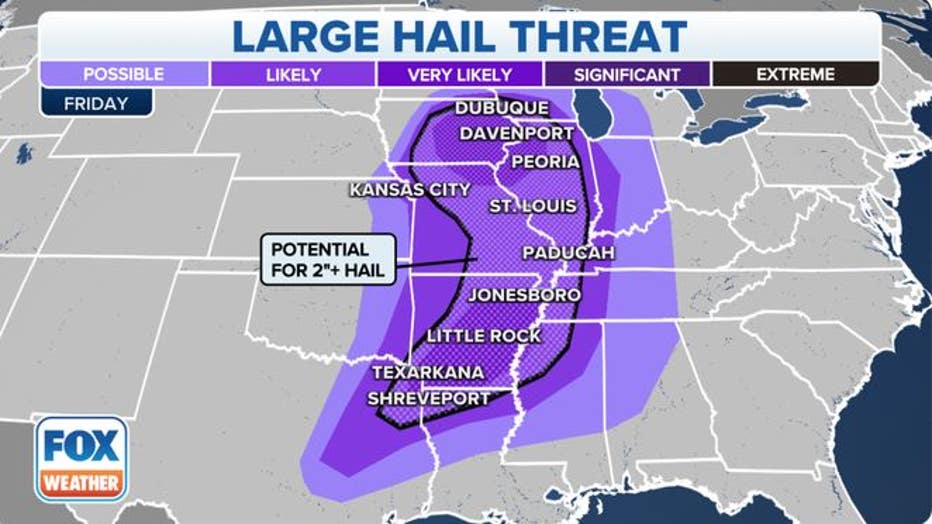 "That wind threat, by the way, that's the major concern up north across the Midwest for places like Iowa and Illinois," Merwin said. "That's a spot that is known for strong straight-line wind damage as we head into spring."
Southern Tier: Strong, long-tracked tornadoes possible
To the south finds another area of heightened threats for extremely dangerous severe weather that spans across Southeastern Missouri, northeastern Arkansas, northwestern Mississippi, and western portions of both Tennessee and Kentucky, including Memphis, Nashville and Little Rock, Arkansas.
"Little Rock, Jonesboro, Jackson (Tennessee) – you are all in the thick of this," Merwin said. "Unfortunately, these are areas that have been very hard hit. This does include the same areas touched by that deadly (Mississippi) tornado outbreak a week ago (from Friday)."
Plenty of warm, humid air is in place providing a tremendous amount of available atmospheric energy to fuel developing storms, while low-level wind shear will likely support supercell thunderstorms beginning early Friday afternoon, continuing through the evening ahead of the advancing cold front.
"When you have all the ingredients in place, it is going to pop; it's just a matter of how bad it gets and who is going to be hardest hit," Merwin said.  
This dangerous setup is conducive strong, potentially long-track tornadoes that could reach EF-2 or stronger on the Enhanced Fujita Scale. In addition, large golf ball-size hail, and strong damaging  wind gusts of 60-plus mph are all possible within these storms.
Tornado Emergency issued for Little Rock, Arkansas
Shortly before 2:30 p.m. local time, a Tornado Emergency was issued for communities around Little Rock and damage was spotted west of town.
The twister was the first spotted tornado on Friday during what could springtime outbreak in the heartland.
Due to the damaging storm, the National Weather Service office in Little Rock temporarily transferred its duties to the Memphis office while meteorologists took shelter.
Video from storm chasers showed several damaged homes and roadways blocked by debris. Even an Amazon delivery vehicle appeared to be flipped by the storm and storm chasers did report seeing injuries.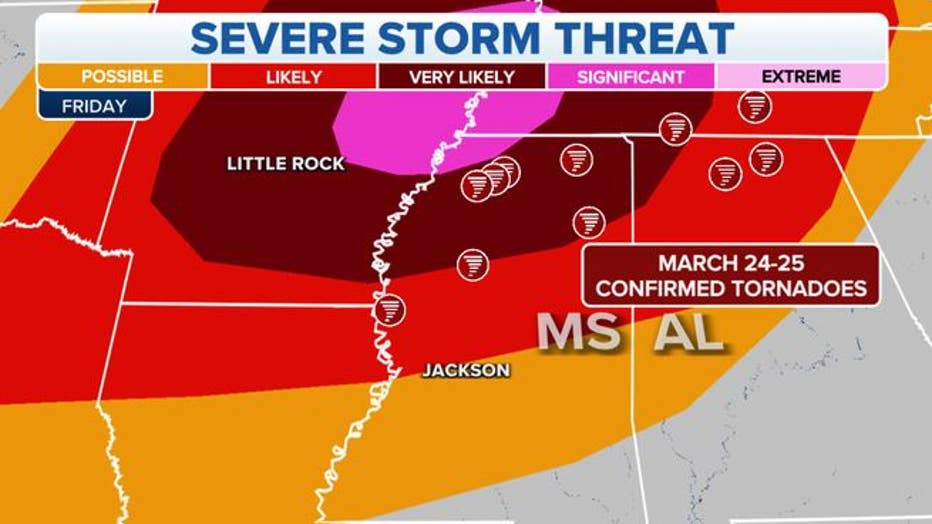 Some of the same locations in the South that were impacted by the deadly tornado outbreak barely a week ago will, unfortunately, face the risk of severe weather once again on Friday.
"When you look close enough, I mean, you can basically see that it is going to be impacting, unfortunately, some of the same areas that we saw this time last week on Friday," FOX Weather meteorologist Jason Frazer said. "I mean, including those of you in Rolling Fork, Mississippi, as well as those of you in Winona."
Even if these areas were to avoid the worst of the severe weather, any thunderstorms would still get in the way of ongoing recovery efforts.