Irma power outages climb to more than 7 million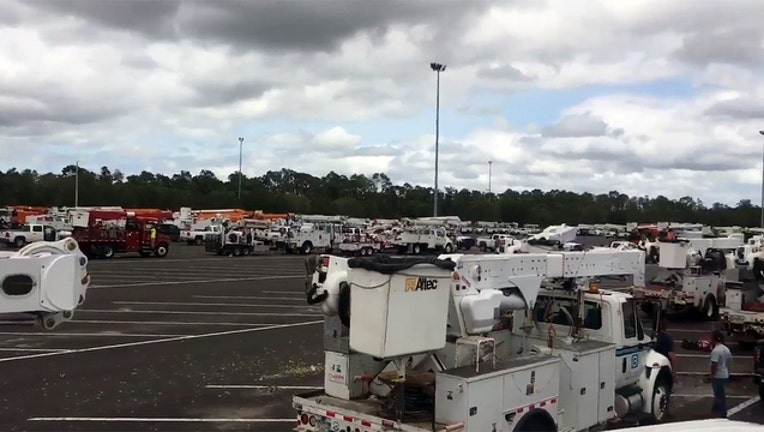 article
LAKE MARY, Fla. (WOFL FOX 35) - Nearly 7.2 million homes and businesses are without power in multiple states as Tropical Depression Irma moves through the Southeast.
The vast majority were in Florida. The state's emergency management officials said the storm cut power to more than 6.5 million account holders across the state as of Monday afternoon.
Eric Silagy, the CEO of Florida Power & Light, said Irma caused the most widespread damage in the company's history. It affected all 35 counties in the utility's territory which is most of the state's Atlantic coast and the Gulf coast south of Tampa. The most extensive damage was likely in the Naples area, but a full assessment was ongoing. He said 19,500 electric workers have been deployed in the restoration effort.
Still, he said, it will take days for many people to be restored and, in some cases where the damage was extensive, weeks.
Meanwhile, Duke Energy reported Monday morning that more than 860,000 of the homes and businesses it serves in Florida were without power. 
"We have about 65 percent of the state without power," said Gov. Rick Scott during a news conference on Monday.
Gov. Scott says he flew over the Keys and saw a lot of flood damage and boats that had washed ashore. He says there is "devastation" and he hopes everyone who stayed behind survived Irma. He said almost every mobile home park in the Keys had overturned homes.

Scott also flew over the west coast of Florida on Monday and said the damage was not as bad as he thought it would be.
Hundreds of utility workers from around the southeast have converged on Central Florida, many of whom are using the parking lot at Walt Disney World's Epcot as a staging area. 
In Orlando, OUC said it had restored power to roughly a quarter of its customers, reducing the total number of outages from its peak of approximately 145,000 to 108,000.
"Our team of assessors identified significant damage to OUC equipment including broken and leaning poles, blown transformers, and downed wires," said OUC spokesperson MIchelle Lynch. "In addition, transmission lines were repaired and power was restored to critical facilities including water plants, wastewater, lift stations, hospitals, emergency shelters, police, and fire."
Lynch added that the number of facilities impacted is larger than what was experienced with Hurricane Charley in 2004.
Here is a breakdown of counties in the FOX 35/FOX 51 viewing areas that are still without power.  This data was published at 6 p.m. on Tuesday, Sept. 12:
Alachua: FPL-1,000; Duke Engery-2,277; Other-30,397
Brevard: FPL-173,390; Duke Energy-7; Other-51
Dixie: Duke Energy-788; Other-3,870
Flagler: FPL-36,470; Duke Energy-10; Other-3
Gilchrist: Duke Energy-697; Other-4,042
Lake: Duke Energy-42,458; Other-41,684
Levy: Duke Energy-1,833; Other-10,983
Marion: Duke Energy-40,613; Other-64,167
Orange: FPL-10; Duke Energy-168,545; OUC & Other-65,904
Osceola: FPL-10; Duke Energy-17,865; KUA & Other-22,379
Polk: Duke Energy-49,521; Tampa Electric-35,962; Other-64,634
Seminole: Duke Energy-6,548; Other-13,761
Sumter: Duke Energy-8,818; Other-16,152
Volusia: FPL-84,890; Duke Energy-50,759; Other-28,614