Immigrant deaths in tractor-trailer highlight danger of heat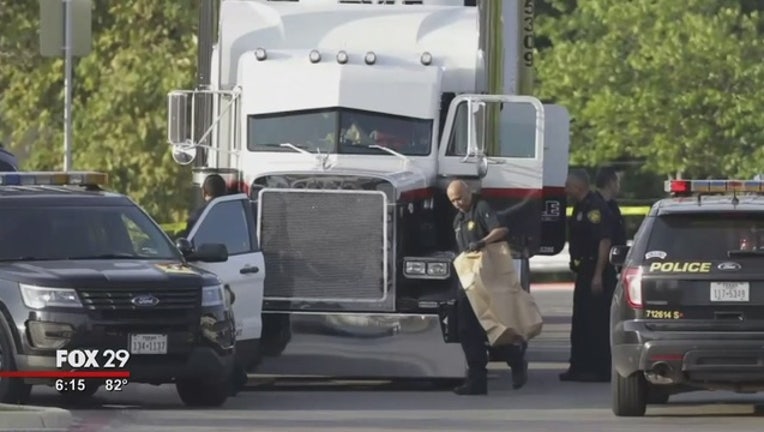 article
Experts say the temperature inside of the tractor-trailer where smuggled immigrants died and many others were left in dire health would have quickly become unbearable in the Texas heat.
Authorities said they found more than three dozen people, including eight who were dead, in the truck's trailer after an employee at the San Antonio Walmart where it was parked overnight called the police. One later died at a hospital. San Antonio Fire Chief Charles Hood said Saturday that the trailer didn't have a working air conditioning system and the victims "were very hot to the touch."
Thomas Homan, acting director of U.S. Immigration and Customs Enforcement, told The Associated Press that based on initial interviews with survivors, there may have been more than 100 people in the truck at one point, including some who were picked up by other vehicles or who fled.
This and other tragic instances of human smuggling, including a 2003 case in Victoria, Texas, in which 19 immigrants died, highlight the dangers that extreme heat poses to would-be immigrants.
___
TREACHEROUS TRAILER
With a high of 101 degrees (38 Celsius) in San Antonio on Saturday, the temperature inside a parked car would have reached 120 degrees (49 Celsius) in 10 minutes, said Jan Null, a meteorology professor at San Jose State University who tracks U.S. child deaths in vehicles on his website, www.NoHeatStroke.org. Within 20 minutes, the temperature would have risen to 130 degrees (54 Celsius).
The lack of windows on the trailer in San Antonio may have reduced the temperature inside by a couple degrees because of the lack of direct sunlight, but the heat and moisture from the bodies of everyone inside would have added heat and humidity.
Enduring those temperatures for any length of time is dangerous, said Dr. Eric Ernest, assistant professor of emergency medicine at University of Nebraska Medical Center in Omaha.
"Those are very brutal conditions that the human body wasn't meant for," he said.
___
HEAT HAZARDS
When heatstroke sets in after a person's body heat rises above 104 degrees (40 Celsius), perspiration shuts down, eliminating the body's primary method of cooling itself through the evaporation of sweat.
At this point, a person's skin begins to feel hot and appear red, and a person suffering heatstroke may appear confused, according to the Centers for Disease Control and Prevention.
Around 107 degrees (42 Celsius), cells start to die and organs can begin to fail. Once that happens, a person's health can deteriorate quickly.
"The body loses its ability to deal with heat," Ernest said.
Higher humidity makes things worse because perspiration won't evaporate as quickly.
One of the best ways to avoid heat-related illnesses is by drinking plenty of fluids, which authorities say weren't available to those on the truck.
"In 100 degree temperatures, you almost can't drink water fast enough," Null said.
___
DANGEROUS HEAT
Children, the elderly and people who are ill are most susceptible to heat-related problems because their bodies can't cool themselves as effectively as a healthy adult's can.
The CDC says about 618 people die in the U.S. each year from heat-related illnesses. Roughly 37, on average, are children who die in vehicles, according to Null's count.
___
Follow Josh Funk on Twitter at https://twitter.com/funkwrite . Sign up for the AP's weekly newsletter showcasing our best reporting from the Midwest and Texas at http://apne.ws/2u1RMfv .